This shop has been compensated by Collective Bias, Inc. and its advertiser. All opinions are mine alone. #EverydayEckrich #CollectiveBias
I'll show you how to meal plan for a stress free dinnertime.
With school in full swing, I'm so happy I have everything in order to easily plan meals. Knowing what I am going to make for dinner ensures a smooth transition from after school madness to bedtime. Less time focusing on dinner means we can have more family time together!
Our after school events consist of art class, practice for the school play and soccer! So, 3 nights a week we need to rush to get food ready to eat and back out the door. One of the easiest things I have found to plan meals, is a simple whiteboard.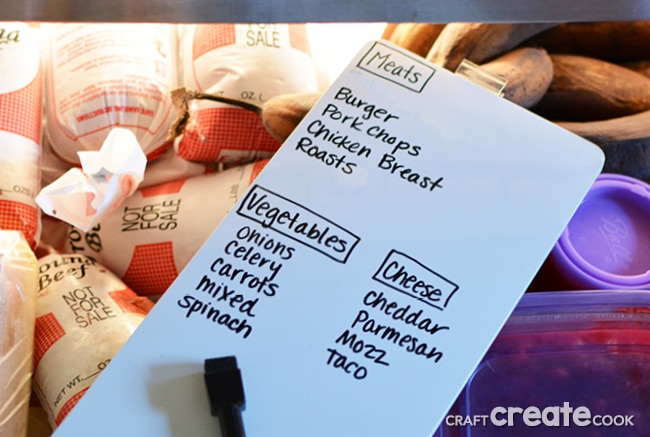 How to Plan Meals with a Freezer Inventory
Grab 2 dry-erase whiteboards – one for your freezer inventory and one for your meal planning.
Start by opening your freezer and making an inventory list. I break the contents of my freezer into meats, vegetables, fruits, main dishes and cheese.
Write down the heading and then the item in the freezer. Add tick marks next to each item you have in the freezer.
Once you grab something from the freezer, simply delete a tick mark showing you've used the item.
Of course my freezer inventory isn't fool proof, sometimes I grab something and forget to erase the tick mark, and sometimes my husband grabs something and forgets, but I can assure you it's a great way to keep on track.
Eckrich Original Natural Casing Smoked Sausage is a great meat to have on hand for a quick sheet pan dinner. Plus it freezes well giving you the versatility to prepare delicious meals in no time! I grab my Eckrich Smoked Sausage while shopping at Meijer.
I also dive into my freezer about once a month to re-do the inventory list and clean out the freezer. But I can assure you, with this simple system, you'll be wasting less food and spending more time with your family.
How to Plan Meals for Dinnertime
Pick 1 day of the week to plan meals, I like to plan on Thursday nights since I do my grocery shopping on Friday. That way I have all of my ingredients for the following week.
Use a whiteboard to label the days of the week.
Add the meal you're cooking on the left side of the board and on the right side any reminders you have: defrost meats for upcoming meals, doctor appointments, school events, etc.
Follow the meal plan as listed for easy mealtime and spend some extra time with your family!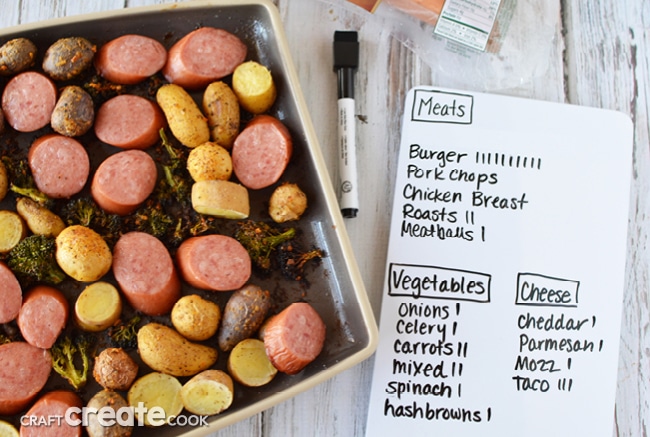 Are you looking for my tasty sheet pan recipe? With naturally hardwood smoked flavors of Eckrich Smoked Sausage, you'll easily be able to use any variety of flavors: cheddar/jalapeño, bacon & cheddar or 4 pepper. Head over here for my Smoked Sausage Sheet Pan recipe! Meanwhile, add these great recipes to your menu!
You will also want to make: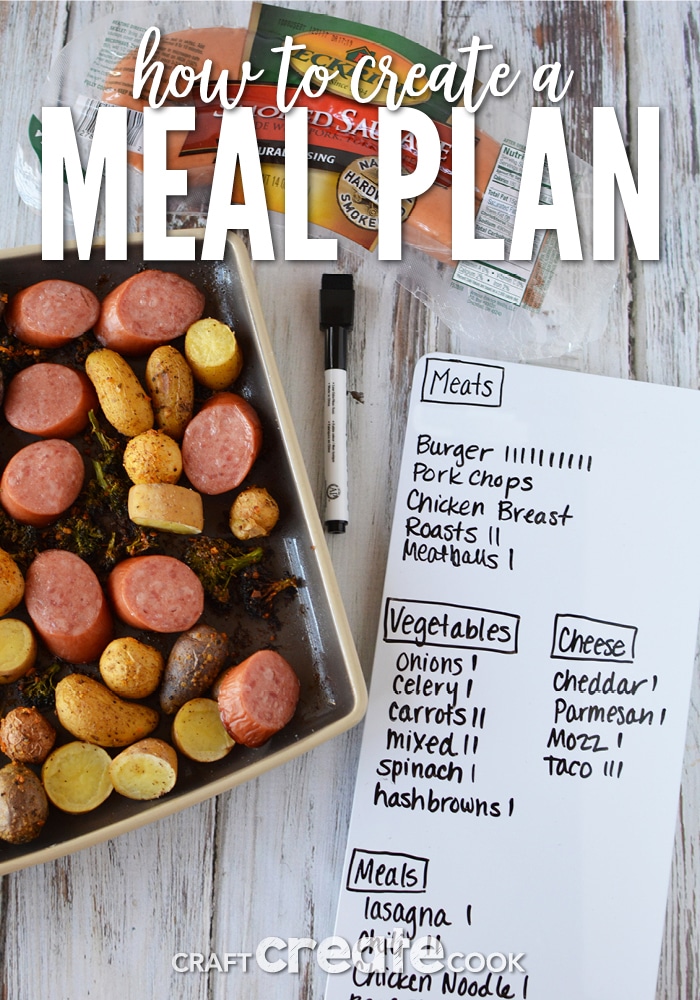 Save
Save
Save
Save
Save
Save
Save