Baked crab cakes are easy to make, perfect for Lent, healthy and delicious!
I love seafood. No, not 'see, food', seafood. Now I'm thinking back to middle school but I digress. I love shrimp, scallops, crab, fresh fish. I love it all. We are diehard meat eaters in our family. I've thought about trying to give up meat a few times here and there but it just doesn't happen. We happily love eating meat in our family. That said though, eating meat all. the. time. isn't good for us and I know that.
We have meatless Mondays once a week and we also eat a lot more fresh fish, shrimp and seafood. Three years ago my husband wouldn't have touched a shrimp, let alone eat it, but now he LOVES it. So, along with Meatless Monday, we have some sort of seafood 1-2 times a week.
The kids are huge crab cake fans so I tend to make crab cakes during the day while I'm working and want a nice lunch. My mother also love crab cakes, so I make extra and share with her. I almost always have crab on hand and I like to use cracker crumbs (such as Ritz), in place of breadcrumbs. I like the extra buttery flavor they add to the crab cakes.
Baked Crab Cakes Recipe
Yield: 6
Baked Crab Cakes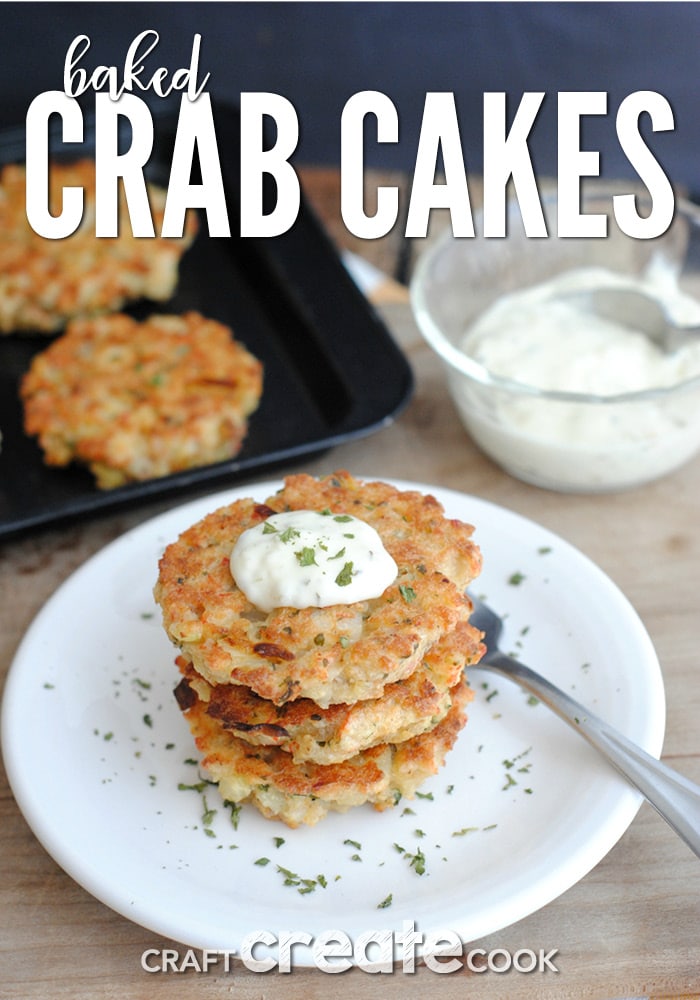 Baked crab cakes are easy to make, healthy and delicious!

Prep Time 35 minutes

Cook Time 20 minutes

Total Time 55 minutes
Ingredients
1 C. finely crushed crackers
2 green onions, finely diced
¼ C. mayonnaise
1 tsp. Old Bay Seasoning
⅛ tsp. cayenne pepper
1 egg, whisked
2 cans (6oz) of crab meat
Instructions
Combine all the crab cake ingredients, mixing well. Cover and place the mixture in the fridge for 30 minutes.
Preheat 400 degrees.
Remove the crab mixture from the fridge and shape into patties.
Place 2-3" a part on a baking sheet.
Bake 15-20 minutes.
Remove from the oven and serve with lemon and tartar sauce.


You will also want to make our: