Homemade Peach Salsa is easy to make and will have your taste buds asking for more!
One of my favorite things about summer is when seasonal fruits begin to appear at the grocery store and farmer's markets. I love grabbing strawberries when they are bursting the supermarket shelves, fresh ripe peaches from a roadside stand and apples from the local apple cider mill.
Of course that's when I dive into all of my favorite seasonal recipes. For strawberry season I love to make strawberries & cream pancakes, strawberry spinach salad and strawberry kiwi popsicles. During my stock up of apples in the fall, I'll make Apple Pie, Apple Bread and Apple Crisp.
Now that peach season is here, I decided to try a peach salsa recipe. One of my favorite store-bought salsa recipes is made here in Michigan! I absolutely LOVE the Mango Peach Salsa from Garden Fresh Gourmet. It's usually found in the deli section at stores if you want to try one of my favorites.
But on this day I wanted a different combo of flavors and went with this homemade peach salsa recipe. This recipe is easy to make and will be ready to enjoy in about an hour! Or you can do what I do and dive right in! It does taste better the next day as the flavors have had ample time to mingle and mix, but I had half the batch gone the minute I was done making it.
How to make Homemade Peach Salsa
Try to find ripe but firm peaches, tomatoes and avocados for this recipe. It will make cutting these delicate fruits easier as well as make the salsa last a little longer - if that's even possible! Firm fruits keep a little crunch in the mix and are easier to scoop onto your chip.
If you have leftover peaches from making homemade peach salsa, make sure you try this easy to make oven pancake! It's one of my family's favorites!
This traditional salsa recipe is also perfect for flavorful and in-season tomatoes!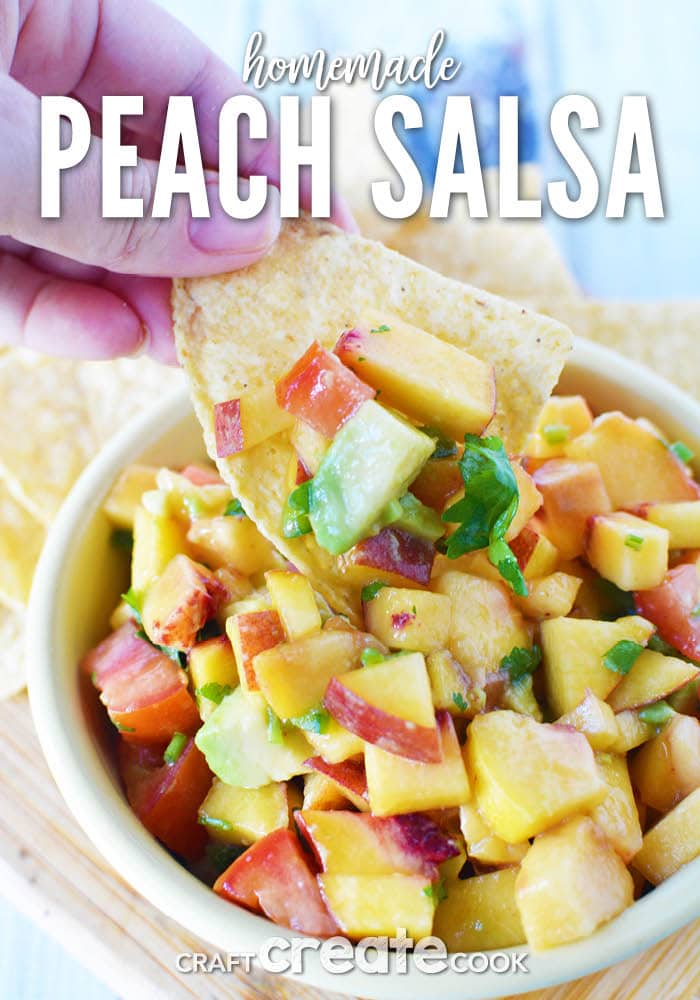 Yield: 2 cups
Homemade Peach Salsa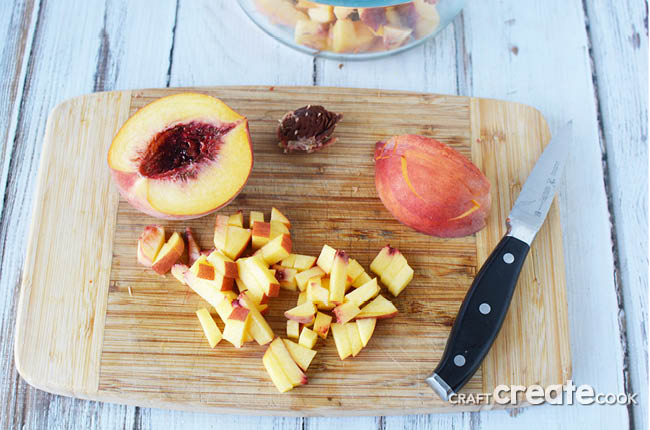 This homemade peach salsa works best with ripe but firm peaches and is easy to double or triple!

Prep Time 10 minutes

Total Time 10 minutes
Ingredients
2 large ripe and firm peaches, pits removed and cut into small pieces
2 small tomatoes, or one large, diced
1 firm, ripe avocado, pitted and skin removed and cut into small pieces
1 jalapeno pepper, seeds removed and diced
½ cup fresh cilantro, chopped
2 tablespoons lemon juice
1 tablespoon red wine vinegar
1 tablespoon olive oil
tortilla chips for serving
¼ teaspoon salt
Instructions
In a large bowl, combine peaches, tomatoes, avocado, jalapeno pepper and cilantro. Mix well.
In a small bowl, combine lemon juice, vinegar, and oil. Whisk well and pour over fruit mixture.
Season with salt and stir well.
Refrigerate for an hour or overnight for flavors to mingle. Stir well before serving with tortilla chips.