You will not be disappointed in this Strawberry Spinach Salad. Serve it with or without chicken and it will be a big hit!
I. Love. Spinach. I buy it weekly and use it for smoothies and salads. I often go for the steak or spinach salad dishes when we eat out. Plus it's a dark green, so I'm certain it's really good for you. I didn't always love spinach. I grew up on lettuce. Like a head of lettuce. My dad always put lettuce on his bologna sandwich. And when my mom made salads, it was out of that head of lettuce. Now, I'm not really a fan of lettuce, I prefer the darker, richer, more flavorful greens.
I had this salad over 10 years ago at a get together while I was visiting friends in the Upper Peninsula. It was a potluck style party and when I sat down to eat with another friend, I went right for this salad. I mentioned to her that it was really good and I wondered who made it. She looked at me and smiled. And I knew it was her! She gave me the top secret recipe via email the following week (because back then we didn't have smart phones and we were in the U.P., where cell service can be shotty at times!) I was so excited to see the recipe in my inbox!
This has become my go-to dish for almost anything. I make the fruit portion the day before, let it set in the refrigerator overnight and then add it to my spinach before heading out. I'm a huge fan of make-ahead-dishes! I've made it for countless Easter and Christmas gatherings and it's been repeatedly requested by family. As a side dish, I omit the chicken, but in today's version, we're using grilled chicken.
I cannot take all credit for this amazing spinach salad - I need to thank Kraft, those are the ones who initially made it and the email I opened from my friend included this link. But I like to add chicken to it and eat it as a meal when I'm at home.
Pair this salad with our: Easy Grilled BBQ Shrimp or our Creamy Mac & Cheese for a complete meal!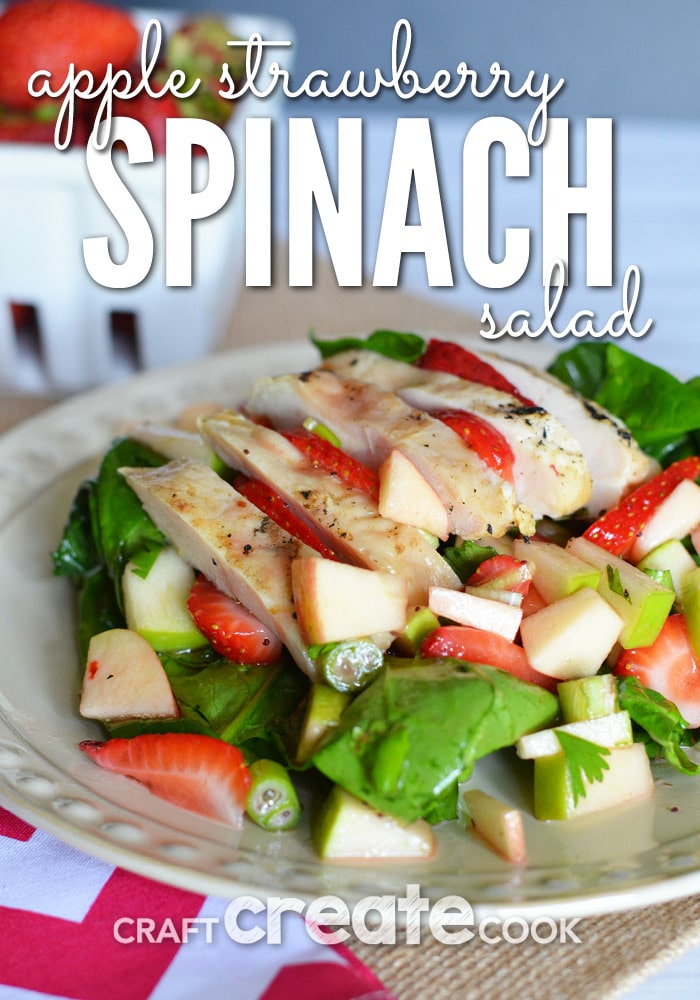 Yield: 6 servings
Strawberry Spinach Salad
You will not be disappointed in this Strawberry Spinach Salad. Serve it with or without chicken and it will be a big hit!

Prep Time 20 minutes

Total Time 20 minutes
Ingredients
1 quart strawberries, stems removed, washed and sliced
1 red apple, cored and sliced into small pieces
1 green apple, cored and sliced into small pieces
2 small green onions, sliced
2 tablespoons fresh cilantro
¾ cup raspberry vinaigrette dressing
1-2 chicken breasts, cooked and sliced
6-8 cups fresh spinach leaves
Instructions
In a large bowl, add strawberries, apples, green onions and cilantro and mix well.
Pour dressing on top and mix to evenly coat. Cover and refrigerate overnight until ready to use.
When ready to serve, add fruit mixture to spinach and mix well.
Top with grilled chicken.
Notes
Adapted from Kraft's Strawberry-Apple Salsa Salad.



Save