The kids will love this surprise igloo made by your handyman elf on the shelf.
Elfie is back and he's bringing a lot of fun with him this year. He's helped us clean, brought the kids cookies and even built an igloo. And better yet, the kids are LOVING it. He sure does bring out the creativity in all of us. Who would of thought you can make an igloo reusing items from around your home! An empty milk jug, some cotton balls, and a hot glue gun and you'll be on your way to making this igloo for your elf on the shelf.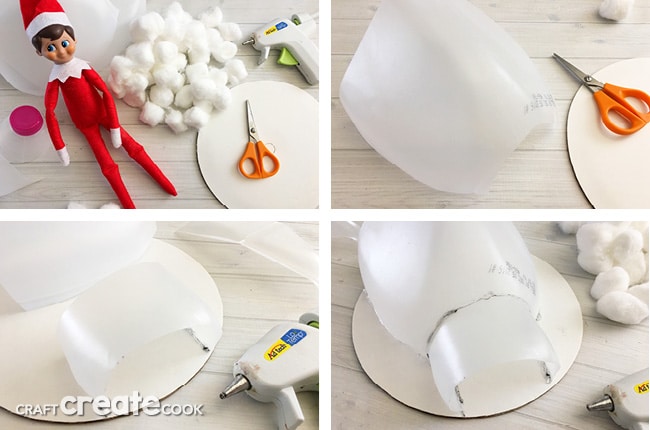 How to Make an Igloo
Materials:
Empty clean gallon milk jug
Hot glue gun/hot glue
Scissors
Cut the top off the milk jug, a couple inches below the cap and discard. Cut the bottom off your milk jug and discard. Cut your jug in half lengthwise. Use one half for the main part of the igloo and cut a 3" x 6" strip from the other half for the tunnel.
Carefully hot glue the main part of your igloo onto the cake circle (the back part should stay open for your Elf to fit inside). Fold and attach the tunnel portion and glue it to your igloo and cake circle. Add additional glue if necessary to any loose areas.
Once your igloo is secure, you can start hot gluing your cotton balls in a brick pattern onto the tunnel and main igloo area.
You can slide your Elf in the back or through the tunnel for a little igloo fort of his own.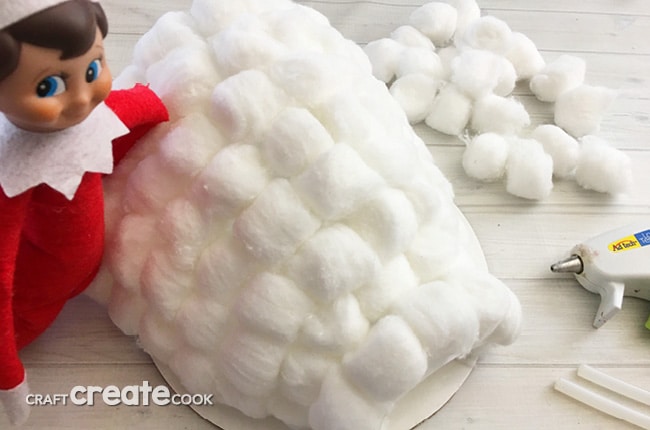 What has your Elf been up to? Tell us about it in the comment section below!
You might also like our other Christmas posts: