This easy apple crisp recipe is perfect for fall!
Fall is in the air and apples are ripe and ready to be harvested. I love pumpkin recipes but I also love everything apple! Growing up on a farm, we had a huge apple and cherry orchard. Every fall, my dad would open the orchard up for u-pick and for a set price, customers could pick bushels of apples. The orchard is still there and even though we don't allow u-pick anymore, we still pick as many apples as we can during the fall months.
My husband loves apple crisp. I love apple crisp, too, but sometimes I simply don't have a lot of time to peel apples. I often have a few cans of pie filling in the cupboard and my husband recently requested apple crisp. I hadn't been out to the orchard in a few days so I grabbed a can of apple pie filling I had in our baking cupboard.
Adding rolled oats, melted butter, and brown sugar I used my pastry cutter to combine the ingredients into a delicious crumbly topping. Once the topping was combined, I sprinkled it on top of the apple pie filling and baked it until golden.
My family loves any desserts that use fruit and we often serve with ice cream. This apple crisp goes perfectly with classic vanilla ice cream or serve alone. We love eating our apple crisp cold but it's delicious warm too!
Easy Apple Crisp Recipe
Easy Apple Crisp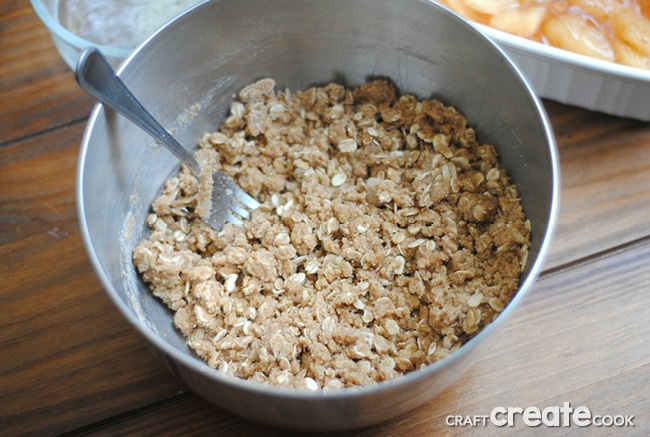 This easy apple crisp recipe is perfect for fall!

Prep Time 10 minutes

Cook Time 30 minutes

Total Time 40 minutes
Ingredients
20 oz can apple pie filling
1 C. rolled oats (not quick cooking)
⅓ C. flour
⅓ C. packed brown sugar
½ C. butter, melted
Instructions
Preheat the oven to 350 degrees.
Pour the apple pie filling into a 8x8 baking dish.
Use a pastry cutter or a fork to combine the rolled oats, flour, brown sugar and melted butter.
Sprinkle the crumbly mixture over the apple pie filling.
Bake for 30-35 minutes.
Remove from the oven and let cool.
Serve with vanilla ice cream (optional).


You will also want to make our:
Save