This apple bread is easy to make and will make your house smell amazing.
When I was a kid one of my favorite desserts was apple pie. My mom used to make homemade apple pie and it was my absolute favorite! While I still make homemade apple pies, I like to make almost every other apple recipe when I see apples on sale at the store – apple crisp, apple dump cake, apple oat muffins and now this apple bread!
Whenever I have to cut fresh apples for a recipe, I always use an apple slicer because it cores and slices my apples at once. I use a knife to remove the peels and then slice the apples into smaller bite sizes for my recipe.
This apple batter seems quite dry and crumbly while mixing, but cooks into a beautiful, dense bread.
Plus making this bread will make your house warm and smell amazing! With all the apple cinnamon aroma, you'll feel like fall is right around the corner!
Adding a powdered sugar glaze to this bread makes it the perfect compliment to your morning brunch or as an evening snack with a hot cup of coffee.
What are some of your favorite apple recipes? If you need some more apple kitchen inspiration, click on these options:
Homemade Apple Bread Recipe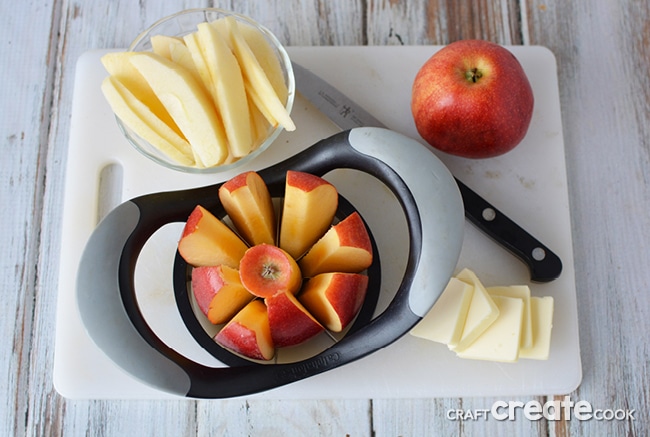 This dense apple bread is easy to make and will make your house smell amazing.
Ingredients
1-1/2 cups flour
1 teaspoon cinnamon
1/2 teaspoon baking soda
1/2 teaspoon salt
1/4 teaspoon baking powder
1 egg
1 cup sugar
1-1/2 cups diced apples (peel removed)
1/4 cup cooking oil
Topping
1/4 cup powdered sugar
2-3 teaspoons milk
Instructions
Preheat oven to 350 and grease a loaf pan. Set pan aside.
Combine flour, cinnamon, baking soda, salt and baking powder in a small mixing bowl.
Add egg, sugar, apples and oil in a mixing bowl and mix well. Stir in flour mixture just until moistened. Batter may seem dry and crumbly.
Spoon batter into prepared pan and spread evenly.
Bake for 35-45 minutes or until toothpick inserted in center comes out clean.
Cool for 10 minutes before removing from pan.
Topping
Mix powdered sugar and milk together in a small bowl and drizzle over cool bread before slicing.