Homemade Fried Rice is easy to make make and perfect for using up leftovers!
I love fried rice and every time we eat out at a Chinese restaurant you can bet I'm going to order a side of fried rice to go with my main course. Even my kids love fried rice so we love sharing it whenever we eat out. Sometimes I want fried rice but I don't feel like eating out or we just don't have the money to do so. I decided to take matters into my own hands and make my own. I was amazed at how easy it is and delicious it tastes! Don't get me wrong, I still enjoy eating out but making homemade fried rice takes only minutes and I often have frozen peas, carrots and eggs on hand.
During our weeknight meals we often serve white rice as a side dish. My family loves eating chicken, rice and gravy and my kids will just eat plain cooked rice if you let them. I always make at least 3-4 cups of rice and simply store it in the fridge as leftovers. Rice is inexpensive and so easy to make and I always have a bag in the pantry. And even though my husband and I have started following the Keto lifestyle, it's ok to have the occasional cheat day.
If you love rice as much as we do, you will definitely want to try this Homemade Fried Rice recipe. So, grab that leftover rice out of the fridge and let's get started! Prefer brown rice? This recipe works great with that too!
Homemade Fried Rice Recipe
Homemade Fried Rice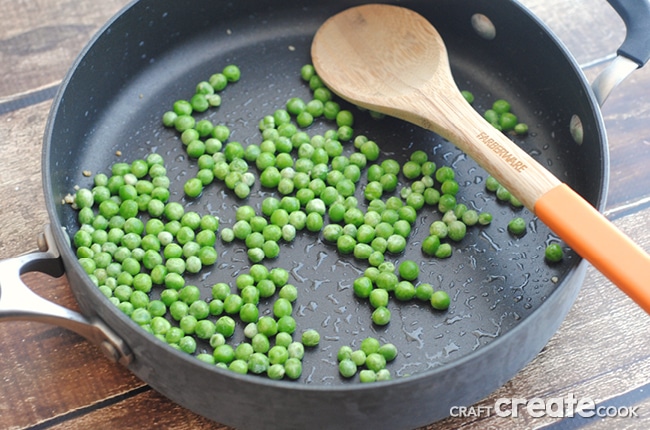 Homemade Fried Rice is easy to make make and perfect for using up leftovers!

Prep Time 5 minutes

Cook Time 15 minutes

Total Time 20 minutes
Ingredients
2 C. leftover cooked rice
2 tbsp. vegetable oil
2 large eggs, beaten
1/2 C. frozen peas
1/2 C. frozen carrots (optional)
1/4 C. soy sauce (more or less to taste)
salt & pepper to taste
Instructions
Heat the oil on medium/high on a large Wok or frying pan.
Add in the frozen peas/carrots and saute until tender.
Slide the sauteed veggies to the side and gently scramble the 2 beaten eggs.
Add in the leftover rice and stir to combine.
Pour in the soy sauce and stir.
Heat completely through and serve.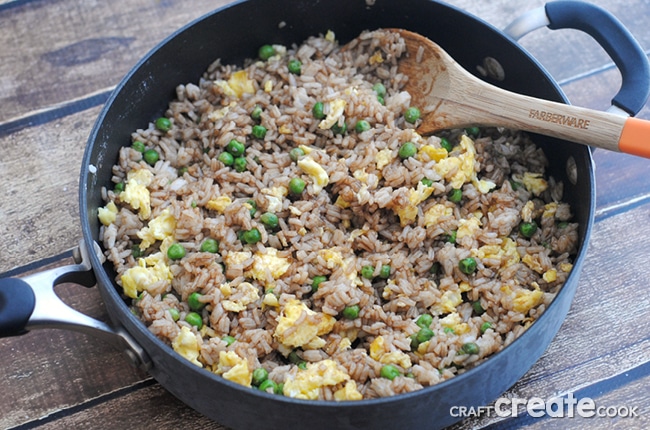 Want more easy leftover recipes? You will want to try our: