These 3 ingredient gluten free pumpkin treats will be perfect as a classroom snack or adorable on your Thanksgiving table.
Sometimes I feel like we move right from Halloween to Christmas, totally skipping Thanksgiving. I am 100% guilty of doing this! If you look at my bin of Halloween decorations, I have a gazillion, but my Thanksgiving/fall decor bin is not even half full! But what I do love is fun and cute recipes for Thanksgiving. Let's face it, it's still fall in November, the leaves are still gorgeous and the pumpkins and cornstalks adorn porches and that white stuff hasn't flow yet - or at least hasn't stuck to the ground.
This is a fun recipe for Halloween and Thanksgiving and only has 3 ingredients! You can easily double your recipe, toss it into a 9x13 and make pumpkins for the classroom or for your Thanksgiving table! And the ingredients make this a gluten free treat for those with dietary restrictions (*be sure to always double check by reading product labels).
Let's get to it! Don't waste any more time listening to me babble!
How to make Gluten Free Pumpkin Treats
Follow the recipe below to make these super cute treats!
One thing I like to use to cut my toothpicks are wire cutters. They make it so much easier to cut than scissors. I stab my pumpkin with a pointy toothpick to create a starter hole and then I remove the toothpick and place the shortened green stem into the pumpkin.
And I always buy the four color package of toothpicks and pick out the green ones. Or I make my kids do it.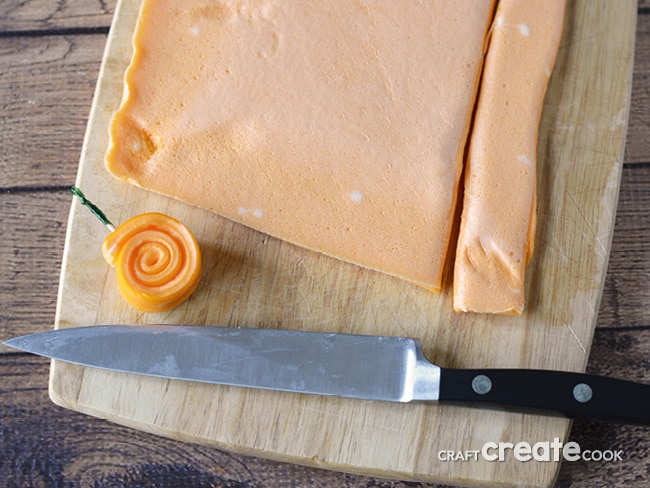 Yield: 9
Gluten Free Pumpkin Treats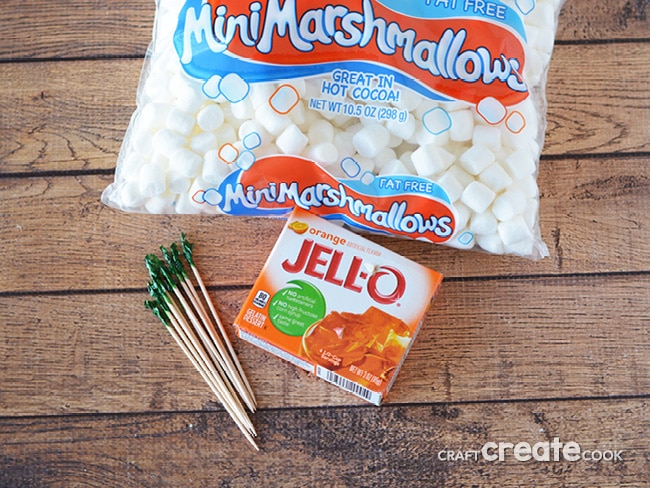 These 3 ingredient gluten free pumpkin treats will be perfect as a classroom snack or adorable on your Thanksgiving table.

Prep Time 5 minutes

Total Time 5 minutes
Ingredients
1 small package orange gelatin
½ cup warm water
1-½ cups mini marshmallows
Green Decorated Toothpicks
Instructions
Grease a square 9x9 baking pan and set aside.
In a large microwave safe bowl, add warm water. Stir in gelatin.
Microwave for 60 second and continue to stir until gelatin is completely dissolved.
Stir in marshmallows and stir until completely melted (this takes a minute or so).
Pour into prepared pan.
Refrigerate for at least an hour.
To Cut & Assemble
I like to remove my jello from the pan and place it onto a cutting board. The marshmallo side is sticky so I always use a larger sharp knife to cut.
Cut into 9 strips.
Roll the strips to create a pumpkin.
Stick a toothpick in the pumpkin just until it comes out of the bottom. Remove the toothpick and insert a trimmed decorated toothpick into the pumpkin.

You'll also want to try our:
Save
Save