Your kids will love this easy and yummy Patriotic snack!
I love graham crackers. My kid love graham crackers. They come in a variety of flavors and they're inexpensive. It's a total win-win here at our house. I usually buy a box or two every few weeks and the kids and I plow through them. I'm always trying to come up with fun and easy ways we can use them other than S'mores and just eating right out of the box.
Memorial Day and the 4th of July are right around the corner. This means, backyard barbecues, bonfires and hanging out with friends and family. I love summer and I'm always trying to think of fun and easy ideas for the kids. These Patriotic grahams are great. Not only are they pretty to look at, but you only need 3, yes, 3, ingredients to make them: grahams crackers, Blue & Red M&M's (feeling adventurous? I usually just pick out the red and blue M&M's out of a regular bag and my husband eats the rest), and white frosting.
It's fun to let each kid make their own flag, because you never know what they will come up with! Give each kiddo a paper plate, a few graham cracker squares, a small bowl of frosting and some red & blue M&M's.
Start by frosting each graham cracker square generously with white frosting. Next, give each frosted square 4 blue M&M's in the top left corner. Finally, make the stripes using the red M&M's. And, eat! Yum!

Easy Patriotic Snack for Kids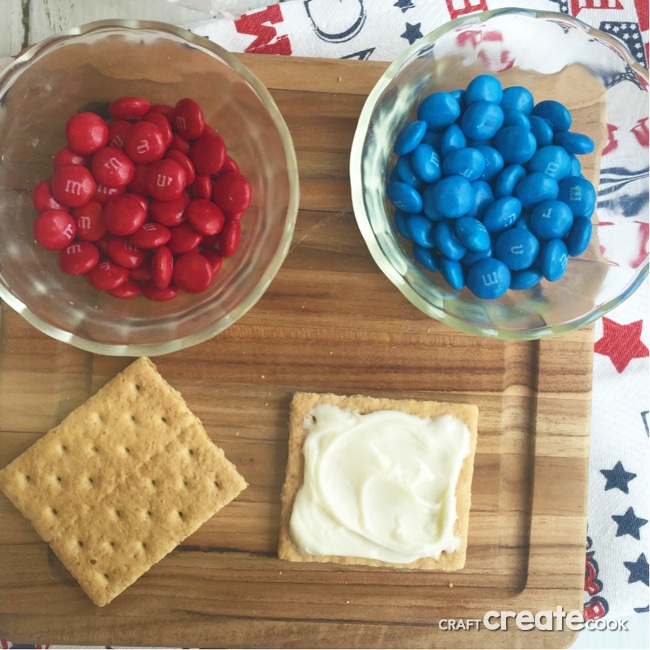 You're kids will love these easy and yummy Patriotic graham snacks!

Prep Time 5 minutes

Total Time 5 minutes
Ingredients
Graham cracker squares
White frosting
Red & Blue M&M's
Instructions
Generously frost each graham cracker square with white frosting.
Count out 4 blue M&M's and and place them in the top left corner of the graham cracker square, forming a square.
Next, make stripes using the red M&M's.
Eat.


You'll also want to make: