Save those pumpkin seeds from your carved pumpkins and make some delicious baked pumpkin pie pumpkin seeds.
I have to be honest, I have never once made or even tried a pumpkin seed. So this year as I was making my Easy Pumpkin Vase I decided to set them aside and try something new. I was digging through my spice cabinet and found some great flavor ideas but one that stuck out to me was my pumpkin pie spice. I didn't really have a lot left so I decided to make my own. A little cinnamon, brown sugar, nutmeg, cloves, and ginger and you've got yourself some pumpkin pie spice. Now grab your pumpkin seeds and head on over to the kitchen.
The secret to making amazing pumpkin seeds, that do not burn is to soak and cook them in water before baking them. Most people skip this step because they are so excited to get their seeds baking and eaten. I find this is the most important step and if you skip it, your seeds will most likely burn in the oven.
After I made these, my husband sat on the couch with a cup of pumpkin seeds watching football for the rest of the afternoon and I brought myself to try one. Something I never thought I would want to try but when the aroma of pumpkin pie was coming from my kitchen I couldn't resist.
If your looking for more great fall recipes try these: Mini Pumpkin Donut Recipe , Rice Krispie Treat Pumpkins, or these Soft and Chewy Pumpkin Cookies.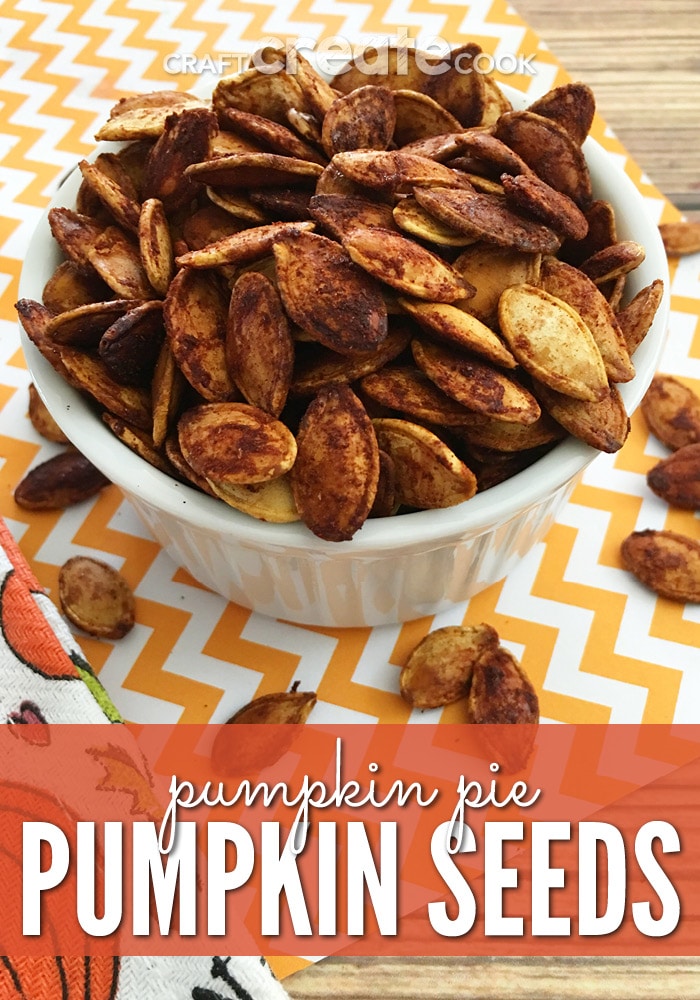 Pumpkin Pie Pumpkin Seeds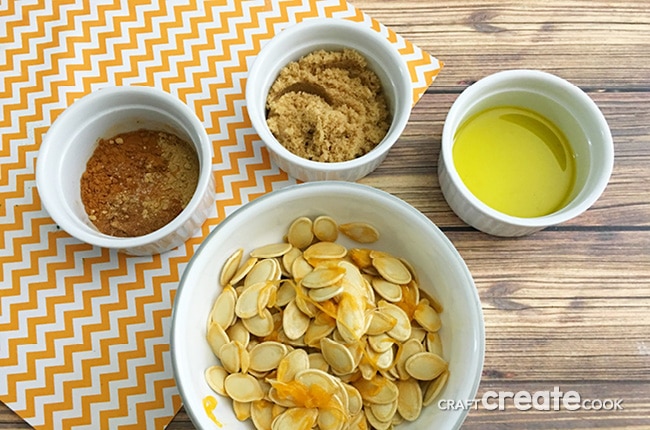 Save those pumpkin seeds from your carved pumpkins and make some delicious baked pumpkin pie pumpkin seeds.
Ingredients
2 cups pumpkin seeds
1 teaspoon olive oil
2 teaspoons cinnamon
¼ teaspoon ground ginger
¼ teaspoon nutmeg
¼ teaspoon ground cloves
½ teaspoon brown sugar
Instructions
Place your pumpkin seeds in a small strainer. Rinse off the pumpkin guts with water.
Line a baking sheet with a piece of parchment paper and preheat your oven to 350 degrees.
Place the seeds in a saucepan of warm water with a pinch or two of salt and let them sit for about 10 minutes. Then bring the pot of water to a boil, and boil the seeds for 10 minutes.
Once your seeds have boiled for 10 minutes, strain your seeds, and take a piece of paper towel an dab off any excess water.
Spread your seeds evenly onto the bottom of your baking sheet and toss with a teaspoon of olive oil.
Mix together cinnamon, ginger, nutmeg, and ground cloves.
Sprinkle brown sugar on top of your seeds followed by the spices.
Use a spatula to toss the seeds around in the mixture and bake for 40 minutes, tossing every 10 minutes until crisp but not burnt.