If you are looking for a festive holiday breakfast, these gingerbread waffles are sure to become one of your favorite!
Usually on Christmas morning I throw my overnight french toast casserole into the oven. But sometimes I feel like cooking and that's when I resort to my holiday favorite, gingerbread waffles. I absolutely love the smell of gingerbread. It screams winter and Christmastime. I grab up anything gingerbread I can find – candles, coffee creamer and cookies during this time of year.
I use a simple waffle maker for this recipe. I actually grabbed it for 2 bucks at a rummage sale a few years ago and it was brand new. It's not fancy and it does take almost 3 minutes to make 2 waffles, but it does the trick!
How to Make Gingerbread Waffles
My secret trick to using molasses, is to spray the measuring cup with cooking spray, then fill it with molasses and it will easily slide out into your bowl! No need to scrape the measuring cup as it will be empty!
I love to make a batch of these waffles and toss half of them into the freezer. Then I grab one, pop it into my toaster and I get that delicious gingerbread smell and flavor anytime I want it!
Wilton makes these super cute gingerbread icing decorations that are adorable on the top or you can try these cute mini gingerbread edible decorations.
I'm almost certain after you make these, your house will smell amazing and everyone will be asking for more!


Yield: 14
Gingerbread Waffles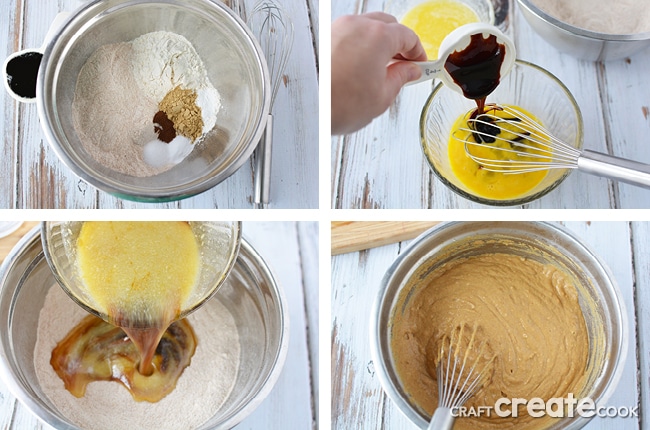 If you are looking for a festive holiday breakfast, these gingerbread waffles are sure to become one of your favorite!

Prep Time 5 minutes

Cook Time 25 minutes

Total Time 30 minutes
Ingredients
1-1/2 cups whole wheat flour
1/2 cup all-purpose flour
2 tablespoons white sugar
2 teaspoons baking powder
2 teaspoons ground ginger
1 teaspoon cinnamon
1/2 teaspoon salt
1/2 teaspoon baking soda
1/4 teaspoon ground cloves
2 eggs
1/4 cup molasses
1/2 cup, 1 stick, butter, melted
2 cups boiling water
Instructions
In a mixing bowl combine flours, sugar, baking powder, ginger, cinnamon, salt, baking soda and cloves. Whisk together until mixed well.
In a small mixing bowl add eggs and molasses and whisk well. Stir in butter. Add wet ingredients to dry ingredients, adding the boiling water and mix well.
Spray the waffle iron with cooking spray and pour 3/4 cup batter (total amount for 2 waffles) into pan and heat according to the instructions on the appliance.
Keep waffles in an oven at 200 degrees or lower.
Serve with powdered sugar, butter, syrup and whipped topping.