These grilled BBQ shrimp are easy to make and delicious!
Summer is officially here in Michigan and we love simple and easy dinners. During our short summer months, we can often be found out on the boat or taking quick day or overnight trips to various gorgeous Michigan hot spots so I love quick and easy meals. I also love making double batches of food, that way I have enough for leftovers!
On my husband's day off he can often be found outside by our good old charcoal grill, beer in hand. We've had the same charcoal grill for over 10 years now and it's one of those basic $50 charcoal grills you can get at Walmart and it works great. We just love the classic grill taste that charcoal gives and you just can't get that with a gas grill.
I also love that my husband enjoys grilling on his days off, as it saves me from slaving over the stove on hot summer days. Grilling also give us leftovers like I mentioned above. I usually buy large package of burger, chicken or shrimp and we grill in bulk so we have leftovers for other meals! These easy grilled BBQ shrimp are no exception, they are great hot off the grill with quinoa or rice. Or, save to reheat the next day or eat cold over a bed of fresh salad greens for lunch. I am a leftover junkie so the more leftovers, the merrier.
Do you love grilled shrimp but don't like BBQ sauce? Skip the BBQ sauce and simply season the shrimp to your liking and grill like you normally would. I promise you can't mess this delicious shrimp up, even if you tried.
You'll also want to make: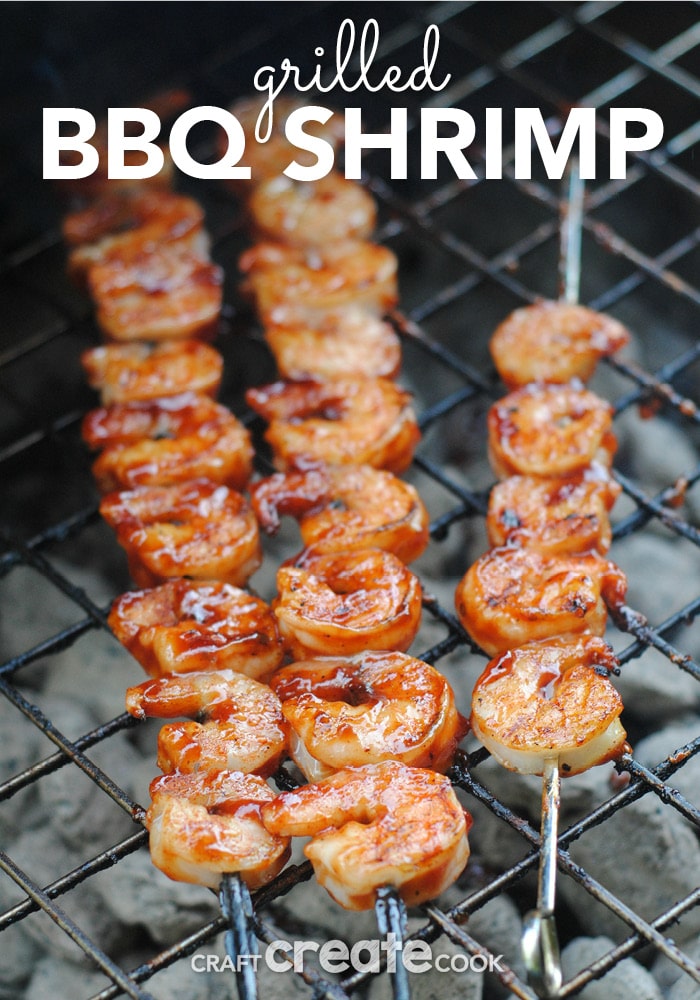 Easy Grilled BBQ Shrimp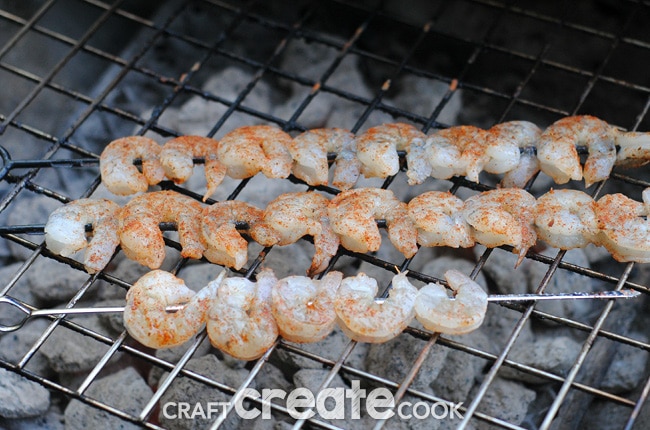 These grilled BBQ shrimp are easy to make and delicious!

Prep Time 10 minutes

Cook Time 16 minutes

Total Time 26 minutes
Ingredients
1-2 lb jumbo shrimp, deveined
1-2 tsp. blackening seasoning (more if you prefer spicy)
BBQ sauce
salt & pepper to taste
Instructions
Light your grill and allow it to heat up.
While the grill is heating, devein the shrimp, skewer and season with blackening seasoning, salt & pepper.
Place on the grill and cook 7-8 minutes. Turn and cook another 7-8 minutes.
Baste generously with BBQ sauce on both sides once they are cooked through.
Remove from the grill and serve with cooked quinoa or rice.
Save leftovers for salad the next day or reheat in the microwave.