Our Top 5 Michigan summer destination spots will be perfect for you if you're looking for things to do in Michigan this summer.
I'm always looking for neat places to visit and things to do in Michigan since I live here year round. I like to see what's hidden in this beautiful state, and there's a lot! Here are few of my favorites:
Petoskey, MI– Petoskey is a beautiful town hidden in Northern Michigan. With warm summer temperatures, gorgeous views, small town shopping, and delicious local restaurants.
Our favorite things to do in Petoskey:
Search for Petoskey stones, which are prehistoric fossils that lived 350 million years ago. Now mixed in the rocks all along the coast of Petoskey and attached towns.
Rent a boat and cruise along the smaller lakes like Crooked Lake, Walloon Lake, and Round Lake. The water is warmer than Lake Michigan and perfect for boating and swimming.
Go for a bike ride along the shores of Lake Michigan or along the Bear River. You'll get to see great scenery and take beautiful pictures along with a little exercise.
Glen Arbor, MI– Glen Arbor is a gorgeous small town which sits in the middle of the Sleeping Bear Dunes National Lakeshore. Perfect for a family getaway full of nature.
Our favorite things to do in Glen Arbor:
Rent a kayak or canoe at Crystal River Outfitters and paddle down the local river. Make sure to bring lunch to eat along the way.
Hike the local Sleeping Bear Dunes, once you get to the top you will realize why Good Morning America named it America's 'Most Beautiful Place'.
Camp at D.H. Day Campground, located on the lake shore. You can camp, swim, and sing around your campfire, but more importantly make memories.
Marquette, MI– Located in Michigan's Upper Penninsula, otherwise known as the U.P., it's the locals best kept secret. Hidden among smaller towns, this gem of a town is the biggest in the U.P. but still has the small town charm.
Our favorite things to do in Marquette:
Hike Sugarloaf Mountain, which has two paths to take, the rough terrain or the stairs. The climb to the top to check out the view is worth it.
Check out the world's largest wooden dome, which is known as the Superior Dome. The Superior Dome hosts the local college, Northern Michigan University's football games, crafts shows, as well as a variety of community events.
Drive, walk, or bike through Presque Isle Park, a peninsula off of Marquette filled with fun. You can have a picnic, play at the park, and watch people jump off the black rocks into the water.
Mackinac Island, MI– Mackinac Island is a small island close to the Mackinac Bridge. It's a popular tourist destination filled with old town charm. You will not find any cars or motorized vehicles. What you will find are horse drawn carriage rides, bike rentals, and fudge. Lots of fudge and it was voted the Top 10 Island in the United States on Trip Advisor!
Our favorite things to do on Mackinac Island:
Rent a bike and bike along the 5 mile shore of the island. You can swim along the shore, sight see, and even stop for lunch. Or bring your own bike across the ferry.
Stop by Fort Mackinac, constructed by British soldiers during the American Revolution. Once serving as a home for soldiers and their families. This walk-through museum is fun for everyone.
Stay at the Grand Hotel, built in 1887. This hotel has old world charm with modern amenities.
Munising, MI– A charming small town in the Upper Peninsula known for the Pictured Rocks and many waterfalls.
Our favorite things to do in Munising:
Tour Pictured Rocks on a cruise or kayak, both which can be done in an afternoon.
Take a short 13 minute drive to a neighboring town called Shingleton to visit Husky Haven Sled Dogs, where you can take a dry tour in the summer and learn about sled dog racing.
Visit one of the many falls, Munising Falls, Laughing Whitefish Falls, Wagner Falls, Miners Falls and many more!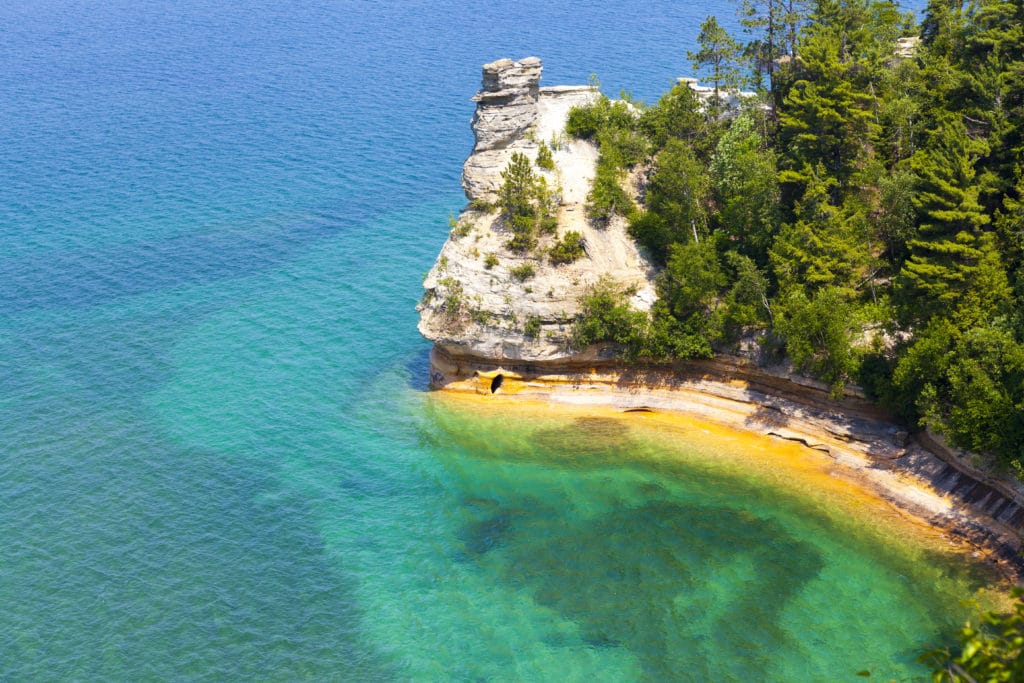 Have you ever been to Michigan? What are your favorite things to do in Michigan?
You'll want to download our FREE Family Summer Bucket List Printable here.
And maybe you're looking for some inexpensive summer date ideas.