Perfect for lunch boxes or Sunday brunch, Easter bunny banana bread uses a traditional bread recipe in a cute pan!
Easter is such a fun time because in Michigan it means spring is around the corner! I love all of the fun seasonal items in the stores to celebrate the new season! I love the colors of spring and the first time we see a robin outside! I also love to make cute and fun Easter food!
My kids absolutely love eating my Easter egg pancakes. And after I made these Easter bunny candies, my daughter squealed with excitement when I told her she could eat one. So when I made this Easter bunny banana bread recipe my kids were over the moon! Each of them wanted a few bunnies in their lunch box!
How to make Easter Bunny Banana Bread
The first thing you need to make this cute Easter treat is a bunny silicone cake mold. Add my favorite banana bread recipe and you're well on your way to making this bread! You'll be the talk of Easter brunch if you show up with these cute sweet bunnies! These will multiply like rabbits!
Always put your cake mold on a baking sheet so it's easier to carry to the oven. Make sure you fill your bunny cavities about ⅓ full because they rise up just like regular bread. Don't follow my lead and fill them! The Easter bunny bread still turned out fine, my bunnies were just puffed out a bit! Spread your batter into the pan so it fills the ears and face.
When the timer goes off, you'll be so excited to have all of these cute bunnies! But don't stop there, keep on going, when you're done you'll have about 60!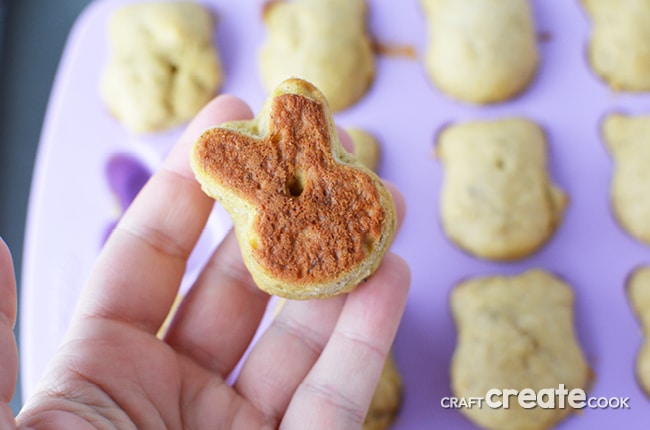 Yield: 60
Easter Bunny Banana Bread Recipe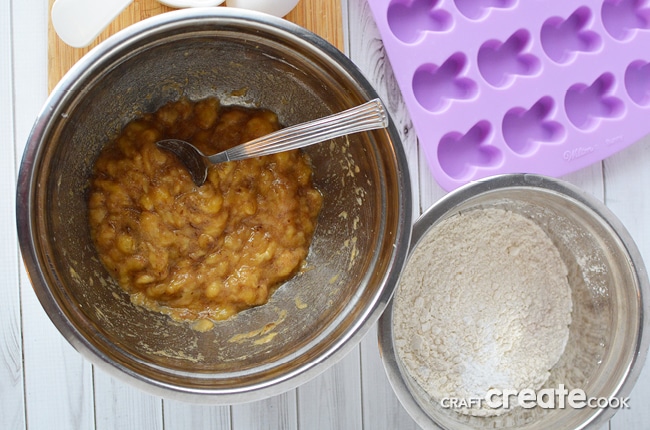 Perfect for brunch, Easter bunny banana bread uses a traditional bread recipe in a cute pan!

Prep Time 10 minutes

Cook Time 8 minutes

Total Time 18 minutes
Ingredients
2 cups flour
1 teaspoon baking soda
1 teaspoon baking powder
½ teaspoon salt
4 ripe bananas, mashed
½ cup sugar
1 egg
1 teaspoon vanilla
6 tablespoons hot water
Instructions
Preheat oven to 350.
Grease pan with nonstick cooking spray and set aside.
Add flour, baking soda, baking powder and salt in a small mixing bowl. Set aside.
In a separate mixing bowl, add mashed bananas, sugar, egg, vanilla and water and mix well.
Add flour to banana mixture and mix just until combined.
Spoon a small amount into the pan. A very small amount. Fill the bunny cavities about ⅓ full.
Use the tip of the spoon to spread the batter into the ears of the bunny.
Bake for 8-10 minutes or until golden brown and toothpick inserted into the center comes out clean.
Cool for 5 minutes before popping out of the pan and continuing to cool on a cooling rack.