Our Donut crafts for kids are easy and look real!
My kids love pretend play - especially playing kitchen! Whether it's feeding their babies, or playing restaurant, they are always using the play kitchen. And I was the same way as a kid. My sister and I played with our pretend kitchen all the time. And when summer came, we made all sorts of concoctions outside with berries, grass, water and mushrooms. In the winter, we'd make snow cakes and at the beach, we'd make cookies in the sand. I suppose now, I'm still "playing" in the kitchen.
When I told my daughter we were going to make donuts, she was really excited! The worst part of this project was waiting for the fabric paint we used for the sprinkles to dry! My favorite part is that these are no sew! Plus they look super cute!
You need a handful of materials for this project:
Old socks. I found dark brown and tan at the thrift store! 1 pair makes two donuts
Various colors of felt- we went with rainbow colors
You'll want longer socks for this project. Short ankle socks won't work. Trust me, I tried with some pink ones. I was hoping to make strawberry donuts, but that didn't happen because the socks were too short!
You simply cut the toe off the sock and roll it up! Start rolling from the cut end. About ⅓ of the way into rolling, you might worry your sock is too loose, it's not, just keep rolling and when you get to the top of the sock, it should be fine. With an adult's help, hot glue the top of the sock cuff to the donut.
Using various colors of felt, cut a square about the same size as the donut. Trim the edges to be circular and irregular. Fold the felt in half and cut out a half circle on the fold. Open the felt and you have a full circle. Use hot glue to affix the felt to your donut.
Now for the fun part! Use fabric paints to create sprinkles! The opaque colors work best, as some colors are too transparent and will dry pretty clear. Set aside to dry, we did these before bedtime so we had to let them dry overnight!
In the morning my kids were playing bakery! Bringing me a coffee and donut for breakfast! It was such a special treat!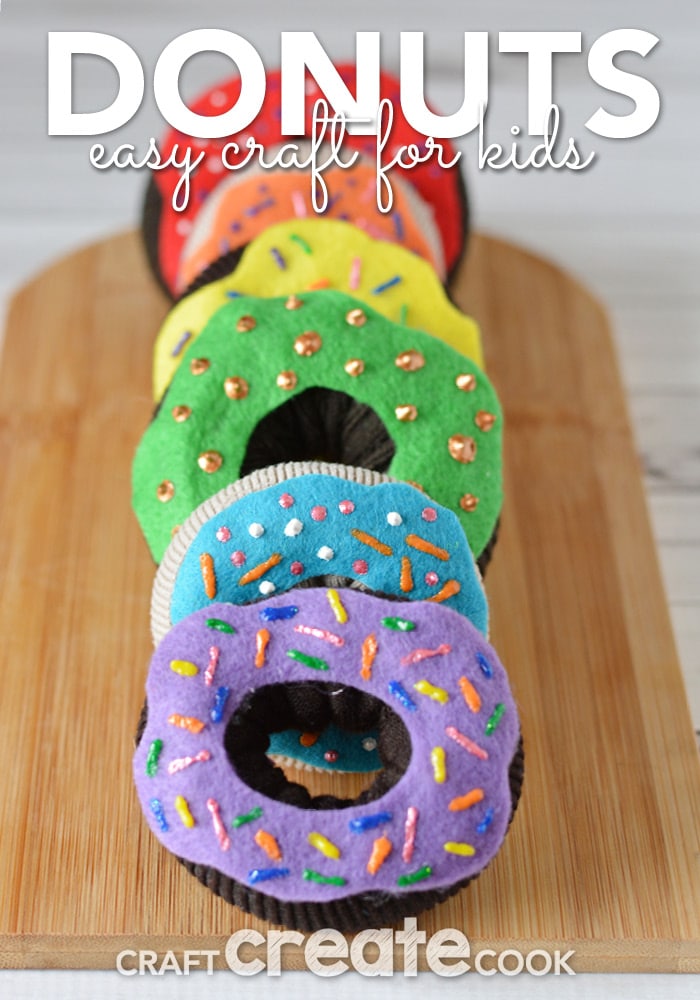 Try these other crafts for kids: