Make this easy DIY Eclipse Pinhole Viewer to see the solar eclipse!
Who's excited for the August 2017 eclipse taking place tomorrow?! We've been talking a lot about the eclipse and what it is and what it involves. My kids are young, ages 6, 8 and 9 but they love science and science experiments. I had to explain to my kids that you cannot look directly at the sun during the eclipse. I've read a lot of online articles regarding the eye damage it can cause and honestly it freaks me out.
Eclipse Pinhole Viewer
I searched for a view ideas online and found some diy cereal box viewer and pinhole viewers made out of the toilet paper rolls. I found a few ideas that caught my eye and searched through my craft drawers for all the necessary materials.
Materials:
Paper towel rolls
Paper clip
Tape
Scissors
Tin foil
White piece of paper
Scrapbook paper (optional)
Directions:
1. Cut a small square from one end of the paper towel roll about 1″ wide and 1″ tall.
2. Cut a small square (about 1″ wider than the diameter of the roll) from the white paper using the scissors. Tape the white square onto one end of the paper towel roll and trim as needed.
3. Cut a small square of foil using the scissors. Flip the paper towel roll over and tape the square piece of foil on the opposite end of the roll.
4. Use the paper clip to make a small pinhole size hole in the middle of the foil.
5. If using scrapbook paper to decorate the paper towel, cut the scrapbook paper to fit the length of the paper towel roll and secure with tape. Trim off extra paper as needed.
Directions for Using:
Take the eclipse pinhole viewer outside into the sun.
Face away from the sun and position the pinhole viewer tin foil covered end, toward the sun with the paper end pointed toward the ground.
Find your shadow and the shadow of the pinhole viewer on the ground. Move the pinhole viewer around until you cannot see the shadow of the pinhole viewer anymore and you can you can see the disk of the sun come into view on the white piece of paper in the viewer. You may need to move around and adjust where you are standing.
*This pinhole viewer is to be used without looking directly toward the sun.
Looking for more Eclipse activities?
Easy Eclipse Cookies – Delicious and a fun way to learn about how an Eclipse works!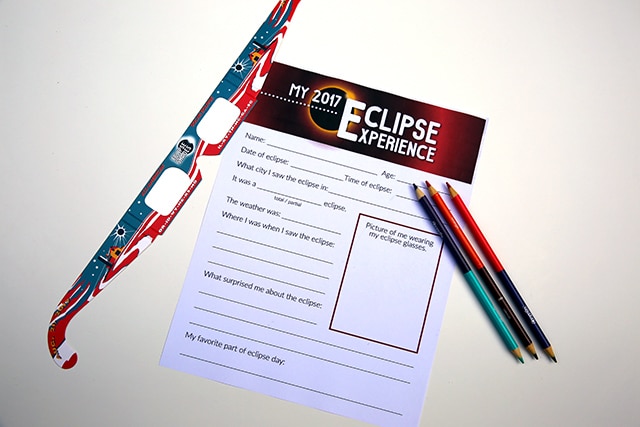 FREE Eclipse Printable from The Creative Mom Blog – planning an Eclipse party tomorrow? Make sure you save and print then fun and FREE printable!
Save
Save