We always hear that breakfast is one of the most important meals of the day. Growing up, my dad would always hound me to eat breakfast before leaving for school in the morning and it wasn't until recently I realized I really do need to have a healthy breakfast to keep me going.
When I was younger I ate breakfast every morning, whether it was a bowl of cereal with skim milk or a piece of toast with orange juice, I always ate something. As I got older I stopped eating breakfast every day because I just wasn't hungry. I'd grab a cup of coffee and be on my way.
Over the last 6 months I've started working out 4-5 days a week and one day I made the mistake of skipping breakfast and wow, I was hurting! I went to spin class like any other day and felt so sick afterwards. It was because I hadn't eaten breakfast!
I definitely learned my lesson that day and now try to eat every morning but sometimes I still forget. Having 3 school age children my mornings are super busy. I wanted to figure out a way to have a healthy morning routine along with a quick and easy breakfast that doesn't involve waiting for my pot of oatmeal to finish cooking on the stove.
I love cereal but again, being in a rush I often forget to eat before leaving the house and then it's to late. I thought why not make a yummy breakfast cookie incorporating one of my favorite cereals? I grabbed a box of Great Grains® Raisin, Dates & Pecan cereal and got to work!
These breakfast cereal cookies use only a few ingredients and are great for snacks, too. Grab 1 or 2 breakfast cookies on your way out the door on busy mornings and jump start your day! Pack them in lunch boxes for an afternoon snack or give to the kids on their way to after school activities.

How to Make Breakfast Cereal Cookies
Yield: 9
Breakfast Cereal Cookies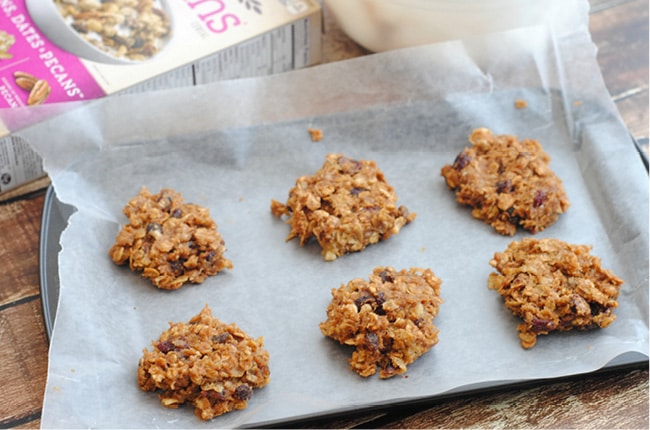 These breakfast cereal cookies are easy to make, delicious and perfect for breakfast or a healthy snack!

Prep Time 5 minutes

Cook Time 12 minutes

Total Time 17 minutes
Ingredients
2 C. Great Grains® Raisin, Dates & Pecan cereal
1 C. peanut butter
1. tsp. cinnamon
1/4 C. honey
1/2 C. dried cranberries or cherries
1 large banana, mashed
Instructions
Preheat the oven to 325 degrees and line a baking sheet with parchment paper.
Combine all the ingredients mixing well.
Use a large tablespoon to scoop the dough onto the cookies sheets and use the back of the spoon or your fingers to gently flatten the cookies (they will not spread while baking).
Bake 12-14 minutes.
Remove from the oven and let cool completely before removing from the cookies sheet.
Store in an airtight for several days.


You will also want to make some of our other breakfast recipes:
Save