Your family will love these adorable and delicious 2 ingredient mini pumpkin donuts!
It's officially fall where we live. Mornings and evenings are crisp and cool. Afternoons are warm and sunny and the leaves are slowly starting to change. I often day dream about living somewhere where the climate is warmer year round (our winters can be brutal) but I honestly love the fall season. I love the colors, the cooler air and being outside sitting around a campfire in the evening and playing with my kids.
These 2 ingredient mini pumpkin donuts are so cute and the perfect weekend treat for your kids. Heck, you could even make them and surprise your family during the week. I love our weekends though and love nothing more than lazy Saturday and Sunday mornings where we sit around, play games, drink coffee and eat.
These adorable little donuts only take about 15 minutes TOTAL to make so you have no excuse not to try them. Eat them plain, dunk them in your coffee or roll them in some cinnamon and sugar and enjoy!


Yield: 36
2 Ingredient Mini Pumpkin Donuts Recipe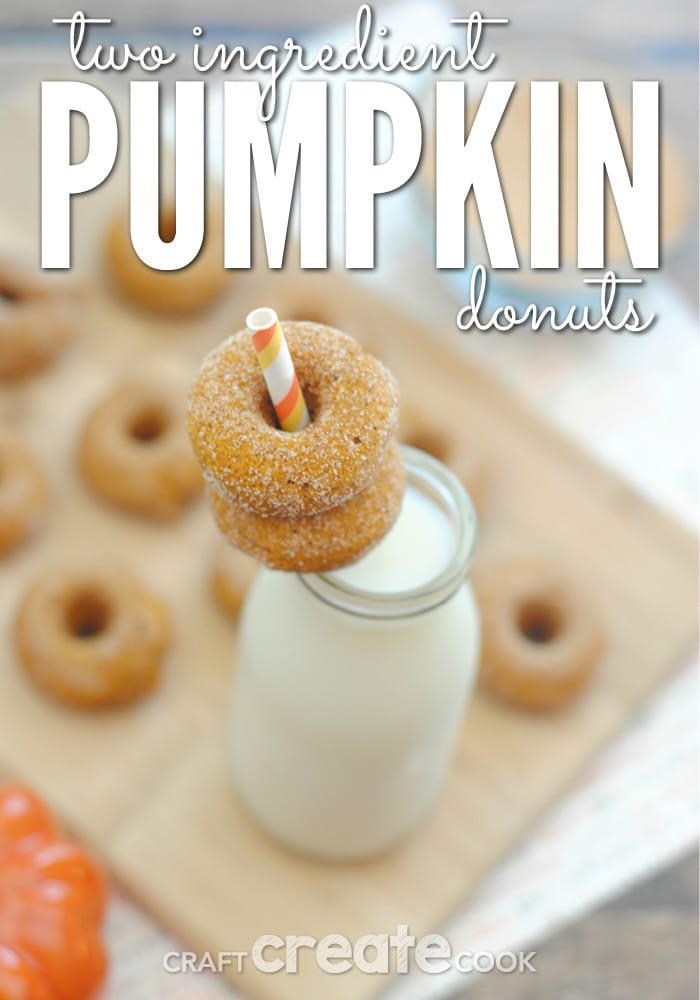 Your family will love these adorable and delicious 2 ingredient mini pumpkin donuts!
Ingredients
1 box of spice cake mix, any brand
15 oz can of pumpkin
cinnamon & sugar topping: 1/2 C. sugar & tbs. cinnamon combined (optional)
large gallon freezer bag
kitchen scissors
Instructions
Preheat the oven to 350 degrees and spray the mini donut pan with non-stick cooking spray.
Combine the Duncan Hines Spice Cake mix and the canned pumpkin, mixing well.
Scoop the donut batter into the large gallon freezer bag and seal shut.
Snip one corner of the bag with the kitchen scissors.
Gently squeeze the donut batter into the mini donut wells filling each about 3/4 full.
Bake 7-9 minutes.
Remove from the oven and let cool.
Once the donuts have cooled, gently toss them in the cinnamon and sugar mixture (optional).


I used a mini donut tin but you could also use a regular size donut tin, just add a few minutes to the cooking time listed below.
You will also want to make our 2 Ingredient Homemade Pizza Dough and our Homemade Chocolate Zucchini Cake!
Save
Save