Sounds too good to be true, but this 2 ingredient homemade pizza dough is amazing. You'll want to make it for dinner tomorrow!
I. Love. Pizza.
But I've always struggled to make amazing pizza dough. I've tried the dough in a box where you just add water, in fact my sister and I used to make that as a kid! I tried turning frozen dough into pizza dough, I've made dough in my bread machine, I've purchased the pre-made crusts. But when I stumbled upon a 2 ingredient pizza dough, it sounded too good to be true. I'll admit, I figured I'd take a bite and toss the rest of it. In reality, I was surprised by how amazing this pizza dough is!
Homemade 2 Ingredient Pizza Dough
If you like pan baked, thick crust pizza, this recipe is not for you. If you like thin crust pizza, this isn't for you either. This is a good blend of what I call hand tossed pizza. My teeny tiny secret ingredient of cornmeal makes the crust absolutely perfect because in my opinion, the crust is what "makes" a pizza.
This is a quick and easy crust recipe. Your kids will love helping out as well! Let them mix the simple ingredients and help to top the pizza with their favorite toppings. Trust me, you won't be disappointed! I wasn't!
Look at how perfect that pizza crust is! Golden brown...and delicious!
Once you make this pizza, you'll want to try our homemade mac and cheese and our 2 ingredient no bake truffles for dessert!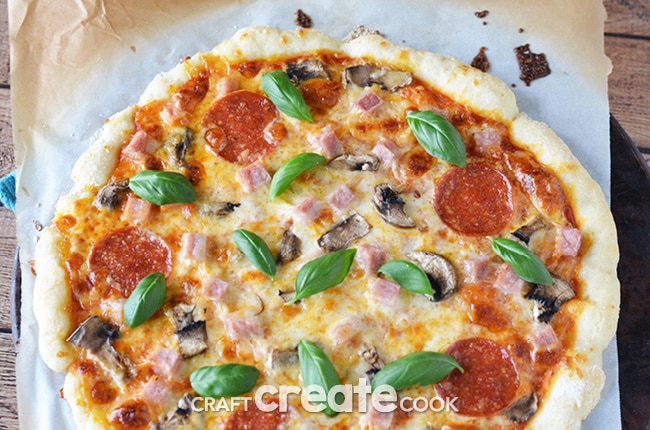 Yield: 6
2 Ingredient Homemade Pizza Dough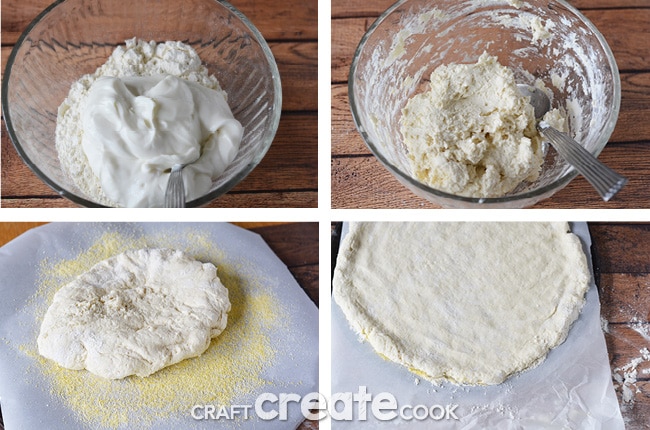 2 ingredients combine to make this amazing homemade pizza dough!

Prep Time 10 minutes

Cook Time 12 minutes

Total Time 22 minutes
Ingredients
1 cup plain Greek yogurt
1 cup self-rising flour
corn meal
pizza sauce
1 cup mozzarella cheese
pizza toppings such as pepperoni, ham, mushrooms, onions, etc.
fresh basil, if desired.
Instructions
Preheat oven to 400 degrees.
In a bowl, combine yogurt and flour and mix well.
Turn onto a lightly floured surface and knead until smooth.
Sprinkle cornmeal onto parchment paper. Spread the dough onto the cornmeal and into a 10" circle.
Top with pizza sauce, cheese and toppings.
Bake for 10-12 minutes or until brown and cheese is bubbly. Let set for a few minutes before slicing.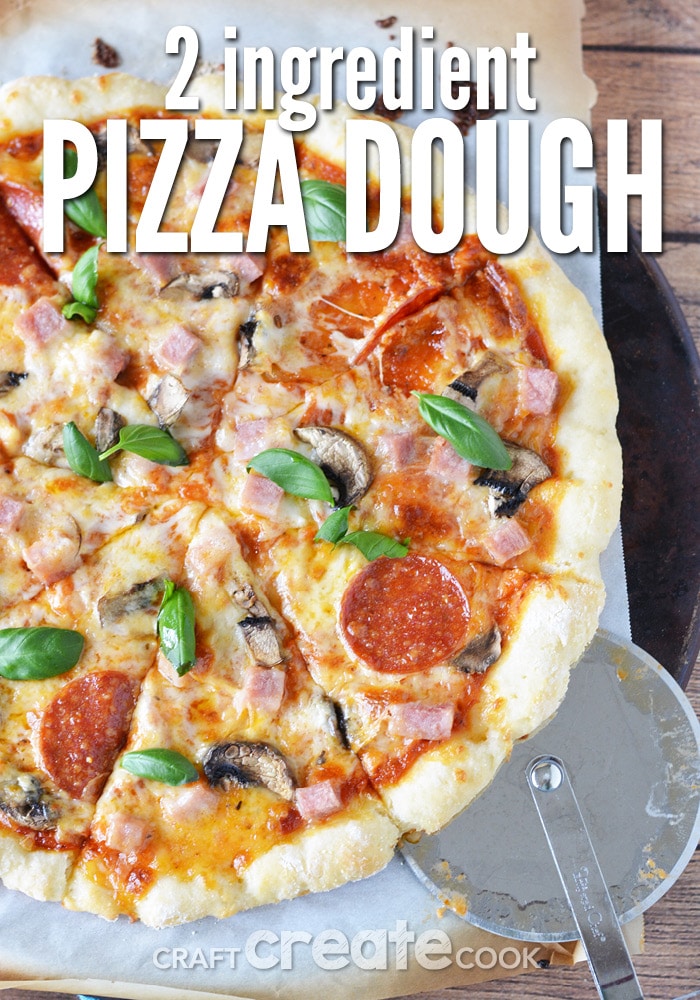 Save
Save