This chocolate zucchini cake is a fabulous dessert perfect for using fresh zucchini!
Summer is slowly coming to a close here and Michigan and fall is on the horizon. Local farms and neighbor's gardens are overflowing with zucchini right now. I have been taking advantage of the bounty as much as I can. Every couple of days I stop at our local farmer's market and pick up at least 4-5 medium size zucchini. I've made dinner. I've made cookies. I've made muffins. I've made cookies. And, I've even made cookies. My most recent and delicious creation was this homemade chocolate zucchini cake. It's moist, chocolatey, delicious and best of all, the kids had NO idea there was zucchini in it. The kids each sneaked a bite before dinner and I caught them going for seconds afterwards. I can't say I blame them as they are GOOD.
The cake only took a few minutes to throw together as I always have baking ingredients on hand. I used my handy cheese and veggie grater to shred the zucchini and then added all the ingredients into one bowl, mixed and baked. The kids can also help out with this recipe as well. My girls love to help in the kitchen and shredding zucchini is perfect for them.
One you bite into this rich dense cake, you'll be sneaking for another piece after the kids go to bed. Perhaps you'll try it with a little vanilla ice cream to really make it melt in your mouth!
You will also want to make:
Banana Pecan Cake


Yield: 12
Homemade Chocolate Zucchini Cake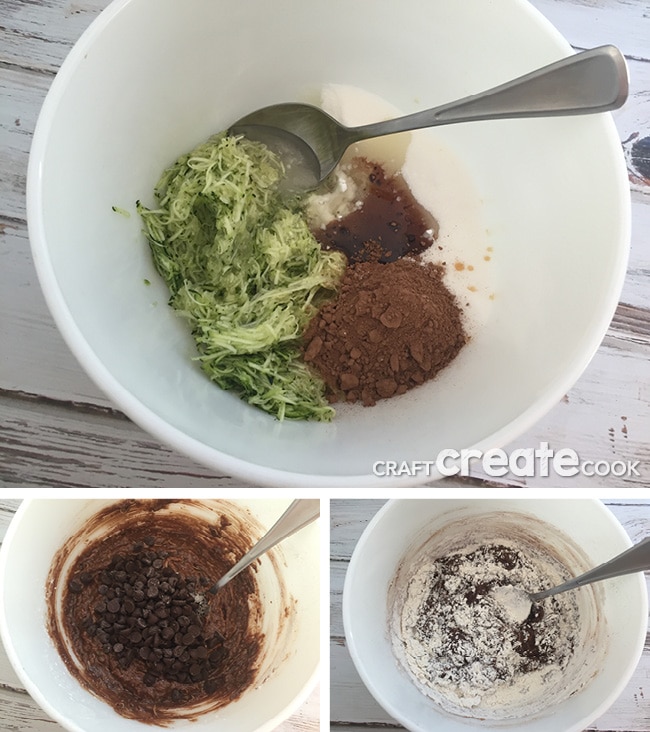 This chocolate zucchini cake is a fabulous dessert perfect for using fresh zucchini!

Prep Time 10 minutes

Cook Time 25 minutes

Total Time 35 minutes
Ingredients
1 C. fresh zucchini, shredded
½ C. vegetable oil
¾ C. sugar
1 teaspoon vanilla extract
1 C. flour
¼ C. unsweetened cocoa powder
1 teaspoon baking powder
¾ C. chocolate chips or mini chocolate chips + extra to sprinkle on top of the brownies
Instructions
Preheat the oven to 350 degrees and spray a 9x9 baking pan with non-stick cooking spray.
Combine the zucchini, vegetable oil sugar, vanilla extract and cocoa powder, mixing well.
Slowly fold in the flour and baking powder.
Add in the chocolate chips.
Pour the brownie batter into the baking pan and sprinkle a small handful of chocolate chips on top.
Bake 25-30 minutes.
Insert a toothpick around 25 minutes. If it comes out clean, the brownies are done.
Let cool and cut into 12 squares.



Save