Share the love with our adorable valentine cupcakes.
With Christmas over and the all the holiday decor put away it's time to look ahead toward Valentine's Day. I love Valentine's Day. It's fun, frivolous and festive! My husband, on the other hand, despises Valentine's Day, swearing up and down that it's a "made up holiday." Ok, fine. Maybe he has a point, but hey, if I can bake sweets, eat candy til my hearts content and create fun Valentine crafts with the kids it's an ok holiday for me!
Seriously though, Valentine's Day is about love and having fun with those you care about. What is sweeter than sharing something sweet, like these Valentine cupcakes with a loved one? They are adorable. Better yet, you can use our homemade cupcake recipe or a box of store bought cake mix if you prefer. Same with the frosting. I used store bought frosting for the Valentine Cupcakes and the kids didn't complain.
These cupcakes are easy to make and you need only one special item, this mini heart cookie cutter, it would be fun to use other shapes for other holidays as well!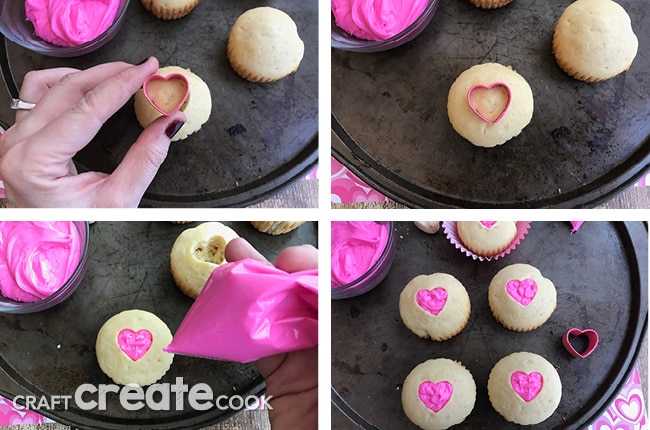 How to Make Valentine Cupcakes
Valentine Cupcakes
Author:
Craft Create Cook
Prep time:
Cook time:
Total time:
Share the love with our adorable valentine cupcakes.
Ingredients
1 C. sugar
½ C. butter, melted
2 eggs
2 tsp. vanilla
1½ C. flour
2 tsp. baking powder
½ C. milk
1 tub of white frosting
pink food coloring
small sandwich baggie
kitchen scissors
Instructions
Preheat the oven to 400 degrees and line a 12 count muffin tin with cupcake liners.
Combine the cupcake ingredients, mixing well.
Fill each cupcake tin about ¾ full.
Bake for 20-23 minutes.
Let the cupcakes cool completely.
Add a few drops of pink food coloring to the white frosting. Stir to combine, add more pink until you've reached the desired color.
Fill the small sandwich baggie with frosting, seal shut and snip 1 corner with the kitchen scissors.
Once the cupcakes are cooled, press the small heart shaped cookie cutter into the tops of each cupcake. Gently remove and fill each heart shaped indent with pink frosting.
Repeat with each cupcake.
You will also want to make:
New Years Eve Fortune Cookies
Cute Trolls Cupcakes
Homemade Chocolate Cosmic Cupcakes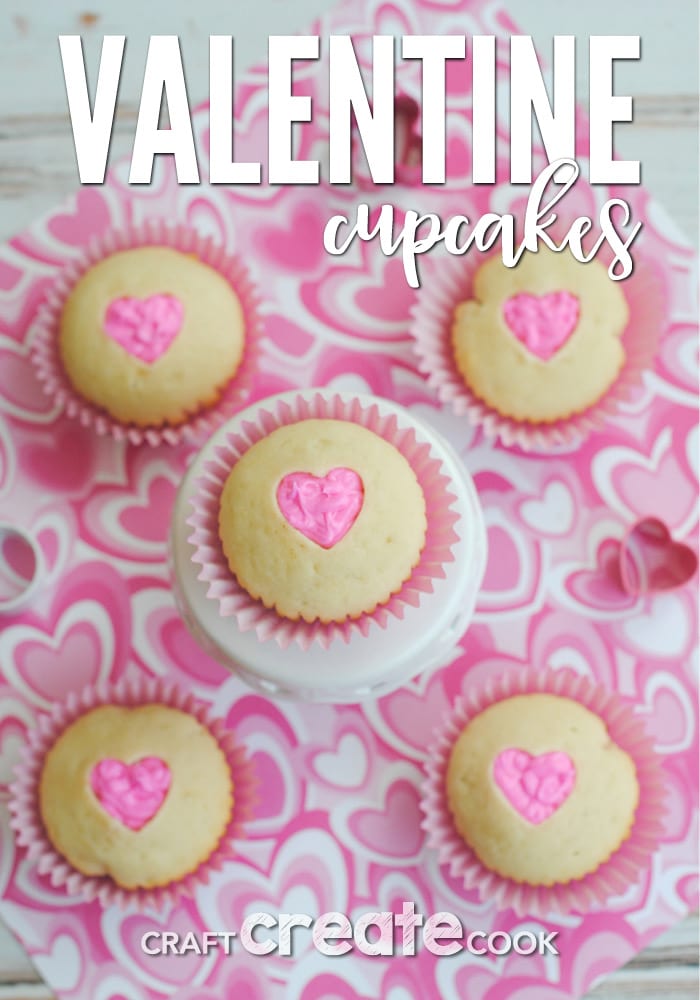 Save
Save
Save