Inspired by the movie Christopher Robin, these Winnie the Pooh cupcakes are easy to make with the whole family.
I'm the first to admit it's been a very long time since I've watched any Winnie the Pooh cartoons. I remember watching them when I babysat a little girl and they were VHS tapes! That's how long ago it was. My own kids didn't get into Winnie the Pooh. But now that I see there's a new movie out, Christopher Robin, I'm excited to take my kids to the theater to see this show!
You can watch the official Christopher Robin movie trailer here if you haven't already seen it. Disney considers this a "heartwarming live action adventure, the young boy who shared countless adventures with his stuffed animal friends in the Hundred Acre Wood has grown up and lost sight of what's important in life. Now it is up to his childhood friends to venture into our world and help Christopher Robin rediscover the joys of family life, the value of friendship and to appreciate the simple pleasure in life once again."
Since I think the movie Christopher Robin is going to be a great family movie, I'm making these Winnie the Pooh cupcakes for the kids to enjoy after the movie! I know once they see the film they will love these cute cupcakes!
How to make Winnie the Pooh Cupcakes
I usually always start with my favorite box of cake mix and my favorite tub of vanilla frosting. Make some cupcakes and cool them completely before frosting them. My kids love helping make cupcakes.
I'm no expert in frosting or using frosting tips, but I used the star tip #18 and think it looks perfect for these cute winnie the pooh cupcakes! But what I was most excited about was how great the frosting matched the ears! I used yellow Wilton candy melts for the ears, and Wilton's color gel food coloring in golden yellow color. They match perfectly and look just like winnie the pooh!
And while we are on the subject of my favorite products, try these red baking cups! They look just like pooh's red tee shirt!
If you're getting excited about this move like I am, make sure you download these coloring sheets for the kids, too!
Try these other Christopher Robin inspired projects!
Yield: 24
Christopher Robin Inspired Winnie the Pooh Cupcakes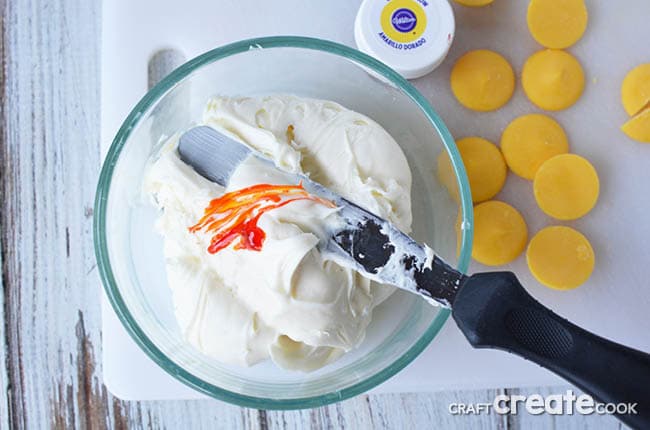 Inspired by the movie Christopher Robin, these Winnie the Pooh cupcakes are easy to make with the whole family.

Prep Time 20 minutes

Cook Time 20 minutes

Total Time 40 minutes
Ingredients
24 cupcakes, baked and cooled
1 tub, 16 oz, vanilla frosting
Wilton Color Gel in Golden Yellow
48 Wilton yellow candy melts
2 tablespoons mini chocolate chips
Small resealable plastic bag
Instructions
Use a sharp knife to cut 24 candy melts in half so you have 2 ears for each cupcake. Set aside.
Color frosting with color gel until it matches the candy melts. Place frosting into a piping bag fitted with a star tip and frost each cupcake.
Add ears, and a face to each cupcake.
Add mini chocolate chips to a small resealable bag but do not seal. Microwave for 40 seconds, kneading after 20 seconds and returning to microwave if not yet soft, until chocolate is melted. Cut a VERY SMALL corner off of the bag.
Pipe a small nose and smile with melted chocolate onto the candy melt. Add 2 small dots with the melted chocolate to create eyes and two small eyebrows near the ears. Let set to harden. Repeat with the remaining cupcakes.