This banana cake looks complicated, but it's very easy to make! Start with a box cake mix and you've got it!
I have a teeny tiny obsession with overripe bananas. Okay, it's not an obsession, it's a problem. We eat a lot of bananas at our house - in smoothies in the morning, as a mid morning snack, when we're 3 and don't eat our dinner, and sometimes just before bed. So I buy a lot of bananas and often the last few get a bit ripe.
I toss ripe bananas into the freezer when they are too ripe to be eaten. Yup, just the entire banana, in the freezer. I discovered I had a lot of bananas in my freezer, so I've decided to use them up and one way was making this amazing banana cake.
When you throw your ripe banana directly into the freezer, peel and all, the banana freezes solid and turns black. It looks quite disgusting. I defrost my bananas before using them. I take them out of the freezer, set them on a plate and set them on the counter for a few hours so they can thaw. To use them, I take a sharp knife, cut off the end and squeeze the banana and juice out of the peel and into my dish. The is also quite disgusting, but I swear it makes for the best banana desserts.
Don't be fooled by the amazing looks of this banana cake. It's quite easy to make. It's a "doctored" cake mix recipe with a semi-homemade banana cream layered in between. Plus it looks kind of "messy" in terms of cake, which is my type of recipe! That means you really cannot make a mistake. It's supposed to look that way! And if you're not a pecan lover, you can certainly omit those all together!
I absolutely LOVE these cake pans with the removable bottoms. I have the 8" and 9" sets! You'll want to grab yours, today!
You'll also want to try our: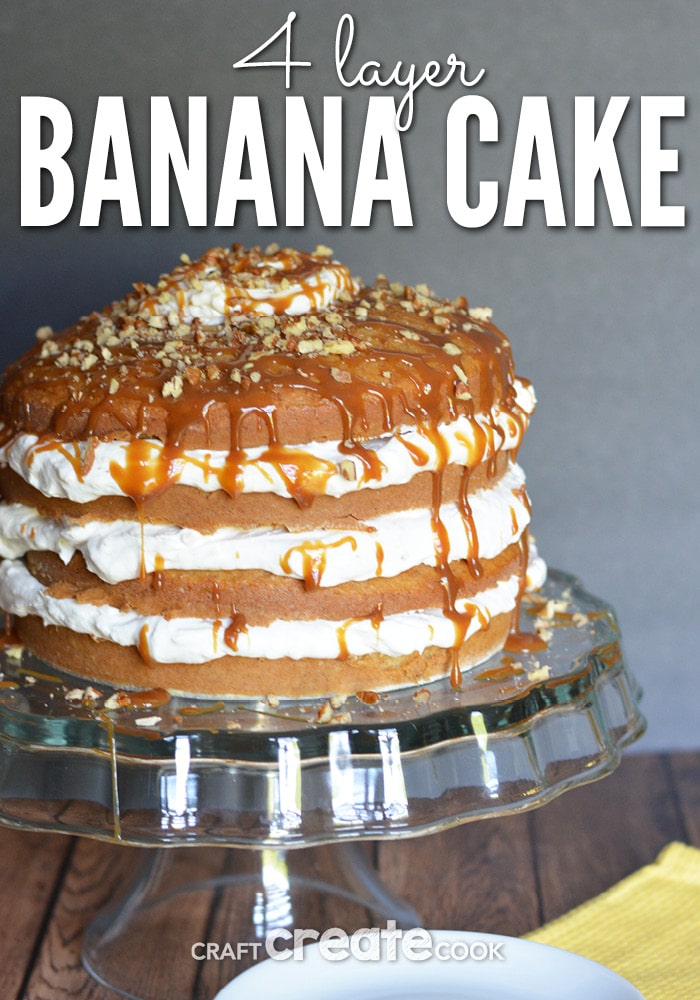 Yield: 16
Banana Pecan Cake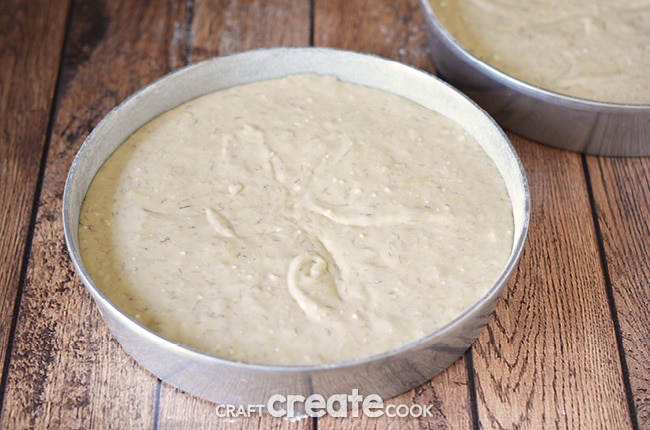 This banana cake looks complicated, but it's very easy to make! Start with a box cake mix and you've got it!

Prep Time 20 minutes

Cook Time 30 minutes

Total Time 50 minutes
Ingredients
For The Cake:
1 package cake mix (yellow or white, 15 ounces)
4 very ripe bananas (those black ones from the freezer), thawed
½ cup milk
4 eggs
1 teaspoon vanilla
For the Filling
1 package cream cheese (8 oz) softened
1 cup powdered sugar
2 ripe bananas (the bananas you'd eat straight from the peel)
1 teaspoon vanilla
1 tub whipped topping (8 oz), thawed
¼ cup caramel ice cream topping
¼ cup chopped pecans
Instructions
To Make Cake:
Preheat oven to 350. Grease and flour two round cake pans. Set aside
Beat cake mix, bananas, milk, eggs and vanilla with a mixer until blended well. Pour evenly into prepared pans.
Bake for 28-30 minutes or until a toothpick inserted into the center comes out clean. Cool completely.
For the Filling:
Beat cream cheese with a mixer for about a minute. Add sugar, bananas, and vanilla and beat well.
Fold in whipped topping.
To Assemble Cake:
Cut each layer of cake in half horizontally with a bread knife. Stack one layer onto a serving plate or platter and spread with banana cream topping. Repeat until all four layers are together.
Add a dollop of banana cream to the top, sprinkle with pecans and drizzle caramel topping over.
Store in the refrigerator