You will love these rich chocolately cosmic cupcakes!
Cupcakes. Little delicious morsels of cake. Perfect for dessert, snack, school bake sales and birthday parties. Growing up, my mom wasn't much of a baker. Her version of baking cupcakes was buying a box of chocolate flavored Jiffy cupcake mix and a can of chocolate frosting and calling it a day. I didn't mind though. My mom rarely baked, so when she did, it was a special treat!
After my husband and I got married, I'd buy those yummy little Martha White baking mixes and call it a day. Heck, I still use them occasionally (even the Jiffy kind every once in a while) but now I find myself actually wanting to make more baked goods using homemade ingredients. Yes, I like to save time, but these chocolate cupcakes are quick to make (one bowl!) and I promise you'll save this recipe for future use, as it can also double as a chocolate cake recipe as well!
So, what's better than some homemade chocolate cupcakes? How about adding a homemade chocolate ganache with Wilton rainbow sprinkles just like those Little Debbie Cosmic Brownies you see lining the snack shelf at the grocery store! I'll admit, I ate them. I probably still would. But, for now, I'll just stick with the homemade cosmic cupcakes you see here.


Yield: 36
Homemade Chocolate Cosmic Cupcakes
You will love these rich chocolately cosmic cupcakes!

Prep Time 10 minutes

Cook Time 18 minutes

Total Time 28 minutes
Ingredients
Cupcake ingredients
2 ¼ C. flour
1 ⅔ C. sugar
¾ C. butter, softened to room temperature
⅔ C. unsweetened cocoa powder
1 ¼ C. water
1 ¼ C. baking soda
1 tsp. salt
1 tsp. vanilla
¼ tsp. baking powder
2 large eggs
Icing ingredients
1 ½ C. semi-sweet chocolate chips
½ C. heavy cream or half & half
Wilton rainbow sprinkles
Instructions
Preheat the oven to 350 degrees. Add cupcake liners to your muffins tins or spray with non-stick cooking spray.
Combine all the cupcake ingredients in a large bowl, mixing well.
Evenly pour the batter into the muffin tins, filling ¾ of the way.
Bake 18-20 minutes.
Insert a toothpick around 18-19 minutes. If it comes out clean, the cupcakes are done.
Remove the cupcakes from the oven and let cool prior to frosting.
Once the cupcakes are cooled, begin working on the chocolate icing.
Add the chocolate chips and the cream to a small microwave safe dish.
Heat for 1 minutes and the stir until smooth.
Using a spoon, scoop the icing on to the top for the chocolate cupcakes. Gently smooth over with the spoon and sprinkle with rainbow sprinkles.
Repeat with all cupcakes.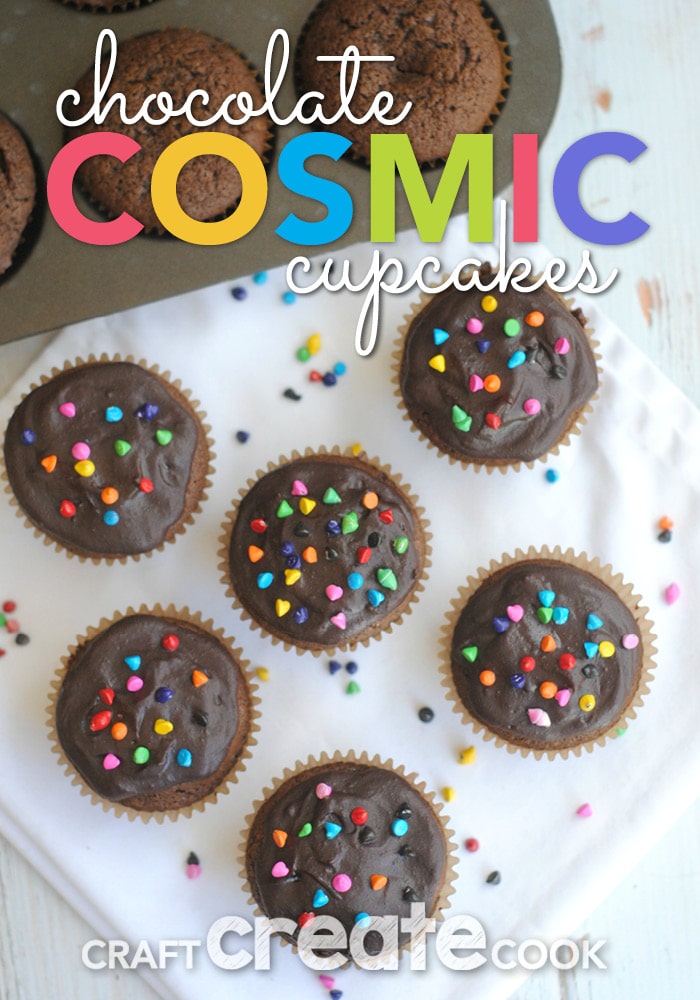 You'll also want to try:
Patriotic Cookie Dough Truffles