Sing, dance and hug while you make and eat this Trolls puppy chow!
My kids love Trolls. We saw the movie in theaters when it came out and I've probably seen it another 22 times since it was released on DVD. Yes, we watch it almost daily. I'm still loving it and so are they. My littlest pretends she's Princess Poppy and I tease my oldest that he's just like Branch. Even he likes the movie!
Because we love Trolls so much and watch it almost daily, I wanted to surprise the kids with a fun after school movie snack. I wanted something easy to make and realized I hadn't made puppy chow in a long time. I always have candy melts in the pantry and just needed some fun Trolls inspired candies and Chex cereal.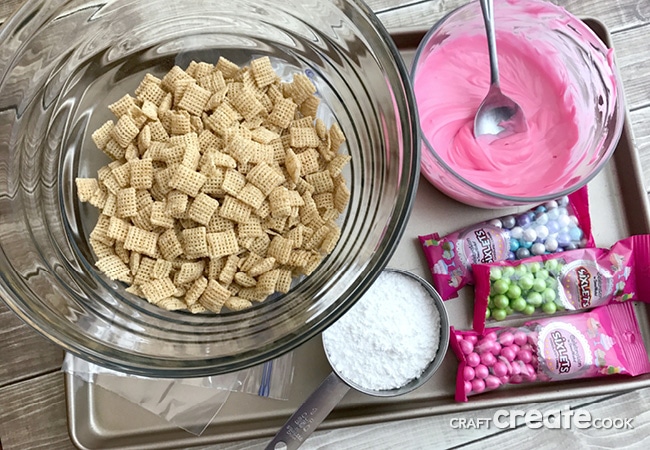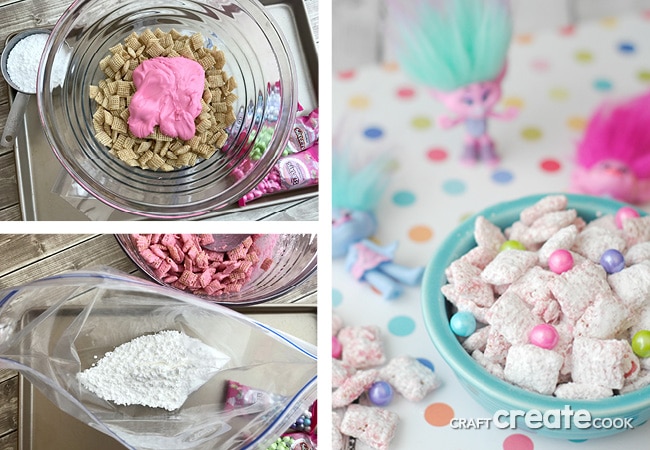 You will also want to make our:
Trolls Party Favors for Girls
Troll Party Snack Mix
Troll Cupcakes
Troll Valentine Snack Mix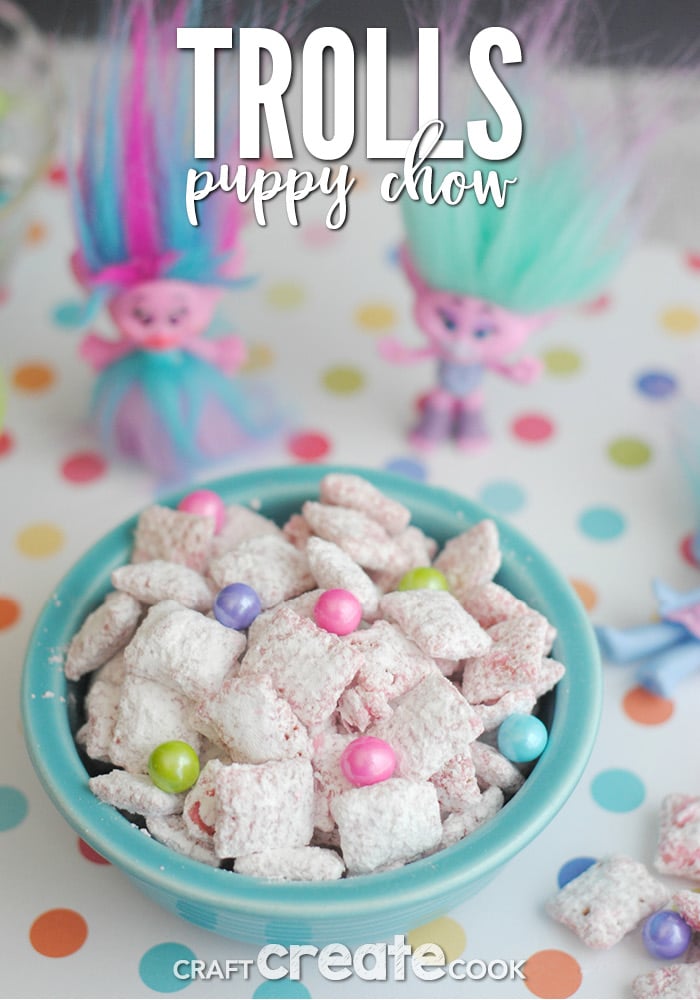 Trolls Puppy Chow Recipe
Trolls Puppy Chow Recipe
Author:
Craft Create Cook
Prep time:
Cook time:
Total time:
Sing, dance and hug while you make and eat this Trolls puppy chow!
Ingredients
9 C. Chex cereal
10 oz Wilton pink chocolate candy melts
2 C. powdered sugar
2 large gallon freezer bags
½ C. pink, purple and light blue Sixlets
Instructions
Pour the candy melts into a glass microwavable safe dish. Heat in 30 second increments, stirring occasionally until melted. Let cool a few minutes.
Pour the melted chocolate over the Chex cereal and gently stir until all the cereal is coated with melted chocolate.
Divide the 2 cups of powdered sugar between the 2 large freezer bags.
Divide the chocolate coated cereal between the 2 bags, seal shut and gently shake each bag to coat the cereal with powdered sugar.
Add in colored Sixlets.
Save