Dance, Hug and Sing your way to making this Troll Party Snack Mix!
My kids and myself are obsessed with the Trolls movie. I really love the bright fun colors and the music, and my kids just love the little troll toys! I'm almost certain we will be throwing a troll party for a birthday at some point this year, so I decided to get started on this easy Troll Party snack mix.
Snack mixes are one of the easiest and most colorful things you can make for any event! You can easily personalize them to match your decor using different color candy melts for birthday parties, football game day rivalries and spirit week at school. Plus, I find popcorn and pretzels are usually liked by the majority of my party guests, including kids!
If you don't want to have an actual Troll Party, just make this snack mix to enjoy at your next family movie or game night! Or check out how we used this easy Troll Party snack mix for a Valentine treat!
How to Make Troll Party Snack Mix
The secret to making amazing Troll Party Snack Mix is to have your kids help! They are excellent at carefully stirring candy melts and adding sprinkles and jelly beans! It helps that I found these awesome Wilton Diamonds and Jimmies at Target that fit the Troll Party theme perfectly!
Place parchment or wax paper onto a baking sheet and sprinkle popcorn and pretzels on the sheet.
Melt 1 color of candy melts (turquoise, pink or yellow) and drizzle with a spoon over your baking sheet. Then add sprinkles, candy diamonds and jelly beans. I placed these items beans by hand, to ensure they would stick to the candy melts. It's not as hard as it sounds. Instead of sprinkling a container of jimmies on top of the baking sheet, I poured a small amount into my hand and then sprinkled them over smaller areas where the candy melts were on the popcorn and pretzels.
Repeat with the remaining candy melt colors. Let set for about 15 minutes to harden.
Gently break apart your Troll Party snack mix into smaller pieces and you're ready to dance, dance, dance, DANCE!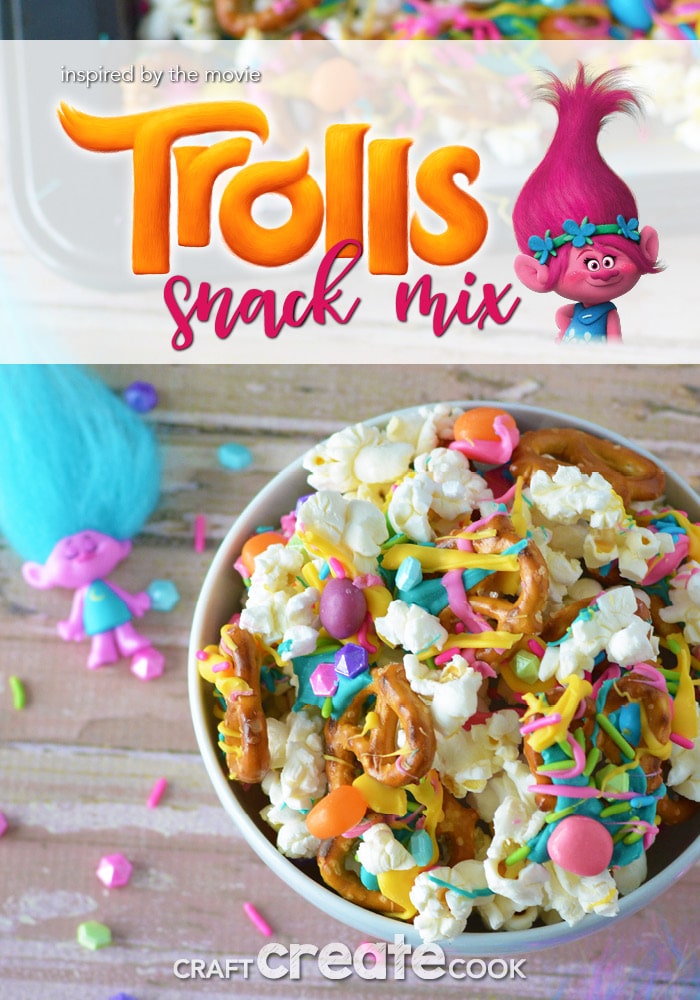 Troll Party Snack Mix
Author:
Craft Create Cook
Prep time:
Cook time:
Total time:
Dance, Hug and Sing your way to making this Troll Party Snack Mix!
Ingredients
4 cups popped popcorn
2 cups pretzels
½ cup small Jelly Beans
Wilton Sprinkles Candy Pearlized Diamonds
Wilton Sprinkle Jimmies in pink, blue and green
25 turquoise candy melts
25 bright pink candy melts
25 yellow candy melts
Instructions
Place parchment or wax paper on a baking sheet.
Spread popcorn and pretzels on baking sheet.
Microwave 1 color candy melts in a microwave for 30 seconds and stir. Return to the microwave in 15 second increments until nearly melted. Stir until completely melted.
Drizzle candy melts over popcorn and pretzels with a spoon. Sprinkle with jelly beans, candy diamonds and colored jimmies.
Continue with remaining two color candy melts adding jimmies, jelly beans and candy diamonds after each color.
Let set for 15 minutes to harden.
Break apart and enjoy.
Save