If you love pumpkin, you have to make our ultimate melt in your mouth pumpkin cookie recipe!
It's officially September and my kids start school in 2 days. Summer flew by. I've been spending the last several weeks getting ready for school start. We've shopped for school clothes and backpacks. I've also grocery shopped for back to school lunches like nobodies business. My kids are picky eaters and I detest making lunches so I try to make them simple and easy for all of us.
One thing my kids do love is pumpkin. I started baking with pumpkin with the kids were toddlers but they refused to eat it when they were little. Fast forward to ages 6, 8 and 9 and they love anything with pumpkin. Mostly baked goods but soon it will be more savory dishes. At least I can dream.
If you like pumpkin baked goods, you will love this ultimate melt in your mouth pumpkin cookie recipe. They are soft, chewy, filled with pumpkin spice, cinnamon and frosted to perfection. My husband isn't the biggest pumpkin fan but he ate two right after I took photos. I ate two also and got a tummy ache but it was worth it. The kids each had one and so did the dog, granted she grabbed one from the kids but she loved them too!
I always have a few cans of pumpkin in my baking cupboard no matter what season it is. You never know when you might want something fall flavored. Like applesauce, canned pumpkin is a fantastic substitute for oil in any recipe. If you add in any other flavors or cocoa powder you can barely taste the pumpkin if you have picky eaters.
Ultimate Melt In Your Mouth Pumpkin Cookie Recipe
This recipe is quick and easy to make and doesn't make a ton of cookies (only 2 dozen) so you can always double the ingredients or just whip up a quick batch to enjoy at home or share as a dish to pass. They taste great with or without frosting, but I prefer that extra sweetness with the frosting.


Yield: 24
Ultimate Melt In Your Mouth Pumpkin Cookie Recipe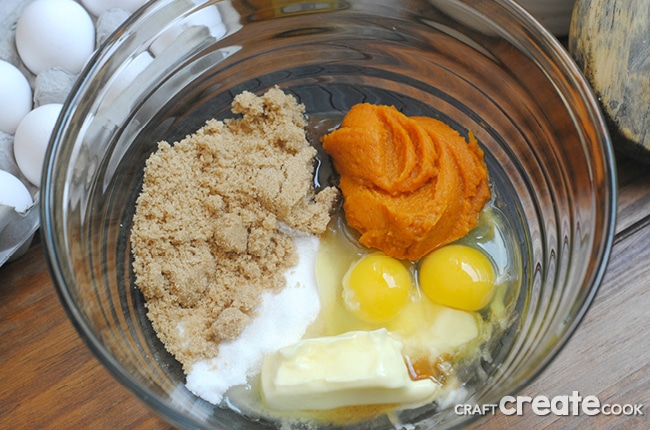 If you love pumpkin, you have to make our ultimate melt in your mouth pumpkin cookie recipe!

Prep Time 10 minutes

Cook Time 12 minutes

Total Time 22 minutes
Ingredients
1/2 C. pumpkin (not pumpkin pie mix)
2/3 C. sugar
2/3 C. packed brown sugar
1 tsp. vanilla extract
2 eggs
3/4 C. butter, softened to room temperature
2 1/4 C. flour
1 tsp. baking soda
1 tsp. cinnamon
Frosting Ingredients
3 C. powdered sugar
1 tsp. vanilla extract
1 tsp. cinnamon
1 tsp. pumpkin pie spice
3-4 tbsp. milk
1/3 C. butter
Instructions
Preheat the oven to 350 degrees.
Combine the pumpkin, softened butter, sugar, brown sugar, vanilla extract and eggs.
Slowly fold in the flour, cinnamon and baking soda.
Drop by heaping tablespoon onto ungreased baking sheets.
Bake for 10-12 minutes.
Remove from the oven and let cool.
Frosting Directions
Melt the butter in a a small saucepan on medium heat and allow it to brown.
Combine the browned butter, powdered sugar, cinnamon and pumpkin pie spice, vanilla extract and milk, 1 tablespoon at a time, adding more or less until you achieve a frosting like consistency.
Generously frost each cookie.

You will also want to try our:
Chocolate Chip Pumpkin Bars – Full of pumpkin and chocolate chips, these chewy pumpkin bars are delicious!
Soft & Chewy Loaded Pumpkin Cookies – Filled with pumpkin and tons of other goodies these cookies are a must-try!
Super Easy Pumpkin Dip – Perfect for a crowd or just for snacking.
Save