These cute Halloween monster cupcakes are easy and scary good!
With fall closing in and fast, and it's time to start thinking about Halloween. I love Halloween. It's my favorite holiday and I just love pinning Halloween recipes, crafts and costumes on Pinterest as well as sharing fun Halloween recipes with our readers. These Halloween monster cupcakes are so easy. The kids can help with them and then eat them, of course! You can either use a box cake mix or a homemade cupcake recipe. I used a homemade recipe and it's fabulous. It only take a few minutes longer than dumping a box and adding ingredients but the few extra minutes are worth it, especially if you love cupcakes!
First, you'll want to gather all your cupcake ingredients and materials including, Pillsbury Funfetti Frosting (I adore the colors they have!), frosting tips and some disposable piping bags and some fun candy eyeballs in a variety of sizes.

Once you have all your ingredients and materials together, begin by baking the cupcakes. Allow them to cool completely prior to making them into monsters. Once the cupcakes have cooled, attach a star frosting tip to one of the disposable piping bags. Fill with frosting. Gently squeeze the frosting out of the piping bag and onto the cupcake going in a circular motion. Once the cupcake is frosted, add a variety of eyes making the cupcakes into monsters. Repeat with all the cupcakes.

How to Make Halloween Monster Cupcakes
Author:
Craft Create Cook
Prep time:
Cook time:
Total time:
These cute Halloween monster cupcakes are easy and scary good!
Ingredients
1 C. sugar
½ C. butter, melted
2 eggs
2 tsp. vanilla
1½ C. flour
2 tsp. baking powder
½ C. milk
Instructions
Preheat the oven to 400 degrees and line a 12 count muffin tin with cupcake liners.
Combine the cupcake ingredients, mixing well.
Fill each cupcake tin about ¾ full.
Bake for 16-18 minutes.
Let the cupcakes cool completely.
Attach the star frosting tips to the disposable piping bags and fill the piping bag with frosting.
Begin by frosting each cupcake one at a time.
Once each cupcake is frosted, add a variety of candy eyes to the top.
You will also want to make:
Bottle Cap Spider Halloween Craft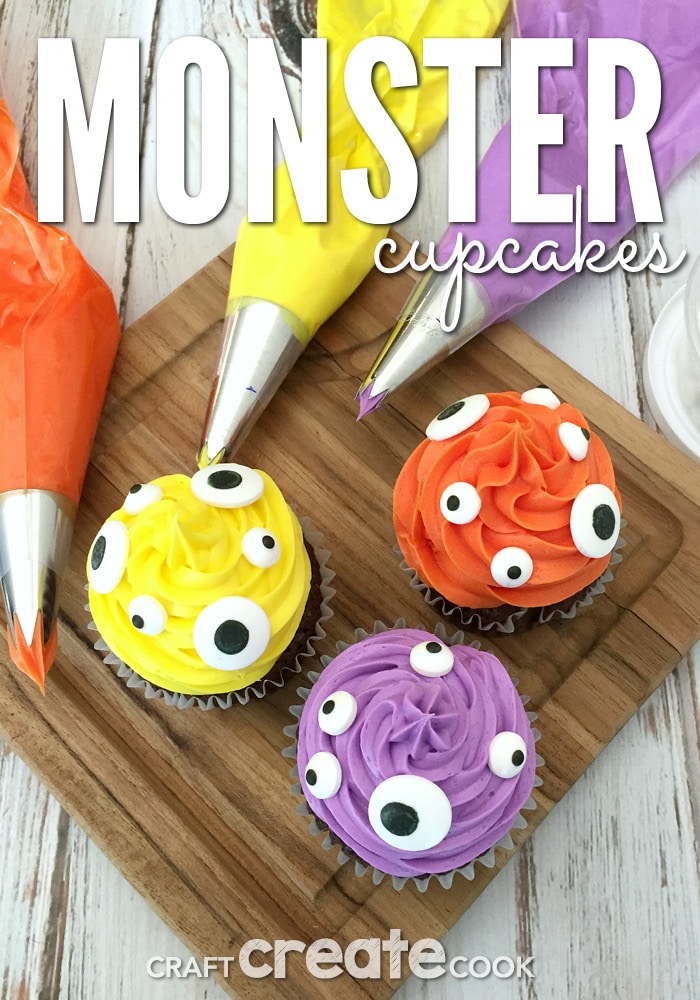 Save