One of the easiest parties to throw is an ice cream party and your guests will love it!
A few years ago, my great aunt turned 84. But since she was born on February 29, 1928 — leap year — she was technically only 21 years old! I decided it would be a great year to throw a surprise 21st birthday party for her! Of course this wasn't the usual bar hopping, alcohol filled party, since she lived in a retirement community, we toned things down for an ice cream party!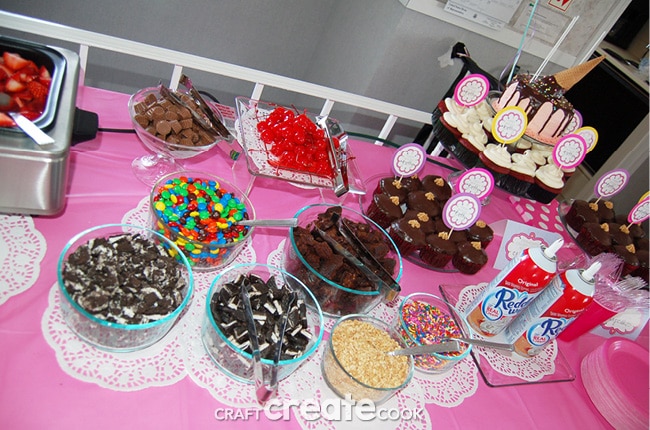 Your ice cream party can be as elaborate or low key as you wish! I decided to go all out since we had over 40 people coming and you only turn 21 once! It was so great and I had so much fun! I received lots of compliments on all of the goodies and some guests even came back for more! Once you've picked your date and venue, you just need to start brainstorming as to what items you want to have at your ice cream party. My party included:
Chocolate Ice Cream (and ice cream scoop)
Vanilla Ice Cream (and ice cream scoop)
Hot Fudge (with spoon or small ladle)
Caramel (with spoon or small ladle)
Fresh Strawberries
Bananas (with cutting board and knife to slice and a trash nearby to toss peels)
Whipped Cream (canned is easiest)
M&M Candies
Brownies (cut into small cubes)
Crushed Oreos
Peanut Butter Cups (buy the mini size or cut full size cups)
Thin Mint Candies (quartered)
Nuts (chopped peanuts)
Sprinkles (rainbow is a must!)
Maraschino Cherries (drained)
Sugar Cones
Cake Cones
Cupcakes (any flavor)
Cake (any flavor)
Disposable bowls (for sundaes!)
Table Coths, Cups, Spoons, Forks, Plates, Napkins, Serve ware for all of the toppings!
Paper Doilies
Punch, Coffee and Bottled Water
I was able to prepare all of my toppings ahead of time and place them into my glass Pyrex bowls. I put the lids on the bowls and carried them easily to the clubhouse. I used my 3 compartment slow cooker to keep the hot fudge and caramel warm and placed the fresh strawberries in the remaining container without adding any heat. Make sure you microwave your toppings in the jar first (as directed on the jar) and then pour them into your slow cooker to keep warm.
I had a designated person to scoop the ice cream for each individual as they arrived at the ice cream party buffet. That worked amazingly well and guests could choose between a sugar cone, cake cone or a bowl of ice cream.
You can add paper doilies to your ice cream topping table. It adds a very inexpensive flair to your party. I usually grab my paper doilies at the dollar store. They have several sizes and sometimes gold and silver ones.
The gift table had a gorgeous bouquet of flowers a guest had brought for the birthday girl as well as a framed print and a small basket for cards. A tray of pudding shots was on hand since this WAS a 21st birthday party!
Plastic table cloths and balloon centerpieces were placed at each table. Three balloons and a brown paper wrapping made the ice cream cone centerpieces. The balloons were weighed down with a small gift bag with a rock inside.
At each place setting was a napkin, scratch pad of paper as a party favor as well as ice cream cone cake bites. There was a small 8×8 sheet of paper that each guest was encouraged to fill out. It included the following: How do you know the birthday girl? What is your favorite memory of the birthday girl? And your wish for the birthday girl is… This do-something-while-you-wait worked well as the guests had arrived before the birthday girl in order to surprise her. I collected each piece of paper and later included it in an 8×8 scrapbook with photos from the party.
Although many guests took a cupcake to eat, we didn't even cut the cake. We put candles on top of it and sang Happy Birthday but there were so many sweet treats that we let the birthday girl take the cake home and share it with her friends on her real birthday.
Although my great aunt has since passed away (peacefully in her sleep) I know she LOVED her 21st birthday party. And so did her friends! I got so many compliments on how much fun they had making their own ice cream sundaes! And I think the smile on my great aunt's face shows how much fun she had as well.
Have you ever hosted an ice cream party? If so, we'd love to hear your ideas and tips! Please leave your feedback in the comments below!
And don't forget to try our Classic Lemon Butter Cookie recipe and our Chewy Pumpkin Chocolate Chip Cookies!
Save
Save