Whether you're having a garden party or a fun dirt birthday party, you'll want to make this easy chocolate dirt bark.
I love fun recipes. Just like I love color and rainbows. Any recipe I can make that is different makes me very happy. This is the perfect example of my happy: Garden Party Dirt Bark! Okay, so you don't have to have a party to make this fun recipe, but sometimes it's fun if you do! After I made this, I sneaked it into my kid's camp lunch boxes two days in a row! They were over the moon…errr…garden fence!
I made this while my kids were at summer camp and day care, but you can quickly make this one afternoon while the kids are home! They will LOVE sprinkling on the goodies and of course sampling the treat. The worst thing will be the 20-30 minutes you need to stash it into the refrigerator in order for it to set up! And keeping them from eating all of your worms!
First thing you need to do is open your refrigerator and make sure you have room for a baking sheet. (You can thank me later) I usually don't have room, so I work on a nice balancing act by stacking egg cartons with leftover food containers so the baking sheet can hoover in the teeniest space possible and be as level as possible.
Now that you've found some space, put some parchment paper onto your baking sheet and grab all of your candies and get read to make some dirt!
Melt your chocolate chips in a microwave safe bowl and stir. Then pop it back into the microwave for a few more seconds and stir until nice and smooth. Make sure to stir it after every microwaving segment. Now pour that onto your baking sheet and spread the chocolate so it's about 1/4″ thick.
Here's where the kids can help! Toss all of your goodies onto the chocolate and then pop the baking sheet into the refrigerator for about a half hour or until the bark is set. And use a sharp knife to cut! It's that easy!
Are there other candies you'd rather have in your Garden Party Dirt Bark? If so try them out and let us know!
You'll also want to make: Flower Cupcakes for your garden party and our Birdhouse Craft.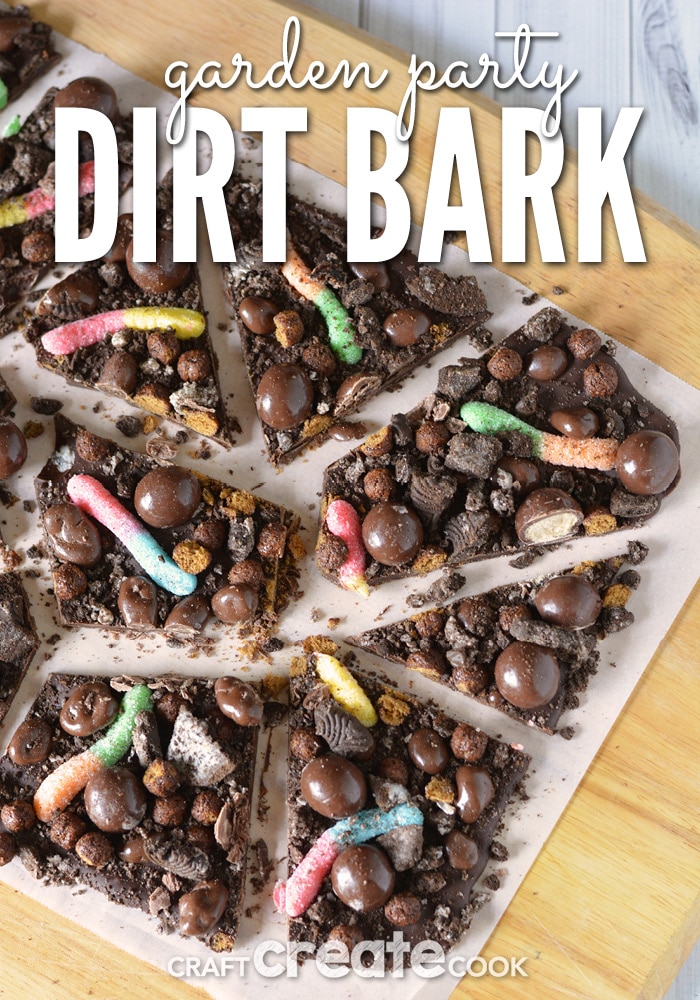 Garden Party Chocolate Dirt Bark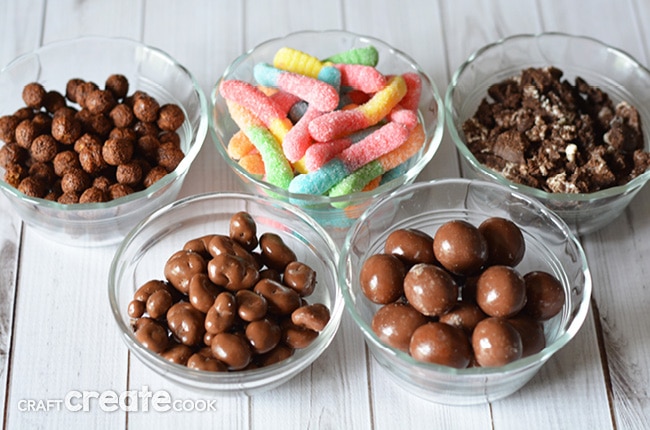 Whether you're having a garden party or a fun dirt birthday party, you'll want to make this easy chocolate dirt bark.

Prep Time 10 minutes

Cook Time 1 minute

Total Time 11 minutes
Ingredients
12 ounces (1 bag) chocolate chips
6 ounces (1 bag) gummy worms
1 cup malted milk balls (whoppers)
1/2 cup chocolate covered raisins
1 cup chocolate puff cereal (cocoa puffs)
6 sandwich cookies, crushed
Instructions
Microwave the chocolate for 60 seconds on high power. Stir well and return to microwave if additional time is needed to melt the chocolate. Continue in 10 second increments, stirring after each segment, until chocolate is melted.
Pour chocolate onto a baking sheet lined with parchment paper to about 1/4" thickness.
Top with candies and place into refrigerator for 30 minutes.
Remove from refrigerator and cut with a sharp knife.



Save
Save