These flower cupcakes look amazing and are very easy to make!
I discovered something recently that I never knew existed. Candy Clay. It's this amazing recipe by Wilton and I'm not sure how I made it this long without knowing about it. It's two ingredients, too! And make ahead! So it's pretty much better than sliced bread.
I started with whipping up my favorite batch of white cupcakes and frosting them with white frosting. Of course that favorite recipe was from the box because I wanted to focus my time and energy into these flowers. But in reality, these flowers are so easy that I could have made homemade cake and frosting.
I made four different colors of candy clay, but don't let that scare you. It was so quick and simple the worst thing was having four dishes to wash when I was done!
I began with these four colors of Wilton Candy Melts:
and 1/2 cup light corn syrup, divided
Microwave half the bag of candy melts for 30 seconds. Stir and continue to melt in 10 second intervals until smooth. Stir, stir, stir, in between those intervals. Now add 1/8 cup corn syrup. You probably have a liquid measuring cup that has 1/8 cup mark on it, but you just don't use it! If not, it's okay, just fill halfway to the 1/4 cup mark. I promise it will be okay. Or you can use 2 tablespoons because that equals 1/8 cup. Stir the mixture and it will begin to harden, and almost create a dough like texture. Remove your spoon and set aside to cool.
Repeat with the remaining three colors. By this time your first color should be cooled. Get ready for your arm workout! Lightly dust your surface with corn starch and knead the clay a few times until no longer sticky. The clay will be hard, and you might worry you've made a mistake! Nope, it's all good! When finished kneading, set aside in a ball and repeat with other colors.
For the flower colors, orange, bright pink and yellow, you're going to keep the clay in a ball. For the green, you'll need to lightly dust your surface with cornstarch and roll out the clay with a rolling pin. Roll to about 1/8″ thickness. Use a butter knife to cut out leaf shapes. Smooth the edges of the leaves with your fingers.
Begin to create your flowers. You'll start with little balls of clay in all different colors (except green, the green is for the leaves). You'll want your balls about the size of a chickpea/garbanzo bean. Take one ball and cut it in half, that's your center. Roll it into a small hot dog shape. Roll a regular size ball in between your two fingers and flatten. Wrap it around your hot dog center. Continue to flatten balls of clay and wrap them around the center of your flower. Pinch the bottom as you go to keep the flower shape.
Place your flowers on top of a frosted cupcake and admire your work!
Wilton suggests you let the clay harden overnight. I didn't have the patience and as you can see, my flowers turned out fine!


Yield: 24
Flower Cupcakes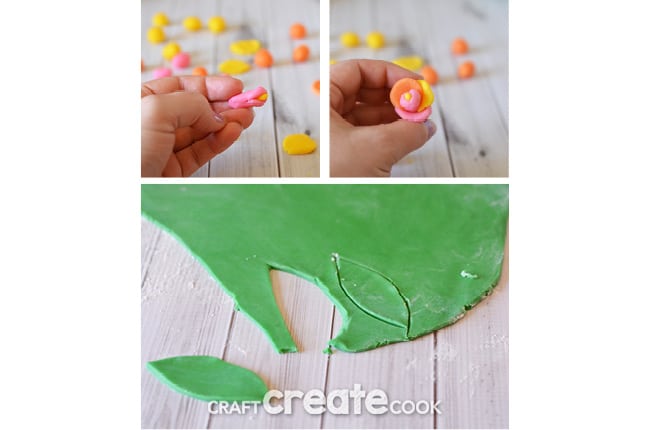 These flower cupcakes look amazing and are very easy to make!
Ingredients
Wilton Candy Melts in 4 different colors
-yellow
-orange
-bright pink
-green
1/2 cup light corn syrup, divided
cornstarch
Baked & Cooled Cupcakes & Frosting
Instructions
Microwave half a bag of candy melts for 30 seconds. Stir until melted and return to microwave if necessary in 10 second increments. Stir Stir Stir
Add 1/8 cup (2 tablespoons) light corn syrup to candy melts and stir.
Mixture will harden quickly and turn into a dough. Set aside to cool. Repeat for remaining colors.
Knead dough on a cornstarch covered surface until no longer sticky.
Create chickpea sized balls for the pink, yellow and orange candy clay and roll out the green for the leaves. Cut the leaves with a butter knife.
Flatten the balls and create flower petals. When finished, add a leaf and place on top of prepared cupcake.


You'll love our easy, gluten free, 3 ingredient peanut butter cookies.
And our Patriotic Cookie Dough Truffles!