This shop has been compensated by Collective Bias, Inc. and its advertiser. All opinions are mine alone. #DamageFreeHoliday #CBias #CollectiveBias

One of my favorite things about the holidays, is hosting a girls night in event where my girlfriends gather together and we make fun crafts and DIY projects for our homes. It's a great night of laughing, socializing, eating, drinking, creating and being merry! This year it's my turn to host the annual girls night in party and I'm so excited share my easy holiday decorating ideas with you.
My theme is snowman and once the girls and I get together, we will be making these adorable snowman ornaments and snowman porch post decorations. So naturally, I had to get my house ready for our gathering.
In order to do this, I put up my tree, garland and some lights. I enlisted in the help of Command™ Brand products for my holiday decorating needs this year, as I noticed while I in the holiday section at Walmart they have a (new to me) product line for indoor and outdoor decorating! This revelation set my brain on FIRE! I had so many more holiday decorating possibilities with the light clip products and then add the outdoor products and I was IN HEAVEN!
I may have gone a little overboard and grabbed a lot of products, but I can assure you, Command™ Brand products never go to waste in my house. I have an entire bin devoted to their storage and I grab them whenever I need them.
If you are wondering why I was so GIDDY about these products, it's because they are simply AMAZING! I'm not kidding. The package speaks the truth: Damage-Free Hanging Removes Cleanly. I've put these things on every smooth surface — the ceiling, wood, painted walls, windows, aluminum, paneling, you name it, it sticks, it holds, and it removes cleanly! Command™ Brand products are worth the investment. These are not one-time-use hooks! They can last forever, just grab a new strip and stick to any smooth surface.
If my snowman party girls night in isn't enough holiday inspiration for you to use Command™ Brand products check out these amazing ideas here.
Easy Indoor Holiday Decorating
Let's start with the inside of my house. I have this amazing fireplace mantel and it is painted. I'm always fearful to attach anything to it that might cause a nail hole or the paint to peel off. I grabbed these Command™ Clear Decorating Clips. They are nice and small for the front of my mantel and perfect to hold my cute snowman ornaments.
I used a measuring tape to measure my mantel and divided it by the number of items I had to hang. The answer to my equation was 7 and I used the tape measure to hang the hooks 7″ apart.
Prepare your surface by cleaning with rubbing alcohol. Let dry.
Remove the back liner of the strip and apply the strip to the surface. Press firmly for 30 seconds.
Remove the front blue liner and press the hook onto the strip. Hold firmly for 30 seconds.
Repeat until all hooks are attached and then walk away and wait for an hour.
Come back and hang your super cute snowman decorations and snowflakes. Viola! Your mantel is complete.
Easy Outdoor Holiday Decorating
I utilized these two outdoor products: Command™ Outdoor Light Clips to hang lights on my aluminum siding and Command™ Outdoor Window Hooks to hang a gorgeous wreath I picked up at Walmart on my front door glass.
Command™ Outdoor Window Hooks allow me to hang a wreath on my outside storm door. This way, my wreath doesn't get mashed between the glass and the door. To hang a wreath or anything on a window:
Clean your window with rubbing alcohol or a damp cloth and let dry completely.
Remove the black paper side of the strip and press it firmly for 30 seconds onto the window.
Remove the blue liner and apply the hook to the strip, pressing firmly for 30 seconds.
Wait an hour and then hang your holiday wreath!
I wanted to add some fun lighting to my girls night in party so I used Command™ Outdoor Light Clips on the aluminum under my porch overhang! These clips are bigger than the indoor clips I used and hold a strand of mini lights perfectly.
Clean your surface with rubbing alcohol. I use those little alcohol pads. Let dry.
Remove the blue liner from the strips and stick them onto the clips. Press them firmly.
Remove the black liner from the strip and press the clip, for 30 seconds, onto the surface. Wait an hour before hanging your lights.
To hang your lights, just slip them into the clip. Use 1 clip for every 2 feet of lights.
I just love how the lights under my porch create a nice atmosphere for my guests and they provide light at the entrance when coming into the house.
Hot Cocoa Bar for Holiday Entertaining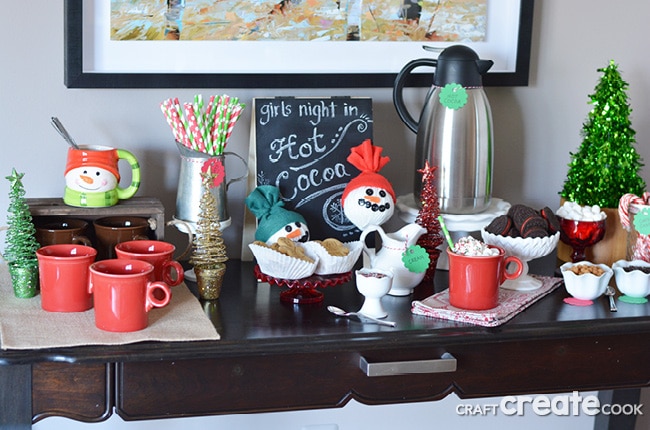 Once my guests enter my home, they say their hellos and put their belongings down and grab a nice hot cup of cocoa at my hot cocoa bar. One of my favorite things put in my hot cocoa is mini chocolate chips and a dollop of peanut butter. Then toss on some marshmallows and whipped cream and you truly have a gourmet cup of hot cocoa.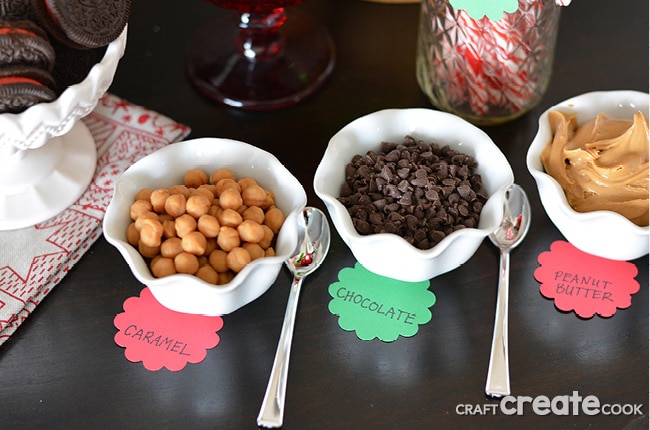 Aside from marshmallows, mugs and spoons, I add cream, caramel, chocolate chips, candy canes, peanut butter, sweet treats and some holiday sprinkles to my table and let guests add their own fixings into their mug of deliciousness. I like to have my cocoa hot and ready to pour and all the mix-ins for my guests to add in. It's fun making different concoctions and seeing what my guests prefer to drink and the combination suggestions they have to offer.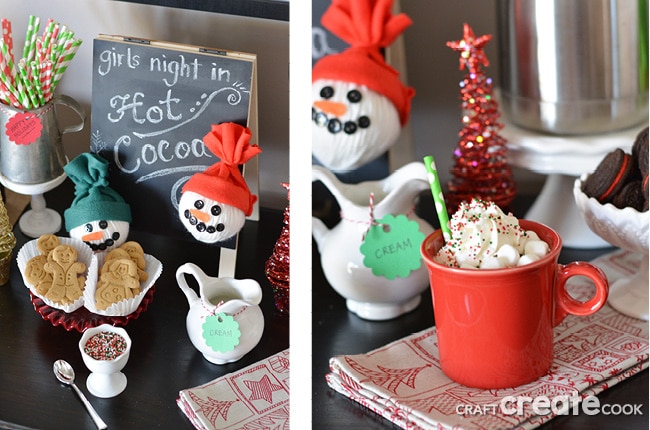 Once we have our hot beverages in hand, we get moving with all of our girls night in projects, lots of laughs, second and third mugs of cocoa and overall a very fun night!
Checkout the amazing Command™ Brand Products on Social Media
Facebook | Twitter | Pinterest | Instagram
*Make sure you wait 7 days before sticking Command™ Brand products on freshly painted surfaces. Follow all product packaging for complete instructions on application and removal and weight restrictions. Avoid using Command™ Brand Products on textured surfaces like brick, popcorn ceiling and wallpaper.
Save
Save
Save
Save
Save
Save
Save
Save
Save
Save
Save
Save
Save
Save