This post was sponsored by Lowe's as part of an Influencer Activation for Influence Central and all opinions expressed in my post are my own.
Add this gorgeous and trendy fall mantel decor to your home for the holidays!
Since I'll be hosting Thanksgiving this year, I need to make sure my house is on point for all the fall decor! One major place I decorate for the holidays is my fireplace mantel. I absolutely love my fireplace. And I owe it all to my previous home owners because I bought it looking this way!
As a seasonal product lover, I zipped into Lowe's one day to grab an outlet and immediately had to look at the fall home decor. It doesn't matter which store I walk into, I always B-Line right to the seasonal product shelves. This day was no different. My kids were immediately engrossed in the giant blow up lawn decorations as I dove into the fall decor and fell in LOVE!
I knew my trip to grab one small thing required a basket so I grabbed one and began to fill it!
The highlight of my trip was finding these trendy stuffed pumpkins. Made of corduroy and denim material, they fit into almost every style of home decor! You can stack them or place them separately around your house! They pack well and won't break! It's possible I let out a squeal in Lowe's when I saw them!
How to Create Fall Mantel Decor for Your Home
Before you begin, analyze your current fireplace mantel. Measure it and make a note in your phone so you'll always have the size with you. It helps to keep a small measuring tape in your purse so you can be sure your items fit onto your space while you are shopping.
Imagine your mantel with a giant triangle sitting on it. This is how you'll place your home decor items and make them look presentable. My top triangle tip is my family photo. That's the height of my space.

Place larger, taller items on the outside of your mantel to continue the triangle shape. My key "end pieces" are a tall decorative milk jug, and decorative pumpkins on the left side. On the right side of my mantel I used a nice turkey and fabric stuffed pumpkins.

Place smaller, long items across the center of the mantel. I used this really beautiful fall swag.
If necessary, tuck in additional items as your space allows in order to fill the entire mantel.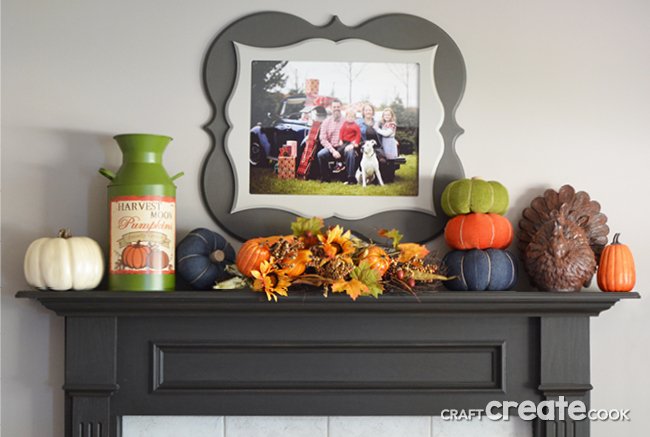 Isn't it great! I absolutely love the green and blue mixed in with the standard orange, gold and yellow fall mix! It brings a smile to my face every time I walk into my home!
Once you have your fall mantel decor all set, make sure you make the perfect turkey and side dishes for your Thanksgiving meal!
Save
Save
Save
Save
Save
Save
Save
Save
Save
Save