If you're a snow lover and jewelry wearer, add these DIY Snowflake Earrings to your to-do list.
We have snow in the forecast today and it's making me think all wintery and Christmas thoughts. Living in Michigan the snow is something you get used to and actually enjoy! Well, up until February when you wish the frigid temperatures would start to subside. But there are lots of things to do in the winter including skiing/snowboarding, sledding, and snow shoeing, which a lot of people don't get to experience.
In honor of the first snow of the season, I made these adorable snowflake earrings. DIY Jewelry (especially earrings) is super easy to make once you know what you need. So head on over to your local craft store or Amazon and grab your supplies.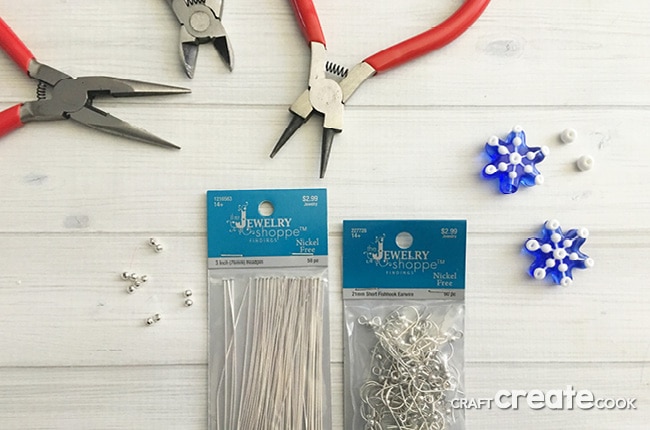 Tools (small wire cutter, round nose pliers, and chain nose pliers)
Snowflake beads
Small white beads
The first thing you'll want to do is slide one white bead onto the bottom of each head pin.
Then slide your snowflake bead on top.
Next slide a tiny silver bead on top of your snowflake bead.
Use your round nose pliers in your left hand to pinch the wire right above your top bead and place the chain nose pliers in your right hand, gently clamp the long part of your pin and wrap it around twice under your round nose pliers creating a tiny loop.

Trim the excess wire off your head pin.
Now open the bottom loop of your fishhook earrings with your chain nose pliers and slide the loop your created above your snowflakes in the fishhook loop.
Close your loop back together with your chain nose pliers.

Clean your fishhook earrings off with a little bit of rubbing alcohol and they are ready for your Christmas party.
If you looking for other great DIY Holiday projects, you'll want to check out these: