You can create an affordable and effective reading corner in your home no matter what size the space!
Since summer is around the corner, I decided it was time to create a reading corner for my kids! My daughter has been working hard to stay on top of her reading (she needs a little extra help on comprehension) so I decided to make a space in her room just for reading!
If you're a busy mom like me, you know it's challenging to do some of these new projects quickly and within a budget. I made sure to use simple and affordable items to create this DIY reading corner in her room.
How to Create a DIY Reading Corner:
I will admit, for this one you need to think a bit outside of the box. Shopping Dollar General, IKEA, the clearance section at stores or thrift shops will certainly help with your pocket book.
First you'll need to find a space for the corner and measure everything. The height, the width, the perimeter, the location of the window. Make a note of all of the measurements and save them before shopping.
Pick a budget amount and stick to it. I spent less than $50 for my daughter's room. Some pillows I had, some I grabbed from an inexpensive bin at Walmart other pillows were on clearance. I also had the frames for the reading logs, but you can always grab inexpensive frames at the dollar store.
Establish a reading plan. Set a goal for your child to read 20 minutes per day, or if the child is younger, read a certain number of books to your child each day.
Materials for a DIY Reading Corner:
Pillows, cushions, and various soft animals.
8×10 picture frame with glass
Reading log printable (page 1 is time, page 2 is number of books)
Command hooks for hanging frames
Shower curtains, or other inexpensive fabric curtains
I can assure you my daughter's favorite part of her reading corner are the curtains. Her and her brother love to close the curtains and go inside the space and play as well as read.
While at IKEA, I stumbled upon these cushions and pillow cases in the clearance section and used them as seating in the reading corner. If you don't have an IKEA nearby, try second hand stores or thrift stores for something similar. I simply slide the cushion into the pillow case and tucked in the loose ends.
I used clearance pillows and pillow cases to stuff 2 small pillows into one big pillow to create a fluffy space.
You can cut out your reading log, place it into the frame and have your child record their reading progress with a dry erase marker.
Use a paper trimmer to cut out the reading log. I had one for each of my kids on each side wall of their reading corner.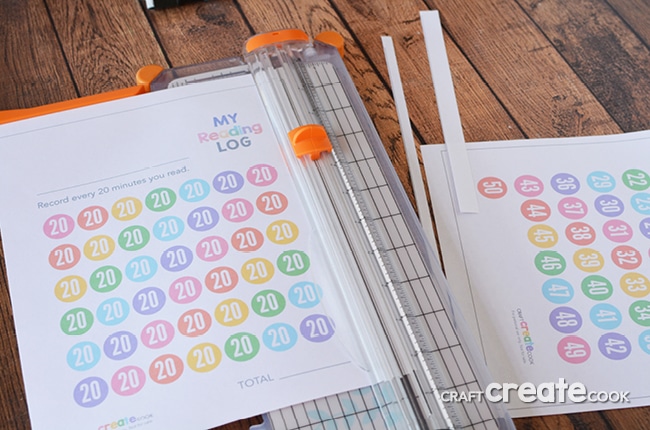 I love using command hooks because they don't ruin the walls. Well, they can, if you don't remove them properly. Just as my daughter…sigh. I added command hooks to the back of each frame and attached the frames to the walls.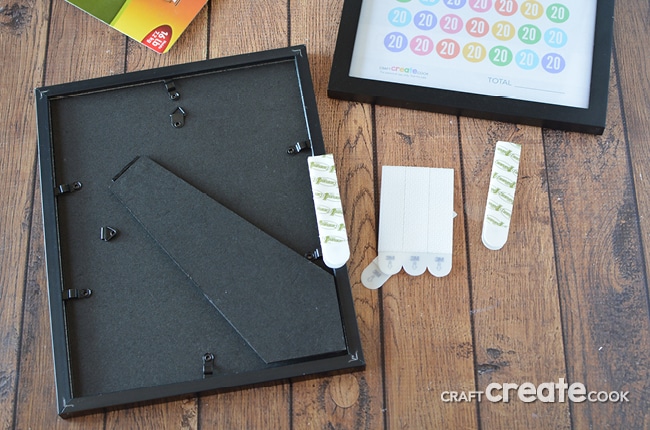 My kids LOVE seeing their progress on the reading logs!
Dollar general had affordable shower curtain hooks. I needed 2 sets because I picked up 2 shower curtains from IKEA on clearance. I needed 2 curtains to fit the space – good thing I had those measurements with me before I went shopping! These lightweight curtains were perfect, and colorful for the reading space.
I hung the curtains on a tension shower curtain rod. This allowed me to hang the curtains without using any screws or hardware in the drywall.
Hair clips from the dollar store help to keep the curtains open.
And finally, a new stuffed animal to chat with and a book to enjoy in the reading corner!
Since summer is around the corner, I'll be setting up a 20 minute a day reading rule so that each of my kids have a few minutes to just relax and chill and get in some reading!
You might also like to check out our: