Your family will love these delicious and easy DIY freezer breakfast sandwiches!
It's official. We are almost a full month into school here in Michigan and I officially have a kindergartner and two second graders. Wow! I just can't believe all three of my kiddos are officially in school full time. It's crazy to think about, and bittersweet at the same time. I enjoy having a quiet house during the school day but I'm still getting used to our new schedule. Mornings can be hectic trying to get everyone up, fed, dressed and out the door on time. Anything that will save me time and sanity in the morning is awesome!
These DIY freezer breakfast sandwiches are a huge life saver. I make them once a month during the weekend and have them ready for hectic school mornings. One of my kiddos always has cereal for breakfast but the other two enjoy eggs or breakfast sandwiches and having these breakfast sandwiches already made, I can pull from the freezer, wrap in some paper towel and reheat in the microwave for 1 minute. It's perfect and the kids eat a filling breakfast for heading off to school.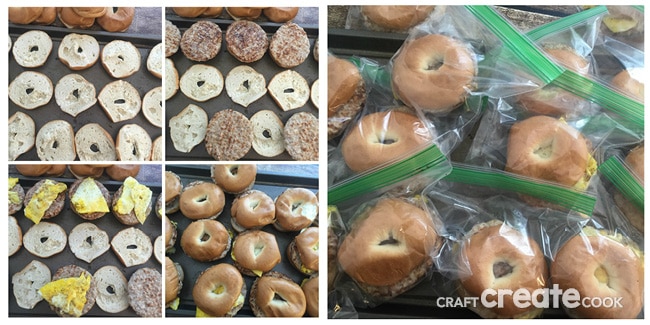 DIY Freezer Breakfast Sandwiches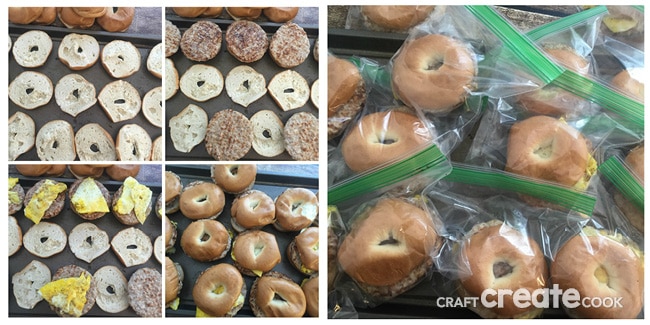 Your family will love these delicious and easy DIY breakfast sandwiches!

Prep Time 15 minutes

Cook Time 1 minute

Total Time 16 minutes
Ingredients
2 bags of plain mini bagels
1-2 package of pre-made frozen breakfast patties (I used Aldi brand)
scrambled eggs (optional)
cheese (optional)
small sandwich baggies or plastic wrap
Instructions
Open the package of mini bagels and separate the bagels, placing the bottoms on a large baking sheet (see photo).
Place the top back onto each bagel sandwich (see photo).
Place each breakfast sandwich into one sandwich baggie or wrap in plastic wrap. Place the sandwiches in the freezer.
When you are ready to reheat, remove a breakfast sandwich from the freezer, wrap in paper towel and place in the microwave for 1 minute on high.
Let cool a few minutes.


You will also want to make 2 Ingredient Homemade Pizza Dough and Homemade Broccoli Cheese Casserole.
Save
Save