Your kids and American Girl dolls will love this easy DIY American Girl doll Apartment!
My daughters love their American Girl dolls and play with them daily. The girls even have their own space for them up in our play room above the garage. Between Christmas presents, birthday money and weekend trips out of town we have accumulated a lot of adorable American Girl doll accessories and furniture. I wanted to create more of a homey space for them and my long term goal is having my husband build a dollhouse later this spring.
I've been saving tons of dollhouse ideas from Pinterest the last few months but before putting a lot of time and money into a custom dollhouse, I wanted to try something easier that wouldn't break our budget but also keep the girls happy until dad builds their dollhouse.
When my husband and I rented our first house together we bought some metal shelving at Home Depot and used it in our pantry and laundry room. We still had the metal shelves in the basement of our home and they were just holding random basement junk. I carried them upstairs to our playroom, cleaned them off and set to work on creating an American Girl sized apartment.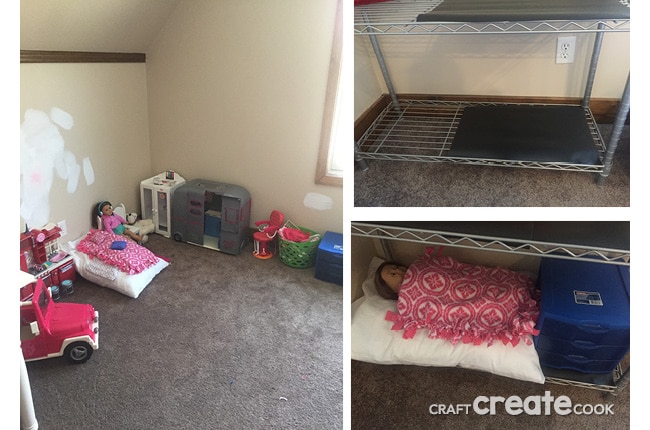 DIY American Girl Apartment
Materials:
Directions:
Set the metal shelving to about 20″ in height. American Girl dolls are 18″ tall so you want 20″ for a little bit of head room.
Place the shelves where you want them.
Line the shelves with shelf liners. This is optional but some of the furniture sits better on an even surface so I recommend using them. You could also use flattened cardboard boxes.
Decorate your apartment and have fun with it. This was my oldest daughter's favorite part – setting up the apartment how she wanted it.
My two girls love their American Girl Apartment! They love to rearrange the rooms and are constantly rushing to show me their new home.
Need some more American Girl Inspiration? We've got it! Check out:

Save