These chocolate peanut butter cupcakes have a tasty surprise inside!
My husband loves chocolate and peanut butter, and I do, too. It really is one of the best combinations for desserts. Whether it's ice cream, brownies, or fudge, the two of us always grab the chocolate peanut butter combination. These chocolate peanut butter cupcakes are one of my favorite cupcakes to make! They look so decadent and are really easy to make.
When I had my son's birthday party, I mentioned I made these chocolate peanut butter cupcakes for the adults to eat. I had 4 cupcakes left when the party was over! That's how popular these cupcakes were! I also made them years ago for my sister's baby shower and they were a hit, too!
I always use a box of chocolate or dark chocolate cake mix. The cupcakes always turn out great and I love how they taste. The peanut butter filling is super easy to make and I use a tool similar to this one to inject it into the center of the cupcake. You can also use a piping bag fitted with a star tip.
As for making the chocolate ganache, make sure you execute a little patience. Test a cupcakes first, make sure after you dip it into the ganache and flip it upright, make sure it doesn't run off the edges. If that happens, your ganache isn't ready. Let it set to give it time to harden a bit more.
Check out some of my favorite kitchen gadgets including my portion scoops and cupcake liners. And some of our additional cupcake recipes here: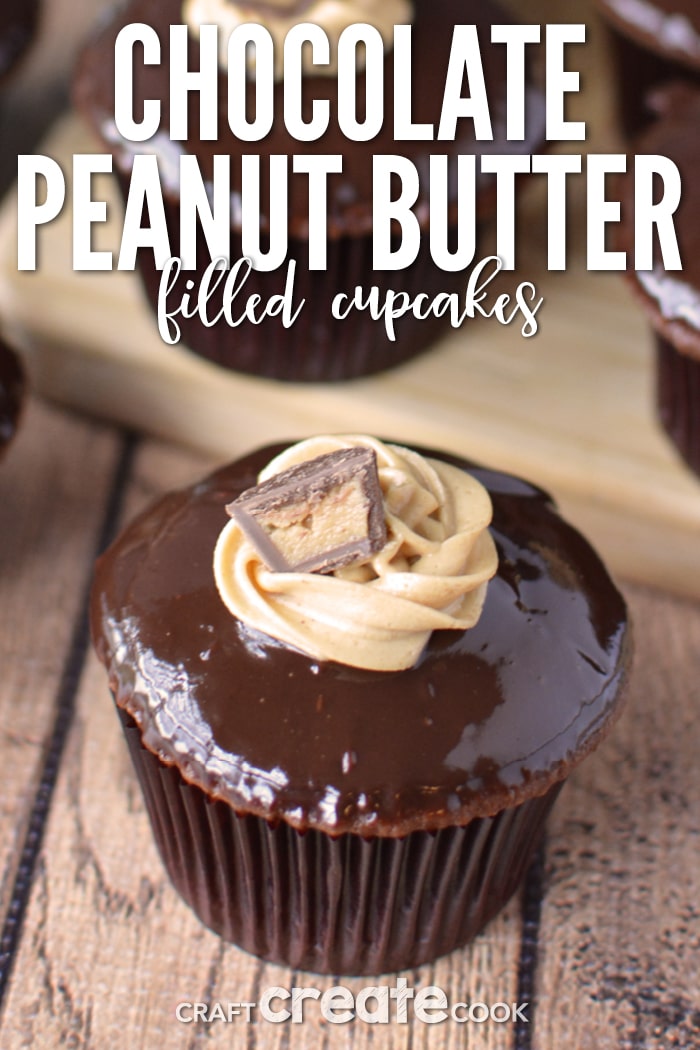 Chocolate Peanut Butter Cupcakes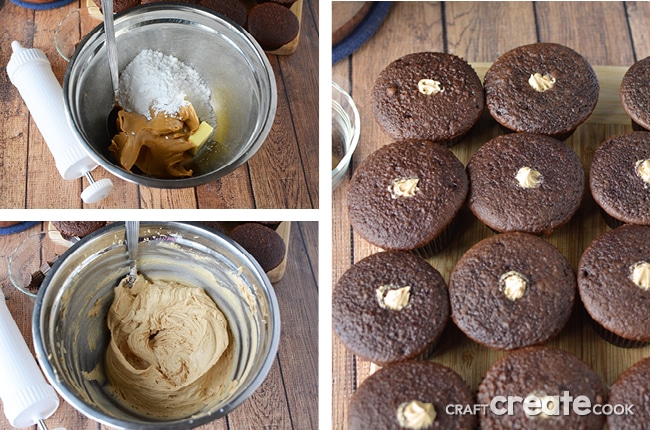 These chocolate peanut butter cupcakes have a tasty surprise inside!
Ingredients
1 box chocolate cake mix and ingredients to make cake
Peanut Butter Filling
1 cup creamy peanut butter
Chocolate Ganache
8 ounces semi-sweet chocolate
1 cup heavy whipping cream
Mini Reese's Peanut Butter Cups, cut in half
Instructions
Prepare cake mix as directed on box and bake 24 cupcakes according to package instructions. Let cool completely.
Peanut Butter Filling
Chocolate Ganache