Chocolate Chip Cranberry Cookies are the perfect holiday cookie!
The holidays are officially here and Thanksgiving is done and over with. I spent most of last week with my kiddos. They had a half day on the Tuesday before Thanksgiving so we did a lot of family friendly activities prior to Thanksgiving. I love baking but having the kids home during the holidays is fun because they love to help me with the cooking.
My middle kiddo LOVES to bake. She constantly asks if she can make something. We occasionally make eggless cookie dough and she also loves to make mug cakes. Both are easy to make and perfect for kids to help measure and stir.
During the holidays we like to make cookies to share with friends and family. Our favorite is chocolate chip but this year I wanted to add in some cranberries for something different. We spent Thanksgiving evening at my parents house so we spent the morning baking, and these Chocolate Chip Cranberry Cookies were on our to-do list. They have the perfect amount of chocolate with just a hint of tart dried cranberries.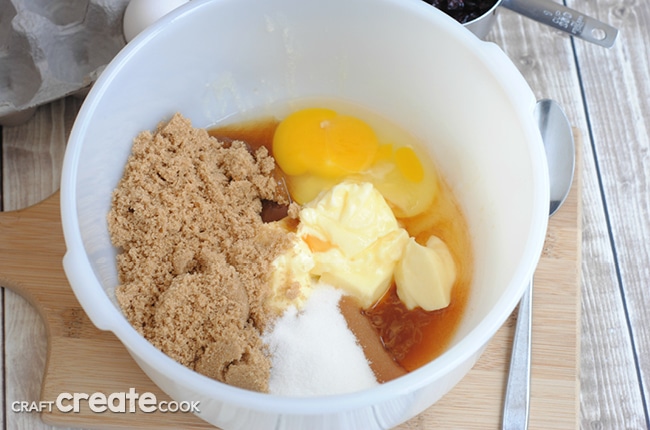 Chocolate Chip Cranberry Cookies
Chocolate Chip Cranberry Cookies
Author:
Craft Create Cook
Prep time:
Cook time:
Total time:
Chocolate Chip Cranberry Cookies are the perfect holiday cookie!
Ingredients
¾ C. butter, softened to room temperature
¾ C. packed brown sugar
¼ C. granulated sugar
1 egg
2 tsp. vanilla extract
2 C. flour
2 tsp. cornstarch
½ C. dried cranberries
½ C. chocolate chips
Instructions
Preheat the oven to 350 degrees.
Combine the brown sugar, granulated sugar, softened butter, egg and vanilla extract.
Slowly fold in the flour and cornstarch.
Add in the dried cranberries and white chocolate chips.
Scoop the dough into 2" balls and place about 2 inches a part on a baking sheet. Add a few extra dried cranberries and chocolate chips on top of each cookie.
Bake 8-10 minutes.
Remove from the oven and let cool.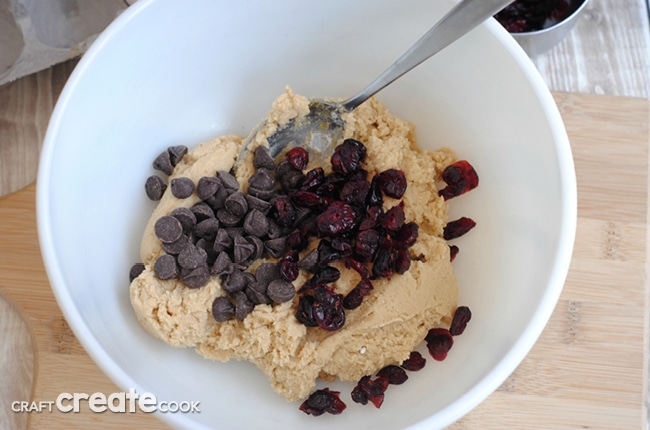 You will also want to make our: