This eggless rainbow sugar cookie dough is the perfect no bake sweet treat!
I love cookies and cookie dough and so do my kids. Last week, I hosted a joint birthday party for my older kids and served those yummy Lofthouse cookies on the treats and cupcake table. You know, those delicious frosted sugar cookies that just melt in your mouth? If you've never had one, you need to try one. You either love them or you hate them and I'm a lover. Plus, they were on sale buy 1 get 1 free so it was a win win!
Sometimes though, I want a sweet cookie dough treat and don't feel like baking or driving to town (we live in the sticks), to buy a package of cookies. This is where my no bake eggless rainbow sugar cookie dough recipe comes into play. It's simple, I always have the ingredients on hand, doesn't make a ton and it's perfect for sharing. I love that you can add sprinkles, chocolate chips or anything you want really.
Some items I like to add in include: mini chocolate chips, peanut butter, cranberries, nuts and marshmallows! This no bake recipe is perfect for last minute invitations to summer get togethers or barbecues when you don't want to come empty handed!
Eggless Rainbow Sugar Cookie Dough Recipe
Eggless Rainbow Sugar Cookie Dough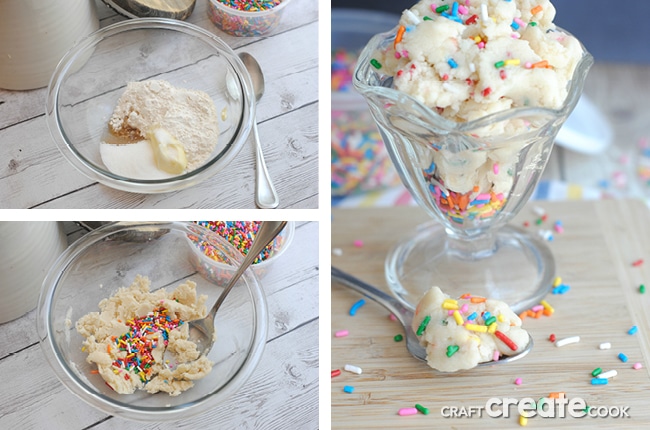 This no bake eggless rainbow sugar cookie dough is the perfect sweet treat!

Prep Time 5 minutes

Total Time 5 minutes
Ingredients
1/4 C. butter, softened to room temperature
3 tbsp. sugar
1/2 tsp. vanilla extract
1/2 C. flour
1-2 tbsp. sprinkles (or other add-ins)
-try peanut butter, mini chocolate chips, cranberries, nuts or marshmallows
Instructions
Combine all ingredients and stir in the sprinkles and enjoy!
Eat this dip right from the spoon or scoop it with Nilla Wafers or graham crackers.


You will also want to try our:
Save