A good slice and bake cookie is the perfect addition to your holiday dessert menu! If you are like me, cookies are a must during the Christmas season, and this recipe is not only simple, it is gluten-free. That makes it a perfect addition to the menu for those guests who have special diet needs.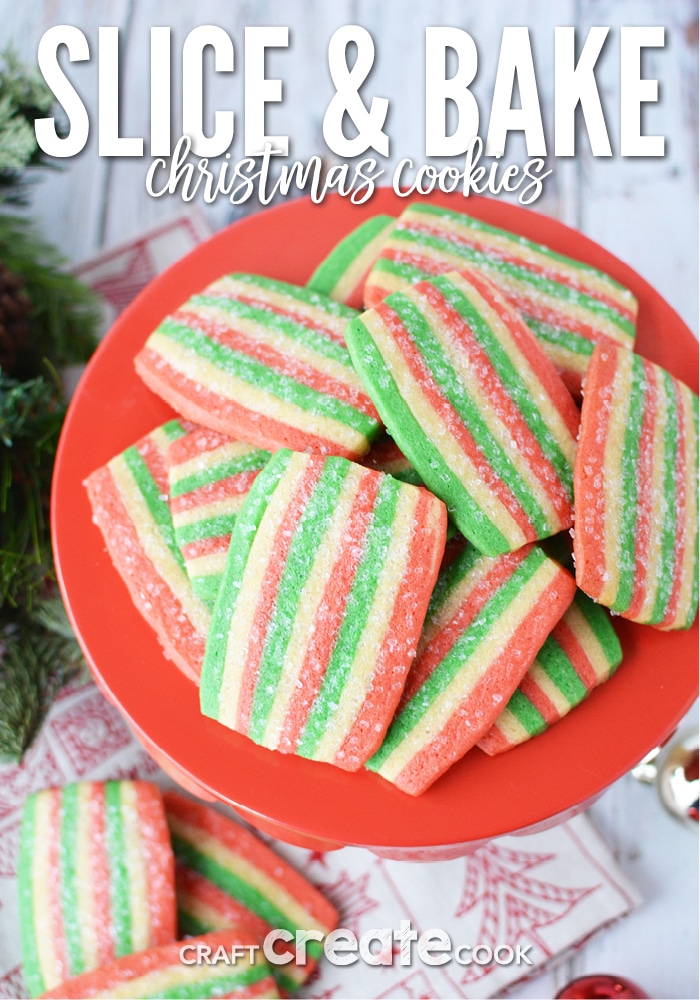 Slice and Bake Cookie Recipe
If you've never made cookies like these before, they are one of my favorites. I love that I can make them ahead of time, toss them into the refrigerator and then slice and bake the next day! They are truly a foolproof cookie that will be a favorite in your holiday baking menu.
If you don't need a gluten-free treat, then you can make these slice and bake cranberry cookies also. Another favorite around the holidays is my recipe for cranberry chocolate chip cookies. They are always a hit with friends. The kids might prefer you make this gingerbread cookie mix pizza, but there is always plenty of time and room for more desserts!
If those aren't enough ideas, check out this list of 70 Christmas cookie recipes that are ideal for making and sharing!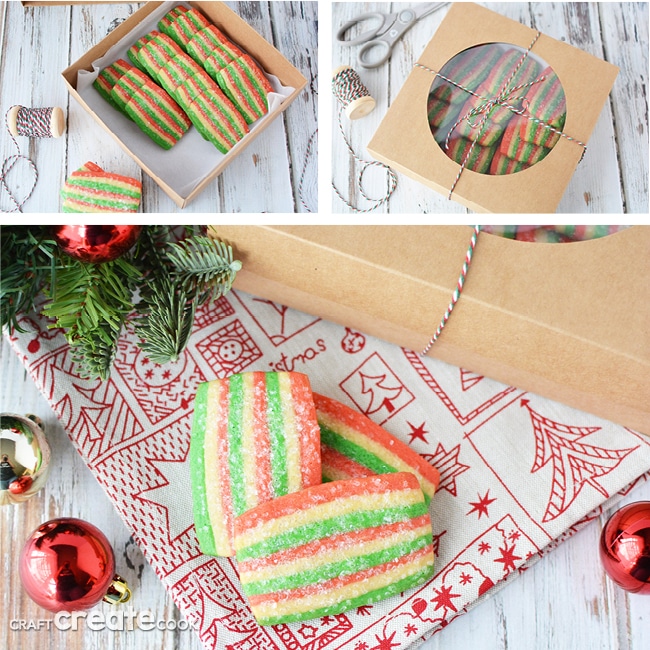 Tips for Gifting Baked Goods at Christmas
Another reason I love these cookies is that they are so pretty they make a great gift! In the past, I have added these to a box for my mail lady, the teachers at school, and of course, our neighbors. I love giving to others, and fresh baked goods are such an easy way to do that! Plus, this little plastic cup cookie box idea is a great way to share just a few cookies with your friends in a special way.
It doesn't matter who I give treats to, the person is always appreciative. One year, I stopped to take some treats to my neighbor not knowing she had been feeling under the weather. It was just what she needed as a pick me up! When the holidays arrive, my mail lady has so much extra work that a little cup of cookies for her is just the pick me up she needs.
Think about those in the community who could use a little uplifting and share some of these. If you don't know where to begin, grab our printable Advent calendar that has tons of ways to give back to the community!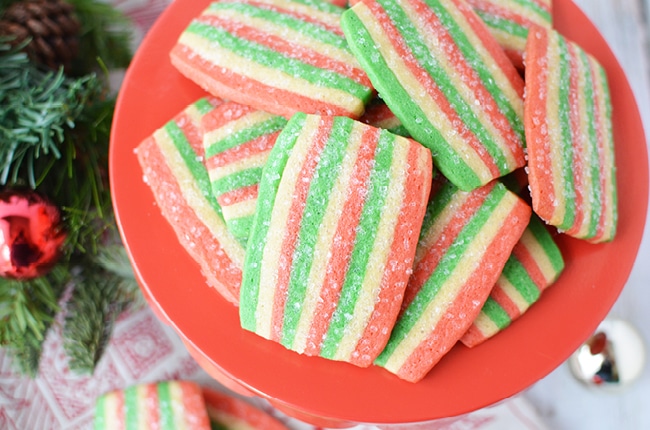 Can I Freeze This Slice and Bake Cookie Dough?
Yes! One of the best things about this recipe is that it can freeze to slice later. Just prepare the dough, wrap in plastic wrap, and then label. I always like to add the date it was prepared and baking directions when I freeze cookie dough. This makes it easy if my kids or husband want to make some when I am not at home.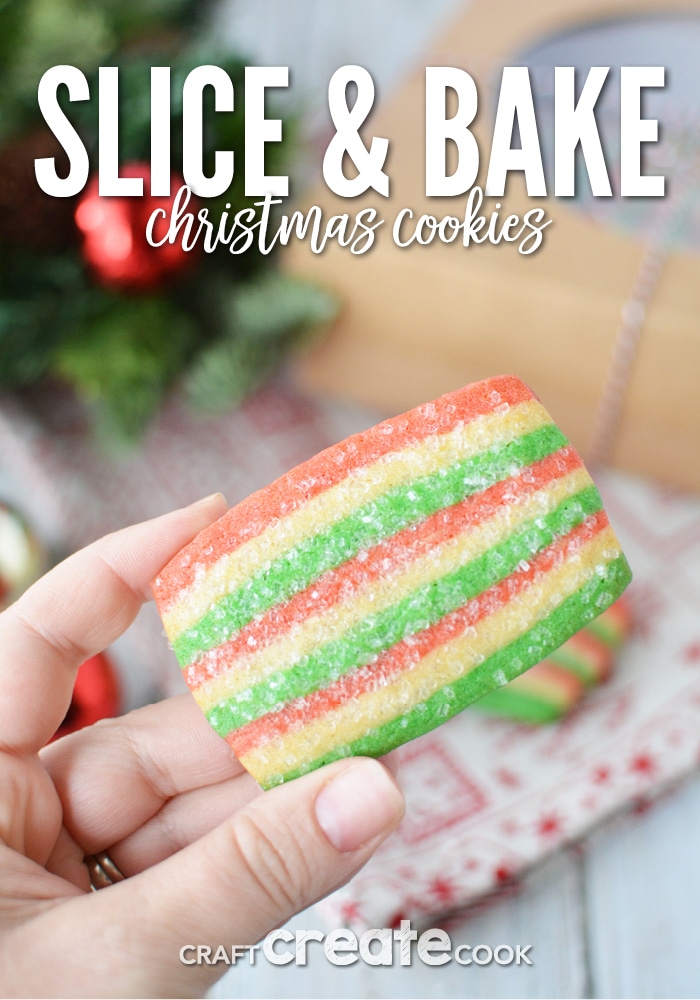 Ingredients
Butter
Gluten-Free 1:1 Baking Mix
Brown Sugar
White Sugar
Eggs
Baking Powder
Salt
Baking Soda
Red and Green Food Coloring Gel
Decorative Sprinkle Sugar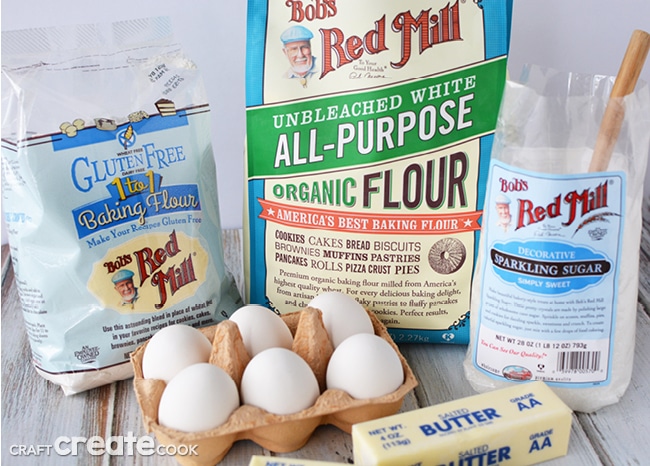 How to Make a Slice and Bake Cookie
For this recipe, you will begin by mixing the butter and sugar together until creamy.
Next, you will beat in the eggs until the combination is well-combined.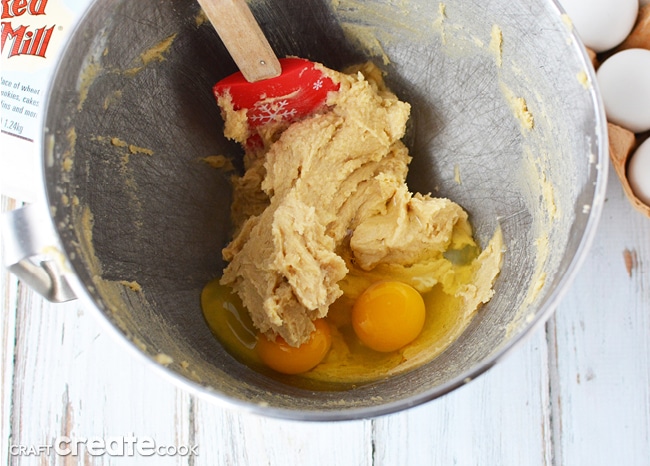 In a small bowl, combine the flour, baking soda, baking powder, and salt until well combined. Then you will add the dry mixture to the wet mixture until it forms a dough. Make sure to scrape down the sides of the bowl as you mix to incorporate all ingredients.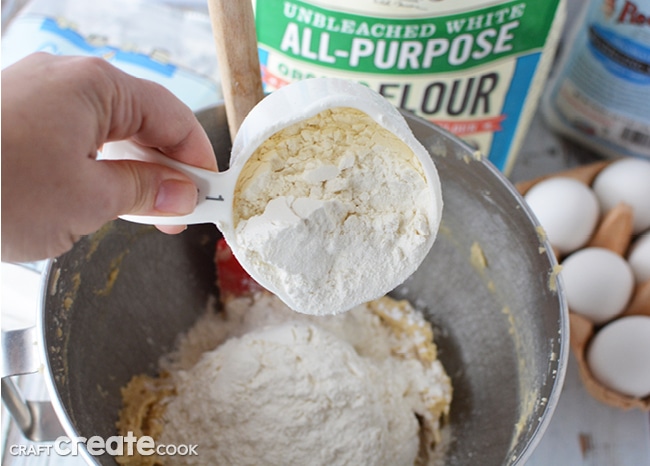 The next step is dividing the dough into three equal portions. Once you have divided it, place part back into the mixing bowl and add in your red food coloring. Beat this until it is well combined then place it aside. Using a different bowl or the same after it has been washed, you will repeat the process with another part of the dough using green food coloring.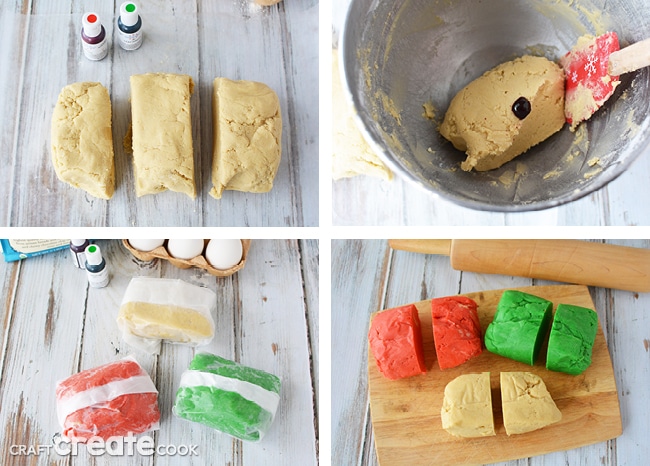 Wrap each individual color of dough well in wax paper and then put it into the refrigerator to chill for at least three hours.
Assembling the Slice and Bake Cookie Dough
To begin assembling and baking the cookies, you will remove the dough from the refrigerator and divide each color in half.
Roll the pieces on a lightly floured surface until they are about 1/4″ thick.
Place each color on top of each other alternating to create a pattern, and then wrap again but this time in plastic wrap.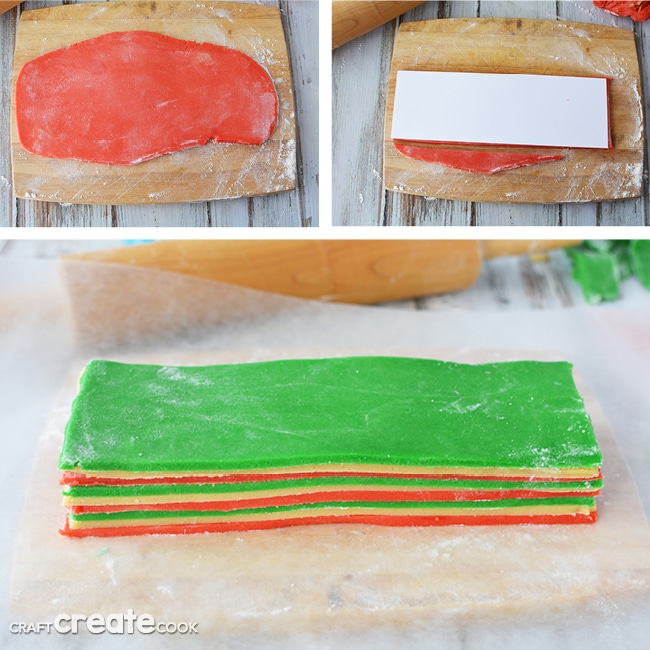 Press the pieces together, and then refrigerate overnight. If you plan to freeze the dough, this is when you would wrap and label for later.
When ready to make the cookies, you will heat your oven and line baking sheets with parchment paper or a silicone baking mat. Then, you will cut the cookies intl slices around 1/4″ thick and place on the baking sheet.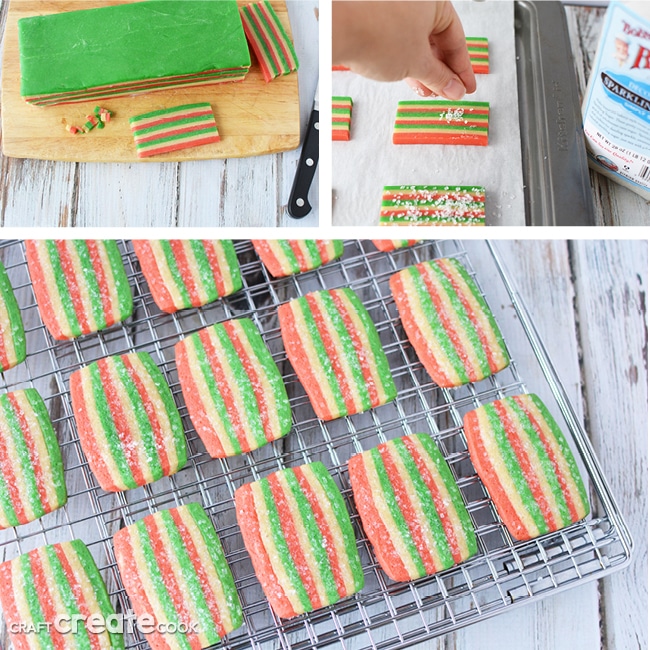 Sprinkle with sugar and bake the slice and bake cookie until the desired doneness.
Yield: 6
Slice and Bake Cookie for Christmas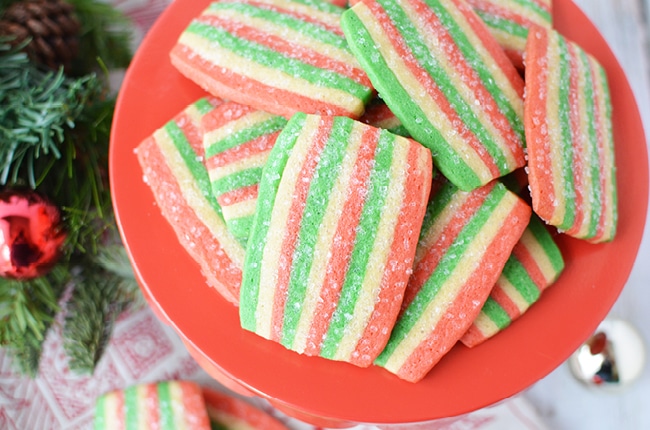 Slice and bake Christmas cookies with my easy, make ahead recipe will bring holiday magic to everyone.

Prep Time 30 minutes

Cook Time 8 minutes

Additional Time 1 day

Total Time 1 day 38 minutes
Ingredients
1 cup (2 sticks) butter, softened
3/4 cup brown sugar
1/3 cup white sugar
2 eggs
3 cups Bob's Red Mill Unbleached White Organic All-Purpose Flour
3/4 teaspoon baking powder
1/2 teaspoon baking soda
3/4 salt
red and green gel food coloring
Bob's Red Mill Decorative Sprinkling Sugar
paper template cut to 9" x 3"
Instructions
Beat butter, brown sugar and white sugar in a mixer until light and fluffy. About 3-5 minutes.
Add eggs and beat well.
Next, you will combine flour, baking powder, salt and baking soda to a small bowl and mix well. Add to batter and beat until just combined.
Remove dough from mixing bowl and divide it into three sections.
Return 1 section to the mixing bowl and add red food coring.
Beat until well blended. Remove from bowl and wash the bowl and beater.
Repeat with another section of dough, adding green food coring.
Wrap each color of dough in wax paper and place it into the refrigerator for 3 hours.
Remove dough from the refrigerator and divide each piece in half. Roll each piece on a flat surface lightly dusted with flour to 1/4" thickness. Use the paper template to place on top of the dough and trim around it with a knife. Remove excess and re-roll.
Place each rectangle of dough on top of each other, alternating colors or creating a pattern. Wrap tightly in plastic wrap. Gently press the colors together on all sides. Refrigerate overnight.
Preheat oven to 375 and line a baking sheet with parchment paper.
Remove cookies from plastic wrap and slice to 1/4" thickness and place onto prepared pan. Sprinkle with a generous amount of decorative sugar. Bake for 7-8 minutes or until the center is set. Let set on pan for 1 minute before moving to a cooling rack to cool completely.
Notes
Substitute Bob's Red Mill Gluten Free 1 to 1 Baking Flour in place of all purpose flour to make these gluten free.
Nutrition Information:
Yield:
6
Serving Size:
1
Amount Per Serving: Calories: 384Total Fat: 2gSaturated Fat: 1gTrans Fat: 0gUnsaturated Fat: 1gCholesterol: 62mgSodium: 270mgCarbohydrates: 82gFiber: 2gSugar: 34gProtein: 9g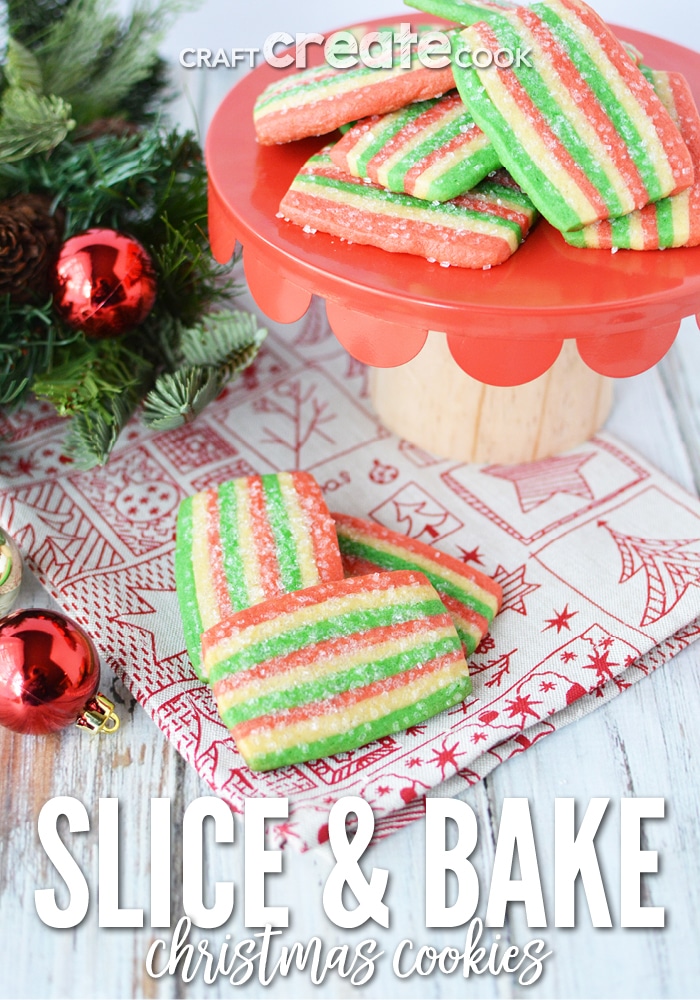 Save
Save