Baked Cranberry Oatmeal is the perfect holiday or weekend breakfast!
I don't know about you, but I am always trying to think of ways to save my self and sanity. Being a mom isn't easy! Being a mom during the holidays is truly hectic. Don't get me wrong, I love being a mom AND I love the holidays but wow, I am SO busy!!! Between running the kids to and from school, then to after school activities I have to then worry about holiday stuff like Christmas concerts, dance recitals and everything in between.
Our weekends are almost just as busy as week days but we occasionally have Saturdays off. When I get a Saturday off, we often spend the morning in our pajamas watching movies while I drink several cups of hot coffee and run a few loads of laundry. It's nice to take it slow every now and then.
This baked cranberry oatmeal is perfect for those lazy weekend mornings when you don't have to run anywhere. Heck, it's pretty good even on busy mornings. It's feeds my whole family of 5 and it's yummy, too. Because it's the holiday season, I've been using lots of fresh cranberries lately. I can grab a few bags at a time at Aldi for only $0.89 each so I love stocking up! While the oatmeal is baking I can throw a bag or two of fresh cranberry's into my dutch oven with some orange slices and cinnamon sticks and the house smells like heaven!
This cranberry baked oatmeal is best served warm right out of the oven but you can also re-heat with a little bit of milk or water as needed. I also love lots of brown sugar in my oatmeal (not super healthy, I know) and it tastes so good!!! I hope you enjoy this recipe as much as I do!
Baked Cranberry Oatmeal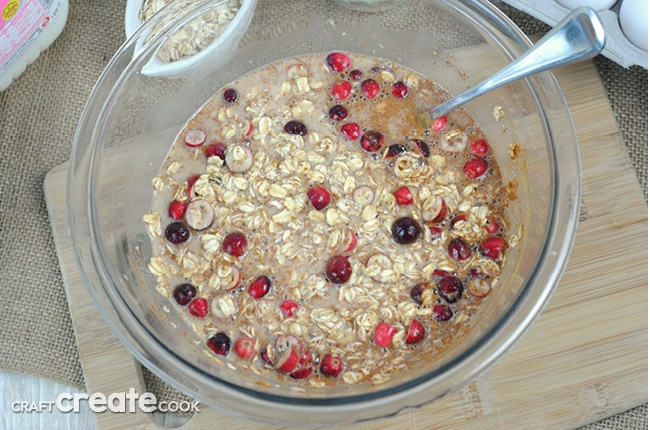 Baked Cranberry Oatmeal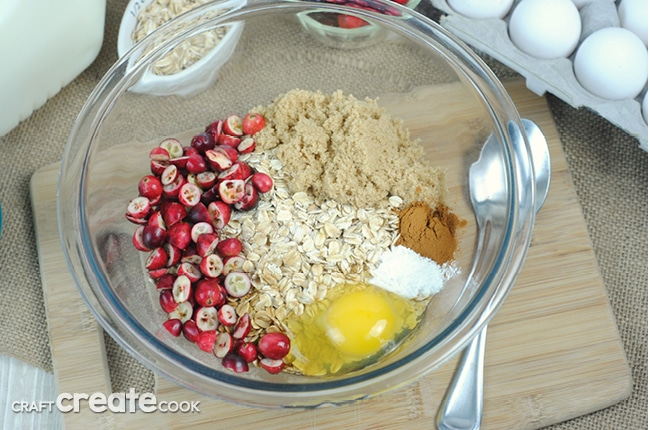 Cranberry Baked Oatmeal is the perfect holiday or weekend breakfast!

Prep Time 5 minutes

Cook Time 25 minutes

Total Time 30 minutes
Ingredients
2 C. rolled oats (not quick cooking)
1/2 C. packed brown sugar
1 3/4 C. milk
1 tsp. baking powder
1 tsp. cinnamon
3/4 C. fresh cranberries, rinsed and cut in half
1 egg
2 tsp. vanilla extract
Instructions
Preheat the oven to 350 degrees.
Combine all the ingredients and pour into an 8x8 baking dish.
Bake for 25-30 minutes.
Serve with extra milk if needed.


You will also want to make our: