This quiche-like Zucchini Pie Recipe is perfect for a meatless Monday dinner or a weekend brunch.
When zucchini is in season, I often go overboard making any and everything I can with zucchini – Chocolate Zucchini Muffins, Zucchini Pizza Crust, and Cheesy Zucchini Rice. I absolutely love using zucchini in dishes in the kitchen. This year, I made a Zucchini Pie and since zucchini "season" I've made it three times. It's SO GOOD that I eat it for days on end! Sometimes I make it and don't share it with my family, it's THAT good!
Zucchini is part of the squash family and full of good nutrients and vitamins which make this pie a healthy and filling choice. Plus if you eat this zucchini pie for breakfast, you're already adding a serving of vegetables to your daily diet! And that's certainly a win-win situation!

While I like to use home-made pie crust, you can always use a pre-made, store bought pie crust and will have similar results. If you have a simple food processor, I encourage you to try your hand at homemade pie crust. It's quite simple and literally takes longer to wash the food processor than to make the crust in it.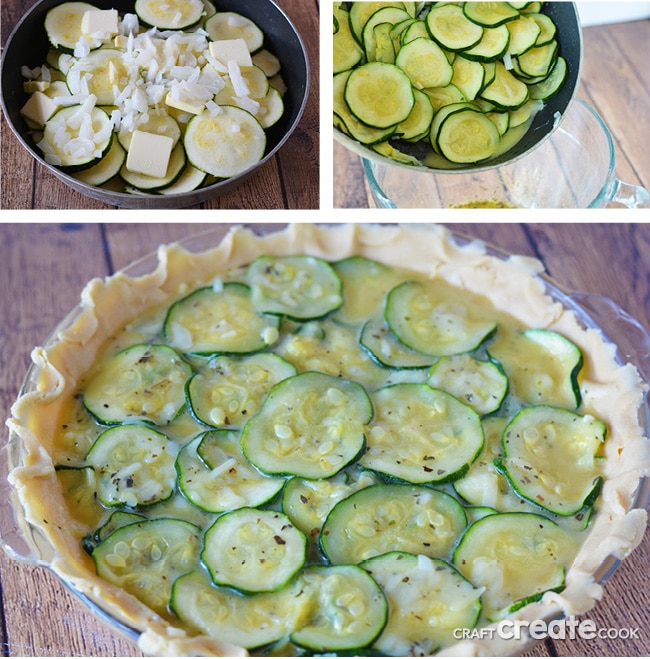 If you like this, try these amazing recipes: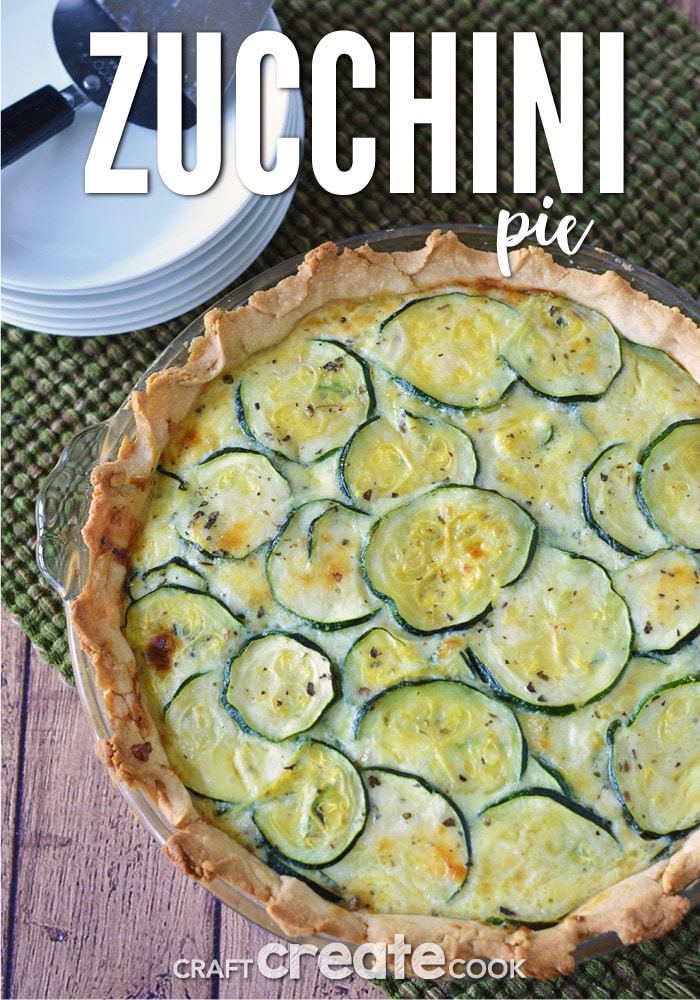 Zucchini Pie Recipe
Prep time:
Cook time:
Total time:
This Zucchini Pie is perfect for a Meatless Monday dinner or a morning brunch.
Ingredients
Crust Ingredients
1-1/3 cup flour, plus extra
½ cup (1 stick) cold butter cut into cubes
½ teaspoon salt
3-5 tablespoons water
Filling Ingredients
4 cups thinly sliced zucchini
½ cup sliced onion
3 tablespoons butter
2 eggs
½ teaspoon salt
½ teaspoon garlic powder
½ teaspoon basil, dried
½ teaspoon oregano, dried
¼ teaspoon pepper
2 cups shredded mozzarella cheese
¼ cup shredded Parmesan cheese
Instructions
To Make the Crust
Add flour, butter and salt to a food processor. Process for 5 seconds until small chunks form.
Add 3 tablespoons of water, processing after each addition of water. You may need to add additional water, but do so, 1 tablespoon at a time.
Your dough will be done when it begins to form a ball. Remove it from the food processor, and wrap it in plastic wrap.
Refrigerate the dough for 30 minutes.
Roll dough onto a floured surface until ¼" thick and place into a pie plate. Trim edges and return crust to the refrigerator while preparing filling.
To Make Filling
Preheat oven to 400.
In a skillet, add zucchini, onion and butter. Cook on medium heat for about 10 minutes until onion is tender and zucchini is soft. Let cool for a few minutes.
In a bowl, beat eggs, and seasonings together. Stir in cheese and add the zucchini mixture.
Pour into prepared pie crust and bake for 35-40 minutes or until done. (Center comes out clean when a knife is inserted in the center)
Let stand 10 minutes before cutting into 8 slices and serving.
Save
Save