Your kids will love this fun TMNT craft that reuses k-cups!
Teenage Mutant Ninja Turtles are all the rage right now and my kids adore them. With the newest TMNT movie coming out this week all I've heard is 'can we go see it, can we mom, can we?!' All I can think of is that little dog in the old Looney Tunes cartoons that follows the bigger dog around bugging him with question after question. Yes. Those are my littles. Who am I kidding? We will probably go see it. I'm a sucker for the movies and I love myself a huge buttered popcorn and an hour and a half of pure silence. Ahhhhhhhh. Yep, we're going to the movies, kids!
So, this week we worked on this fun TMNT craft k-cup upcycle. Easy for me and fun for the kids to help put together. Plus, when they were done the kids got some fun TMNT characters to play with and I didn't mind if they took them outside or whatever else happened to them. My son's favorite turtle is Michelangelo or Mike as he calls him. I'm not sure which are which even though I grew up watching TMNT. It's funny what you can and can't remember about your childhood! I watched the turtles every week but I couldn't tell you who is who, if you asked me. Hopefully the new movie will help me to remember!
Let's get to crafting. You'll need a few things, but some you should already have: clean, used k-cups, scissors, green spray paint, googly eyes and some craft foam and a low temp hot glue gun. My kids loved to craft all. the. time.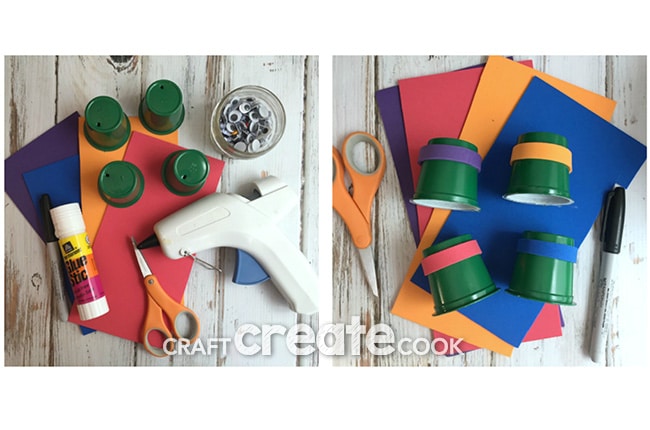 You'll want to paint (4) clean/used k-cups green and let air dry. Then cut a small strip of red, blue, purple and orange foam for the turtle's eye bands. Attach to the k-cups with glue and then affix 2 eyes to each turtle. Draw a mouth using a black Sharpie marker. And, that's it! Simple k-cup TMNT craft!

Materials Needed
Directions –
Spray (4) k-cups green in a well ventilated area and let dry.
Cut a small 4″-5″ strip of blue, red, green and orange craft foam.
Glue one end of the craft foam on the back of the k-cup and gently wrap around. Affix the other end with glue.
Give each k-cup 2 googly eyes.
Draw a mouth on your turtle with a black sharpie marker.
That's it. Simple and fun!
You'll also want to make:
Angry Bird's Easy Craft for Kids