If you have a TMNT lover in your house, you'll want to make this easy soap!
Teenage Mutant Ninja Turtles are hot, hot, hot right now. If your kids haven't heard of TMNT, I'd be surprised, but they will soon enough. I grew up on them. Didn't we all? 'Turtles in a half shell, turtle power!' Every time the kids mention TMNT I have a tendency to get that one line stuck in my head. And I actually sing it out loud causing the kids to roll their eyes at me.
To be honest, I'm not even sure if they still use it in the new TMNT movies! I just remember watching the TMNT cartoon every Saturday morning growing up, or maybe it was on after school! I loved the turtles so I wasn't surprised when they re-made both the TMNT cartoons and movies. Now, my kids know who they are and they love the TMNT.
This Friday, June 3rd, the newest TMNT movie opens: Out of The Shadows, and the kids are already asking to go see it. We saw Angry Bird's last weekend so TMNT is next on the summer movie bucket list. In honor of the new movie, we made some fun TMNT soap. It's easy to make and only takes a few minutes.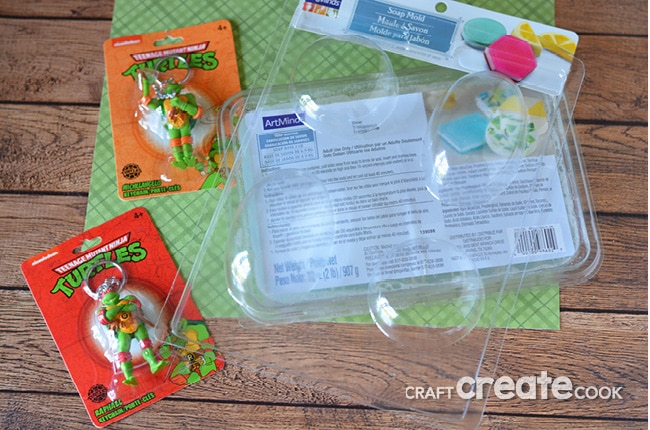 Soap is very easy to make. You'll need:
Soap Mold – we used Artminds from Michaels Stores that looks exactly like what we linked
Clear Glycerin Soap – we used Artminds from Michaels Stores
TMNT Turtle Figurines to fit into your mold – We found keychains at the Dollar Tree
Clear Glass Measuring Cup
Spoon
Sharp knife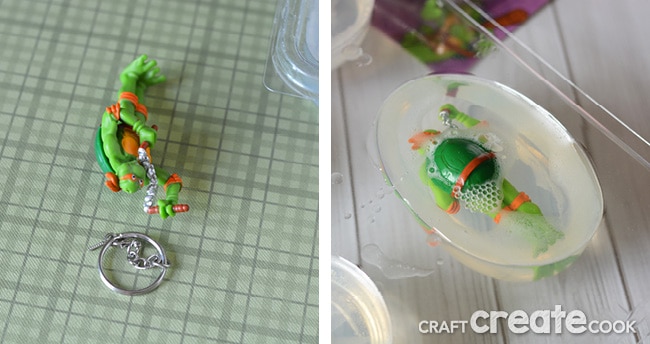 Start by removing your turtle from the package and unscrew the key chain. Discard chain.
Fill a spray bottle with rubbing alcohol and mist your soap mold and turtle, covering completely. Set aside to air dry.
Use a sharp knife to cut apart about 4 pieces of soap and microwave it in your glass measuring cup according to the directions: 30 seconds, stir, and microwave in 10 second intervals if it's not completely melted.
Pour a small amount of soap into the mold. Spray with alcohol to remove bubbles. Let set for about 10 minutes.
Set your turtle figure into the mold on top of the soap.
Microwave additional soap and pour into the mold until full. Spray with alcohol to remove bubbles.
Set aside, about an hour, to completely set up.
Pop your soaps out of your mold and you're ready to use them!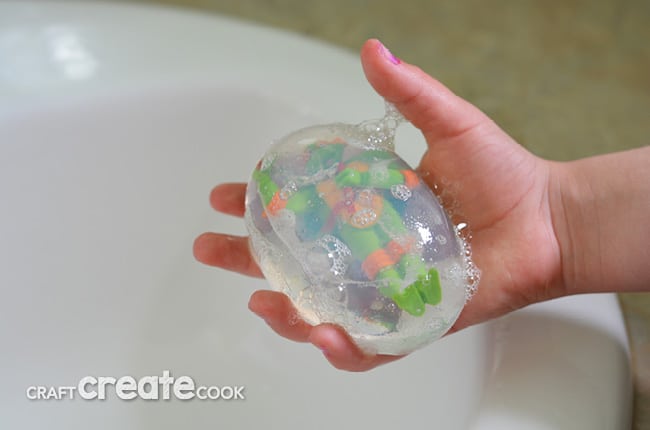 If you love these Teenate Mutant Ninja Turtle soaps, check back this week to see our Teenage Mutant Ninja Turtle Candy!
You'll also want to make Angry Birds Paper Plate Craft and our K-Turtle Craft!