These Strawberry Valentine Cookies are perfect for Valentines Day!
Valentines Day is slowly creeping up on me this year. I started pinning cute Valentine ideas a few weeks ago and I am A-mazed at all the cute and easy ideas out there! I like to make Valentine's Day fun but don't want to put a ton of work into it. I usually surprise the kids with a few goodies, including Valentine candy. I love surfing Pinterest for free Valentine cards too. This year we are all about Trolls and my girls are excited to share their Trolls Valentine Snack mix and printable Valentine cards with their friends!
This year I am one of the snack mom's for my son's Valentine's Day class party. I wanted something fun for his class too! These Strawberry Valentine Cookies are easy and fun to make and perfect for his party! Make them the day before and you won't be rushing the day of the party. They only take a few ingredients, too!
So, grab a box of strawberry cake mix, some white frosting and Valentine jimmies and let's get started!
Strawberry Valentine Cookies Recipe
Yield: 24
Strawberry Valentine Cookies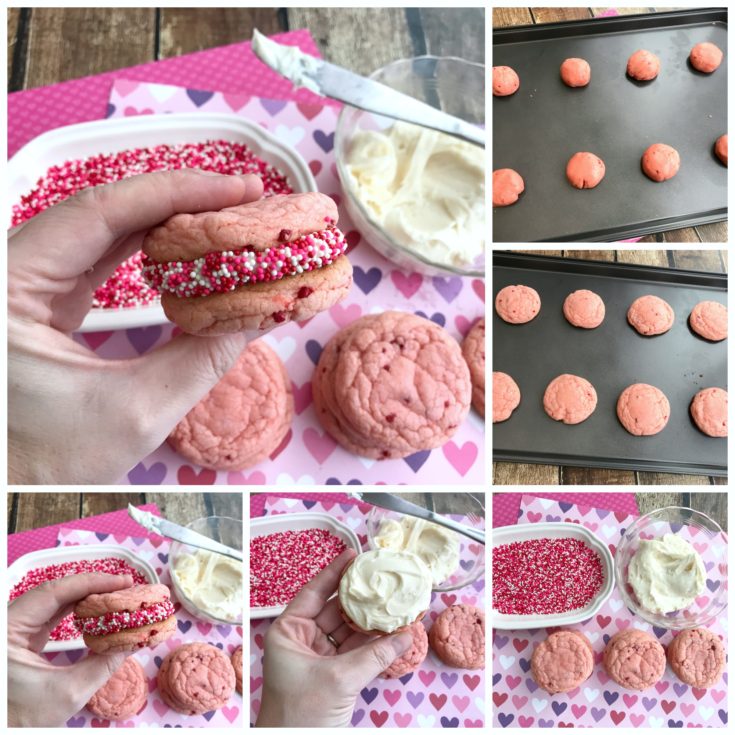 These Strawberry Valentine Cookies are perfect for Valentines Day!

Prep Time 5 minutes

Cook Time 8 minutes

Total Time 13 minutes
Ingredients
1 box of strawberry cake mix
1 large egg
1/2 C. vegetable oil
2 tbsp. flour
1 tub of white frosting
Valentine jimmies (sprinkles)
Instructions
Preheat the oven to 350 degrees.
Combine the strawberry cake mix and the flour. Add in the egg and vegetable stirring well until combined.
Scoop a small tablespoon of dough and gently roll into a ball. Place on a baking sheet 2-3" a part. Repeat with the rest of the dough.
Bake 8-10 minutes.
Remove from the oven and let cool completely.
Once the cookies have cooled, flip each cookie over and generously frost. Place another cookie on top to make a sandwich.
Roll the side of each cookie sandwich in the Valentine jimmies (sprinkles).


You will also want to make:
Trolls Valentine Snack Mix
Valentine Cream Cheese Oreo Cookies
Valentine Cupcakes
Save