I was provided product in exchange for a review. All opinions are 100% my own.
You won't believe how easy it is to make ice cream cone cupcakes with Yippee Cone Cake™ Bases!
If you've ever tried to make my Trolls Cupcakes, you know how challenging baking a cupcake in an ice cream cone can be. Now, in the end, these grab and go desserts are delicious and always add fun to any party, but they can be a big pain to make!
My ice cream cones always tip over. Whether it's on their way to the oven, coming out of the oven, or while frosting, my top heavy ice cream cone cupcakes fall over. It doesn't matter how hard I try to keep them upright, one of them tumbles.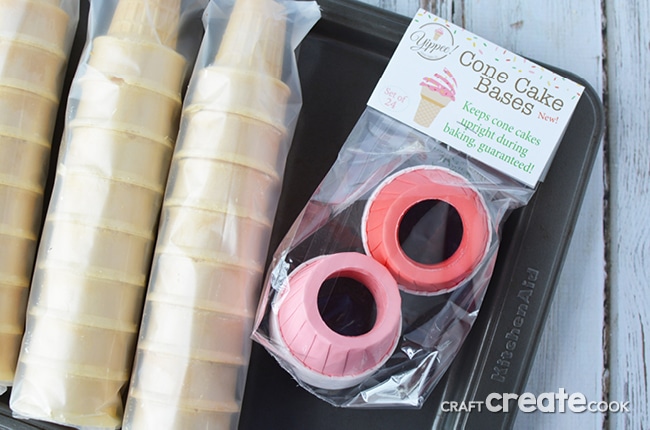 Let me introduce you to Yippee Cone Cake™ bases! These are the end-all, cure-all to any ice cream cone cupcake recipe! Yippee Cone Cake bases create a solid foundation for your cones and they come in a variety of colors to match your party and table decor! How adorable would the pink and blue bases be for guests at a baby shower? Or grab some bases in your favorite team colors for a game day celebration!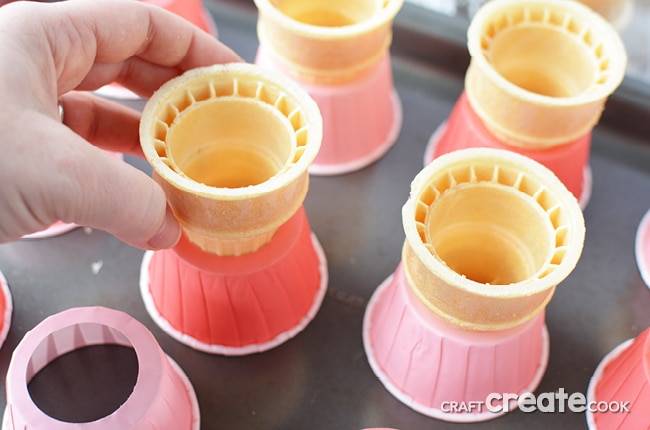 Yippee Cone Cake™ bases are super easy to use! My 4 and 7 year old helped me make these cupcakes, that's how sturdy and durable these bases are. Not one of my ice cream cone cupcakes tipped over – EVER! Not while putting batter inside, not while moving them to the oven, not while taking them out of the oven or while frosting them! You slip the cone into the bases and they don't come off again until you are finished eating your ice cream cone cupcake! This makes transporting the ice cream cone cupcakes a breeze!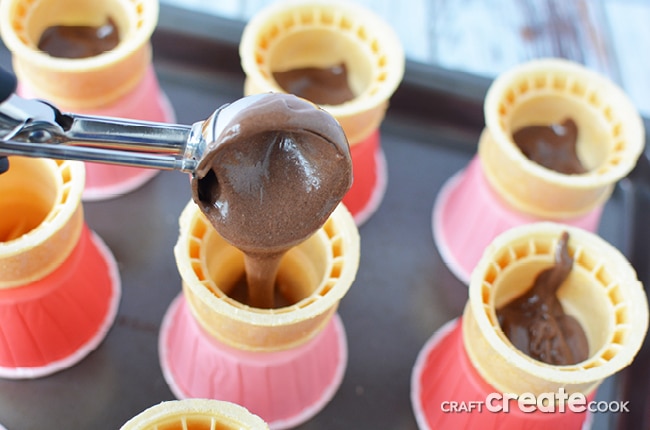 If you aren't convinced yet, see for yourself! And through the month of February, use code CCC at checkout to receive 15% off your entire order!
And try your luck to WIN a package of Yippee Cone Cake™ Bases! We'll give one lucky person a free set to try yourself! Entry form below.
If you need a simple and easy recipe to make in your Yippee Cone Cake™ bases, make sure you try these Strawberry Chocolate Ice Cream Cone Cupcakes!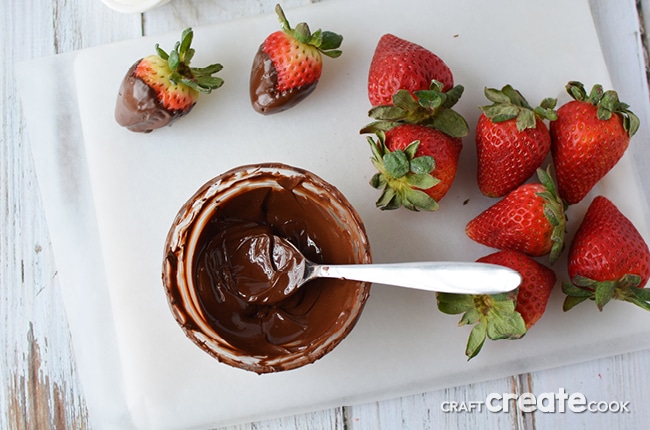 Using a box chocolate cake mix and a 2 tablespoon scoop, you'll put just the right amount of batter into your ice cream cones in order for them to rise perfectly and not overflow. I find that you'll need a bit more batter with any other flavor than chocolate.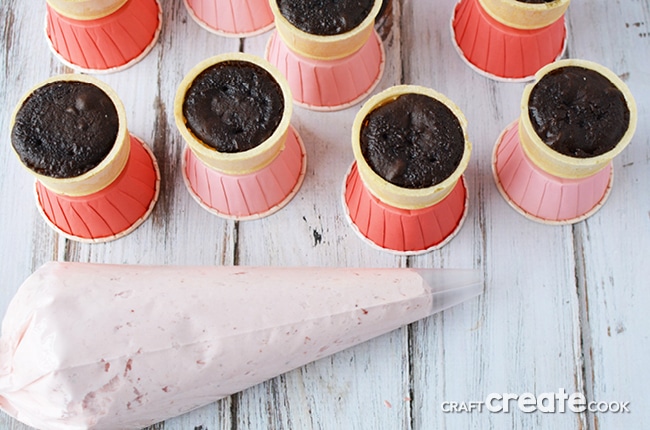 One of the easiest ways to frost any cupcake is with a pastry bag with the tip cut! You'll get a nice clean dollop of icing with little effort! I use larger, 18″ pastry bags and these are my favorite.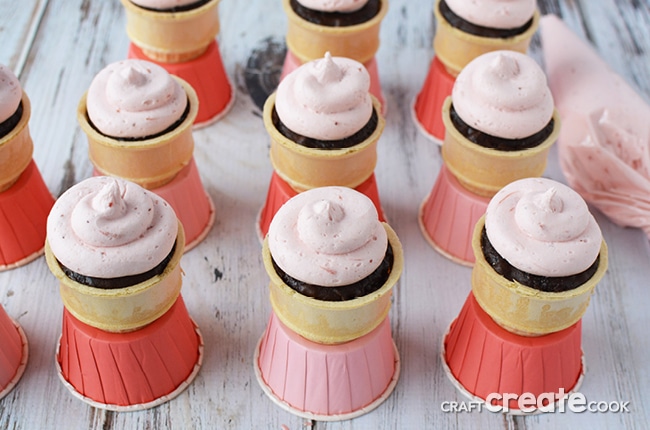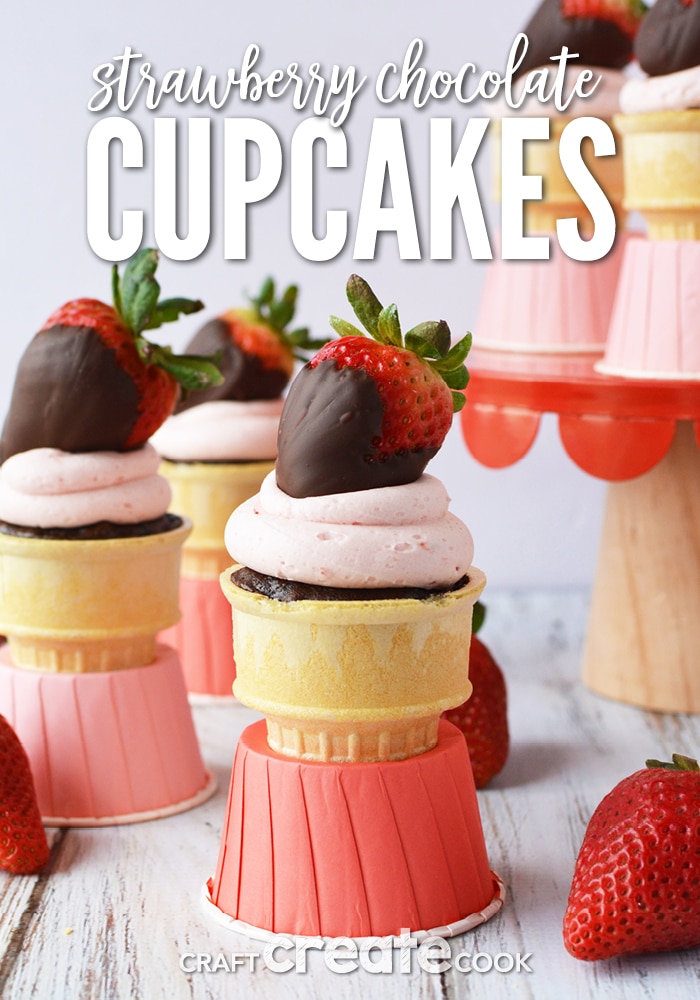 Need some additional cupcake recipes? Try some of these!
Strawberry Chocolate Ice Cream Cone Cupcakes
Author:
Craft Create Cook
Prep time:
Cook time:
Total time:
You won't believe how easy it is to make ice cream cone cupcakes with Yippee Cone Cake Bases!
Ingredients
1 box chocolate cake mix and ingredients to make cake (typically egg, water and oil)
24 ice cream cones
24 Yippee Cone Cake Bases
½ cup (1 stick) butter, softened
3 cups powdered sugar
¼ cup heavy whipping cream
1 teaspoon vanilla
3 tablespoons strawberry jam
red food coloring, optional
24 fresh strawberries, washed and dired
16 ounces dark chocolate
Instructions
To make Cupcakes
Preheat oven to 325. Place cone bases onto a light colored baking sheet. Press cones into each base, making sure to gently press it into the base so when the cone is picked up, the base remains attached to the cone. Set aside.
Prepare cake batter according to directions on the package. Fill each cone with 2 tablespoons of batter, up to the fill line as shown on the cone cake packaging.
Bake for 20-25 minutes or until a toothpick inserted in the center comes out clean. Let cool completely before frosting.
To make Strawberry Frosting
Add butter to a mixer and beat for 3 minutes or until light and fluffy, scraping down the sides of the bowl after each minute.
Add sugar, heavy whipping cream and vanilla and beat slowly to incorporate all ingredients. Increase speed to high and beat for 3-4 minutes or until fluffy. Add jam and beat well until you have a frosting consistency. If necessary, add an additional ½ cup of sugar. Tint with food coloring if desired.
Place icing into a large disposable pastry bag and cut the tip so you have a ½" opening.
To make Chocolate Covered Strawberries
Melt chocolate according to package directions and dip strawberries into chocolate. Place onto a cutting board lined with wax paper. Refrigerate for about 15 minutes or until the chocolate is hard.
Pipe icing onto cupcakes and top with a chocolate covered strawberry.