These firework cupcakes are a perfect 4th of July dessert!
I love everything red, white and blue about the 4th of July. Plus, I love that all Americans can (often) peacefully come together to celebrate America's birthday. Everybody loves a party! From cookouts to parades to fireworks displays, there's so much going on for America's Birthday. When I stumbled upon these red, white and blue, Twizzlers, and these cupcake liners, I knew I had to make something amazing with them! These firework cupcakes are the PERFECT 4th of July dessert!
For this recipe, I decided to try a new frosting and I absolutely LOVE it! I was skeptical at first – since you use flour and cook it on a stove top! But it's like a fluffy, whipped frosting rather than a dense buttercream. It's not overly sweet or gritty with sugar. It's my new favorite!
Begin by making your favorite box of chocolate cupcakes – hey, it's summer and I need EASY! Bake them according to the package directions and let them cool completely.
Prepare your frosting by adding milk and flour in a saucepan and whisking constantly on medium heat until thick. Remove from heat and place in the refrigerator to cool completely. (Now is a good time to make your fireworks.)
In a mixer, beat butter and sugar until fluffy, scraping down the sides to incorporate the mixture. This usually takes 5 minutes. Add completely cooled flour mixture and beat well. And beat, and beat, and beat until it's light and fluffy. If you're like me, you'll flip out because it won't look like it's coming together. Just don't give up, keep beating, it will get fluffy when you least expect it! Place your frosting into a piping bag and cut the tip.
To make your fireworks, you need to cut one Twizzler into thirds using a cutting board and sharp knife. One package of licorice will give you 36 fireworks. Peel apart the licorice in each section about halfway down. Set aside.
Pipe your frosting onto the cupcake and top with a firework. You may have to plunge your firework into the actual cupcake, not just the frosting to get it to stand upright. Add star sprinkles and you're ready to celebrate!


Yield: 24
Firework Cupcakes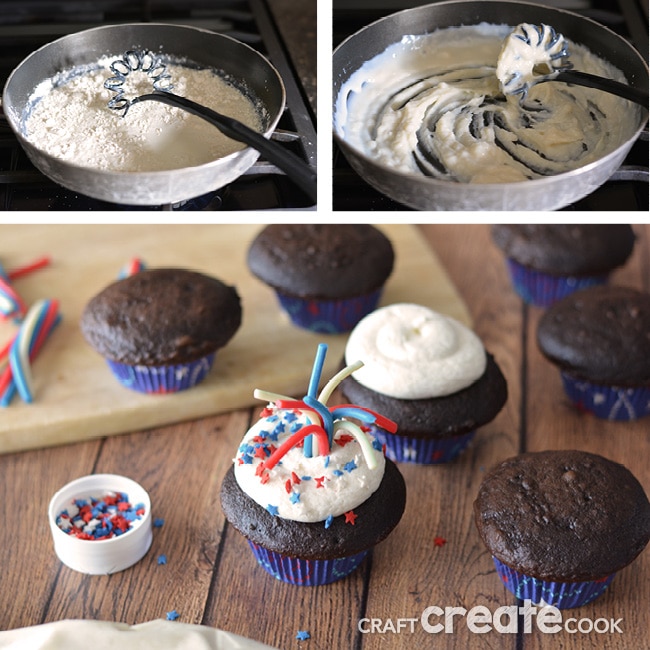 Prep Time 25 minutes

Cook Time 10 minutes

Total Time 35 minutes
Ingredients
Cupcakes
24 of your favorite cupcakes, baked and cooled
Frosting
1/2 cup flour
1/2 cup white milk
1 cup sugar
1 cup butter, softened
Red, White & Blue Star Sprinkles
Instructions
For the Frosting:
In a saucepan, whisk flour and milk on medium heat until thickened. Remove from heat and place into a bowl and refrigerate until cool.
In a mixer, with a wire whisk attachment, add butter and sugar and beat until fluffy, about five minutes.
Add cooled flour mixture and beat well. It can take anywhere from 7-10 minutes.
Place into a piping bag with an open tip and pipe onto cupcakes.
Top with firework and red, white and blue star sprinkles.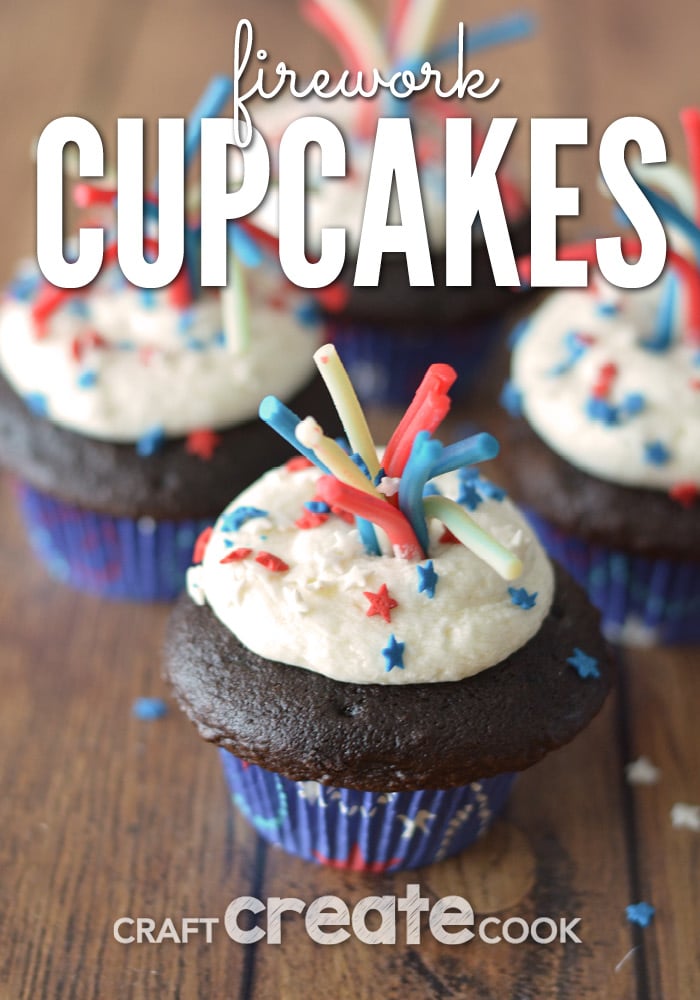 You might also want to try one of our other patriotic 4th of July dessert!
Red, White & Blue Cake Pops or Patriotic Snack Mix or No Bake Cookie Dough Truffles
Save