This slow cooker chicken & mushrooms recipe is perfect for a busy week night meal!
This post may contain affiliate links. As an Amazon and Awin Associate I earn from qualifying purchases. More info
here.
The temperature is dropping and the weather is getting cooler where we live which means it's time to pull out the slow cooker! Don't get me wrong, I love fall. It's actually one of my favorite seasons but where we live we seem to have a window of gorgeous, sunny fall days and then BLAH days = rainy, half sleet and half snow and it's freaking cold outside. On these days I just want to stay inside and hide under the covers. Alas, as we all know, that isn't going to happen.
I love my slow cooker. I also love my Instant Pot. Both cook awesome meals and I love that the Instant Pot has a slow cook function on it doing double duty. That being said, I still use my slow cooker. Maybe because it was easier to pull out and closer to the front of the cabinet this time around. I'm all about ease.
I love mushrooms and what better way to showcase them than with a with a homemade chicken and mushroom recipe. This recipe literally takes 4 ingredients. Just dump into the slow cooker and go on with your day. If you enjoy freezer cooking, you could also add the ingredients to a large freezer bag a head of time and then pull from the freezer, dump and go! I love to serve this meal over rice. You could also do egg noodles and any veggie for a side. My kids are picky but they love chicken so this meal is perfect for us on busy weeknights.
Slow Cooker Chicken & Mushrooms Recipe
Slow Cooker Chicken & Mushrooms Recipe
This slow cooker chicken & mushrooms recipe is perfect for a busy week night meal!

Prep Time 5 minutes

Cook Time 4 hours

Total Time 4 hours 5 minutes
Ingredients
4-5 medium boneless skinless chicken breasts
10 oz can cream of mushroom soup
10 oz milk (I used the can to measure)
16 oz fresh mushroom slices
salt & pepper
Instructions
Spray your slow cooker with non-stick cooking spray and place the chicken breasts in the bottom and salt and pepper them.
Place the sliced mushrooms on top of the chicken breasts.
Pour the cream of mushroom soup and milk over the top.
Place lid on the slow cooker and cook on low for 5-6 hours or high 3-4 hours.
Serve with rice or egg noddles and a vegetable side.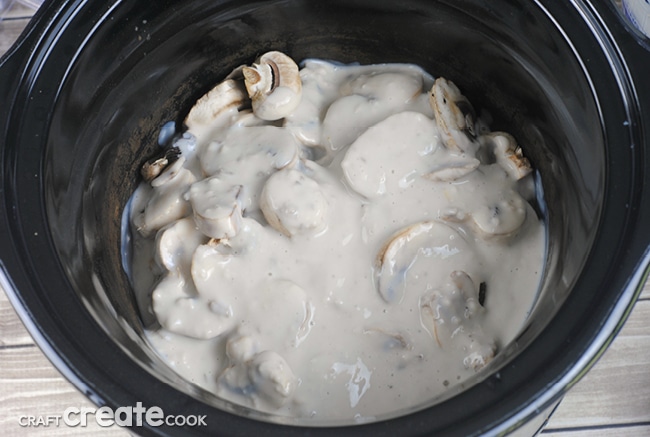 You will also want to make: